Oil Change Service
OFFERING A SAFER SERVICE EXPERIENCE FOR EVERY CUSTOMER
Make a contact free appointment & get our full service oil change with our increased health and safety measures.
CONVENIENT OPTIONS FOR YOUR OIL CHANGE
Send This Coupon To Your Phone
offer-details
By providing your phone number, you consent and agree to be contacted at such number by [Bridgestone Retail Operations, LLC ("BSRO")] [or one of our affiliates or partners] for purposes of sending you the link. The number will not be used for any other purpose. Carrier charges may apply for receiving text messages. You acknowledge and understand that providing your consent to receiving such message is not a condition to obtain products or services from BSRO
Get an Oil Change Near You
Whether you're looking for a full synthetic oil change, a synthetic blend oil change, or just have questions about how often you should change your oil, our qualified technicians are happy to serve you and answer your oil change questions.
Save money on your next service with oil change coupons from Firestone Complete Auto Care. Spend less and get more from our elite expert technicians. Each full service oil change comes with a free, 19-point inspection to keep your engine running newer, longer. Schedule an oil change at your nearby Firestone Complete Auto Care today!
The Right Oil Change at the Right Price
19-point Inspection With Each Oil Change
Regularly scheduled oil changes are the key ingredient to a healthy engine. With scheduled oil changes, your engine will run newer and longer.
Save on Gas. Change Your Oil
With regular car oil changes, your vital engine parts stay well-coated and protected against excess heat and friction.
Fixed Right Service Guarantee
Firestone technicians perform more than six million oil changes each year.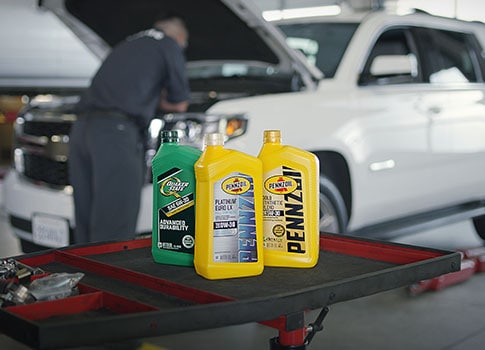 What Does a Full-Service Oil Change Include?
Not all oil change places are created equally. During your oil change, an expert technician will:
Make a recommendation for the best oil type for your vehicle — including motor oils from Pennzoil and Quaker State
Change your vehicle's oil using the best brands of full synthetic motor oil, synthetic blend oil, or high mileage motor oil
Replace and recycle your car's used oil and oil filter
Inspect your car's cabin filter, air filter, and other filters
Perform a comprehensive courtesy inspection of the entire vehicle, like checking vehicle lights, car battery life, wiper blades, etc.
Top off window washer fluid and check the levels of other important fluids
Find the right oil by vehicle by clicking on make, model, year!
Which Kind of Oil Should You Use for Your Oil Change Service?
Quaker State®
Durable Wear Protection
Provides durable wear protection that helps engines survive daily commutes from sustained high-speed highway operation to repetitive, stop-and-go traffic.
Pennzoil® High Mileage
Recommended for Vehicles With 75,000+ Miles
Pennzoil® High Mileage motor oil is formulated with Active Cleansing Agents™. It is specially formulated to help stop leaks from seals and reduce oil consumption in worn engines.
Pennzoil® Gold
Synthetic Blend With Extra Protection for Severe Driving Conditions
Pennzoil® Gold is an advanced synthetic blend formula with Active Cleansing Technology to better prevent dirt and contaminants from turning into performance robbing deposits. It is specially formulated to provide extra protection for severe driving conditions.
Pennzoil® Platinum
Full Synthetic Motor Oil with PurePlus™ Technology
Pennzoil® PurePlus™ Technology is a patented process which converts natural gas into a high quality full synthetic base oil. Base oil made from natural gas is 99.5% free of impurities typically found in crude oil. It is motor oil designed for complete engine protection.
How Often Should You Change Your Oil?
Many vehicle manufacturers recommend an oil change every 3,000 miles. However, with advancements in oil chemistry and technology, many vehicle manufacturers may recommend a longer oil change interval.
Depending on your car, you may only need an oil change every 7,500 miles or even 10,000 miles. For a more accurate mileage interval, schedule your next routine oil change at a Firestone Complete Auto Care near you, and our automotive experts will let you know the best oil change interval for your vehicle per the manufacturer.
Where to Get an Oil Change
Get your next oil change service at your nearest Firestone Complete Auto Care for the best service done right and right on time. Schedule an appointment online or drop by any of our 1,800+ locations nationwide for your next full service oil change.
LEARN MORE ABOUT YOUR CAR'S OIL
Auto Care Tips & Advice
From the Completely Firestone Blog