How Your Battery Works
Your vehicle's battery is considered the heart of its electrical system. Your battery converts chemical energy into electrical energy to make your car run. Not only does your battery provide energy to start your car, it also helps stabilize voltage to keep your engine running. When your battery is low on juice or its cables or terminals are loose, your car won't start. Unfortunately, your vehicle doesn't always give you warning signs that your battery is about to die. However, there are some ways to keep your battery running newer, longer.
Avoid leaving on lights and accessories when the engine is not running—this will drain your battery.
Take fewer short trips to prevent inconsistent battery charge levels.
Make sure your vehicle's battery terminals are kept clean and free of corrosion.
Always have a qualified professional maintain your electrical systems.
Have quality replacement parts installed when existing electrical system parts fail.
The last thing you need is for your battery to unexpectedly fail. We'll check it before that happens, so you don't get stuck. Our techs can give your battery a free check-up the next time you bring your vehicle in for maintenance, tires or other repairs. This quick test lets you know if your battery is providing adequate power and at what temperature it could potentially fail.
When your engine is running, the alternator keeps the battery charged and the electrical system going. Your car can start with a faulty alternator, but it won't be able to run for an extended period of time. If the alternator requires replacement, your vehicle's electrical system will perform erratically, its battery will discharge, and eventually your engine will lose power. A complete electrical system check from Firestone Complete Auto Care will tell you whether the alternator is generating the proper amount of current and voltage, to let you know before your alternator fails.
A battery's life is influenced by your climate.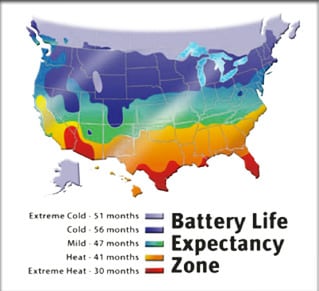 This map gives an indication of how long a car battery should last in different climates. Use the image to determine how long your battery should generally last. Other factors affect battery quality as well; for instance, driving less than 20 minutes doesn't give your battery a chance to recharge. Driving habits, extreme temperatures and bad maintenance techniques can quickly drain your battery's charge. This makes it more difficult to determine how long a battery will last, and all factors must be considered.
Try our Virtual Battery Tester to get an idea of how long your original equipment battery might last. If your battery is near the end of its estimated life, Firestone Complete Auto Care offers a variety of batteries to fit your vehicle.
Car Battery Clarity. Never a Mystery.
Some things in life leave you stumped. But there's no reason your car battery has to be one of them. Check out our frequently asked questions and become a battery buff. Of course, Firestone Complete Auto Care technicians can help as well — they know what to do when yours is on its last leg. And if you know you need a new one, get a battery price quote online — we encourage it.