Winter Tires
Firestone Complete Auto Care carries a wide range of winter tires for all types of vehicles. 
Stay Safe on the Road with Winter Tires
Winter tires, also known as snow tires, are essential for drivers who live in areas with unpredictable weather conditions in the long winter months. Understanding how winter tires are designed to perform on snowy roads is the first step to feeling confident behind the wheel.
Benefits of Winter Tires
Winter tires are engineered for maximum grip and traction in snowy and icy conditions. If you're thinking about making the switch from all-season tires, or it's time to replace an older set, there are a few features to look for in your next set of winter tires.
MADE FOR THE COLD
Winter tires are made with rubber compounds engineered to remain flexible and grip the road in cold weather.
RELIABLE TREAD
Deeper tread depth and unique tread patterns help channel snow and slush, reducing buildup and providing better traction.
TRACTION ON ICE
Biting edges and high sipe density (thousands of tiny slits in the tread) helps winter tires grip slippery roads.
3 Things You Need to Know About Winter Tires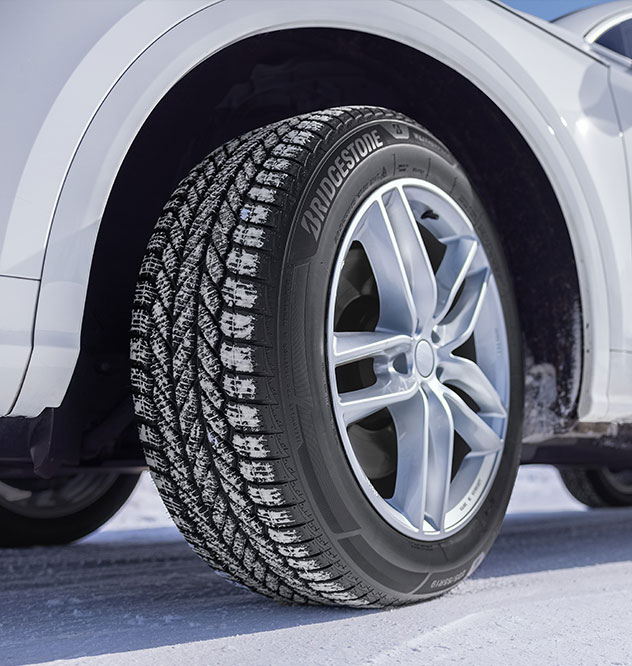 When should I put on winter tires?
The right time to switch to winter tires depends on the weather in your area. Trying to predict the first snowfall and time your tire switch can be hit or miss and change from year to year—but in general once the temperature is consistently below 45 degrees Fahrenheit, you should have your snow tires on.
What is the difference between all-season and winter tires?
All-season essentially means three-season—spring, summer, and fall. While all-season tires are acceptable in light winter conditions, sub-zero temperatures and extreme snow and ice call for dedicated winter tires. From their tread pattern to the rubber compound, winter tires are designed to take on the harshest winter conditions.
Can I drive winter tires in the summer?
Winter tires are made with a type of rubber compound engineered to stay flexible in the extreme cold and hot pavement can cause it to wear out much faster. Once the weather starts to warm up, we recommend switching your winter tires out for summer or all-season tires—it will keep your winter tires in good condition for longer and ultimately help save you money.