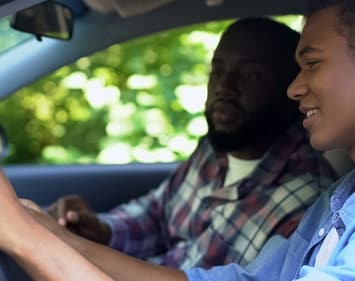 How long a car can last depends on a variety of factors. And while nothing lasts forever, sticking to a few vehicle maintenance principles may help extend your car's life and keep it in top cruising condition for years to come!
1. Keep It Clean
Wondering how to make your car last longer? One of the simplest methods is to just keep it clean!
Regular cleanings — inside and out — involve removing corrosion from the battery, getting dirty or clogged filters replaced, and thoroughly washing its body and cleaning its interior, following manufacturer recommendations.
Removing battery corrosion, getting filter replacements, and washing your car offer both cosmetic and performance benefits:
Keeping the battery terminals corrosion-free can help its performance and longevity.
Scheduling regular engine oil and transmission filter replacements help keep the respective fluids clean, supporting proper lubrication and preventing your engine components from overheating.
Getting your cabin air filter replaced can help keep smells and ventilation problems at bay.
Cleaning the windshields and mirrors can help enhance your visibility of the road and your surroundings.
Regularly washing your car's body helps protect it from scratches and wear caused by dirt and debris.
2. Inspect the Engine on Schedule
Stopping by your local Firestone Complete Auto Care for a courtesy check is a zero-cost way to care for your car. Our free inspections involve the visual examination of your battery, wiper blades, headlights, air filters, essential fluids, tires, and more! Possibly point out CVI for a low-cost full vehicle inspection.
Regular inspections allow our technicians to catch and address small signs of wear before they become problems that can shorten your vehicle's lifespan. And for a more comprehensive check, schedule a Complete Vehicle Inspection at your nearest Firestone Complete Auto Care to help keep your vehicle running smoothly from engine to exhaust.
Additionally, it's essential that you stick to your manufacturer-recommended service recommendations to ensure you get essential services like oil changes before they snowball into more significant problems like engine failure.
3. Check the Tires and Brakes For Safety's Sake
As one of our store managers likes to say, "You can build the best engine, but if you can't stop it, then it's scrap metal."
According to a study by the National Highway Traffic Safety Administration, bad brakes are partially to blame for approximately 22% of crashes caused by vehicle-related conditions (second only to tire problems, which account for 35% of such crashes).
Since crashes can severely shorten your vehicle's lifespan (and compromise your safety), it's vital to take care of any car issues that could heighten your risk for collisions! Get your tires and brakes checked during a Complete Vehicle Inspection at the first sign of common tire problems or brake issues to help you steer clear of performance problems that can affect your safety on the road.
Additionally, a complete vehicle inspection can give you a more in-depth look at your car's inner workings, helping you make more informed service and repair decisions!
Head Out on the Highway with Firestone Complete Auto Care
Keep your vehicle on the road longer with essential maintenance services from Firestone Complete Auto Care. Stop by a location near you for quality maintenance services and repairs that are Priced Right. Fixed Right. Right on Time!