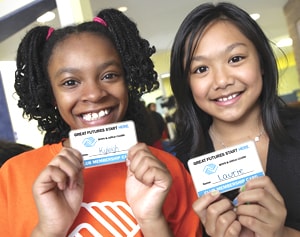 A single battery test can help a struggling student get the tutoring they need. How?
At Firestone Complete Auto Care, we take care of cars but we also take care of people. That's one reason why we've just launched our third Driving Great Futures partnership with Boys and Girls Clubs of America (BGCA).
From August 10th -October 8th, your auto services and donations at Firestone Complete Auto Care locations nationwide will help push kids and teens all over the country to more academic success, good character and citizenship, and healthy lifestyles.
The unfortunate truth is, nearly 11 million kids leave school every day with nowhere to go. These kids and teens are left unsupervised, unguided, and often even unsafe. To make matters worse, more than 40 million children lack access to summer learning programs, which leads to increasing learning loss.
With your help, these are statistics we can tackle alongside BGCA. BGCA provides a safe and welcoming environment for kids to come to outside of school, and teaches them to become caring, responsible, productive citizens.
How can you help?
There are so many ways you can make a difference! If your vehicle needs service, giving to BGCA couldn't be easier. Come to your nearest Firestone Complete Auto Care location from August 10th-October 8th and a portion of several auto service fees will be donated to BGCA.
Thanks to our partners, you can get your vehicle in tip-top shape and give back at the same time. Shell will donate $0.25 to BGCA for every Pennzoil High Mileage or Synthetic Blend oil change. Need fuel cleaner? QMI will donate $0.25 for every RENU 500 Fuel System Cleaner purchased during the Driving Great Futures partnership period.
You can also make a donation at the register, online, or by rounding up your in-store purchase to the nearest dollar. If you're eligible for a Bridgestone tire rebate, you can donate part or all of your rebate amount to BGCA.
Every penny counts. A donation as small as $5 funds 1.5 hours of mentorship, tutoring, and homework help. And $15? That takes care of 3.3 hours of art, music, or dance programming.
With Firestone Complete Auto Care, you can keep your vehicle running smoothly and give back at the same time. Come to your nearest Firestone Complete Auto Care location and join us in driving great futures today!