All tires eventually need to be replaced. Sometimes, tires need to be replaced because they get too old, too worn, or simply aren't well-suited for your driving style anymore. That goes for run-flat tires, too, which now come standard on 14% of new vehicles according to Edmunds data.
If you currently have a set of run-flats, you may wonder if it's okay to replace your run-flat tires (RFT) with regular tires. We're here to answer your question!
Replacing Run-Flat Tires
Yes, you can replace four run-flat tires with four conventional tires as long as they meet your vehicle's manufacturer recommendations.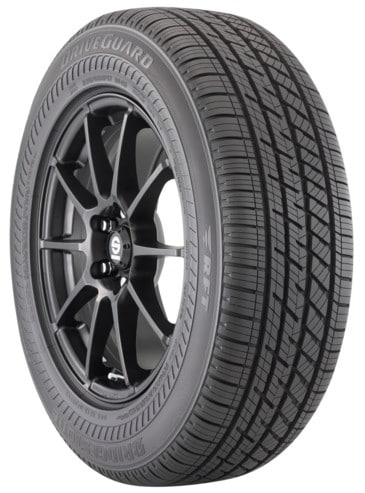 Keep in mind that different tires are designed to deliver different results. A run-flat tire is designed to keep a vehicle traveling safely and under control for a limited distance, even after a puncture. RFTs don't rely on air pressure to maintain their shape and capabilities over a limited distance.
Compared to a standard tire, a run-flat tire has a thicker, more reinforced sidewall made of special heat-resistant rubber to support the weight of the vehicle and passengers for a limited distance, even if the tire has little to no air pressure.
There are a couple of other considerations from tire and vehicle manufacturers that you should keep in mind when choosing conventional tires for a vehicle that came with run flat tires, too.
Vehicles that come with run flats typically don't come with equipment for emergency mobility, as the run flat tire is the solution. Drivers replacing run flat tires with conventional tires should take into account that the vehicle may not be equipped with a spare tire, rim or wheel, and a hand jack.
Specifications like TPMS, alarms, and internal programming may be affected when replacing run flats with conventional tires.
Always choose conventional tires that meet the size, speed rating, load capacity, and inflation pressure requirements as specified by your vehicle manufacturer.
Mixing Run-Flat Tires with Conventional Tires
Would you put one winter tire and three all-season tires on your car? Eek. Probably not. So, why consider mixing run-flat tires with regular tires? As the folks at Bridgestone say, you should never mix run-flat tires with conventional tires unless it's an emergency or a temporary fix.
"Conventional tires do not have run-flat capability and the handling characteristics of the vehicle with these tires may be different," notes Bridgestone. Mix and match your tires and you'll not only end up with imbalanced handling, but potentially different tire wear between axles.
If you're in a pinch and have no other choice but to mix the two, verify that the replacement tire's size, load capacity, inflation pressure, and speed rating specifications meet the requirements of the vehicle. Then, replace the regular tire with the proper run-flat tire as soon as possible. It's also advisable that all tires should be the same type of self-supporting run flat.
Repairing Run-Flat Tires
Let's say you have one run-flat tire that's damaged. Can the tire be repaired? The answer is, it depends.
"A run-flat tire can be rendered unusable due to a puncture or other road hazard," writes Bridgestone in their FAQs. "Some punctures may be repaired under certain restrictions," but it depends on "vehicle speed, load, and maneuvering; the amount of inflation pressure loss; and ambient temperature," along with the "extent and location of a puncturing object."
Run flat tires are not repairable if the tire states on the sidewall "Do Not Repair;" if the tire is driven when the inflation pressure dropped below 15 psi; if there is abrasion damage on the outside or inside of the tire; or, if any other condition renders a tire unrepairable.
To ensure your tire is repaired or replaced properly, it's best to have a trained technician do the work. The tire technicians at your local Firestone Complete Auto Care will fully inspect the inside and outside of your tire to determine if it can be repaired. Also, check your owner's manual. Some vehicle manufacturers don't recommend using repaired tires. Repairing an RFT could also void the tire's warranty, if applicable.
What to Consider When Replacing Run-Flats
Before you decide to change your run-flats to regular tires, consider the following points:
Run-flats may help save you from having to change a tire on the side of the road since they're designed to allow drivers to drive to safety. Bridgestone DriveGuard tires can travel up to 50 miles at a maximum speed of 50 MPH even after a puncture.
When punctured, run-flats may offer safer handling than regular tires. A run-flat tire will continue to support your vehicle's weight after a puncture for a limited distance thanks to its reinforced sidewalls, while a regular tire will not.
Run-flats reduce the need for you to carry a spare tire, which leaves you more room in your trunk for road trip gear, groceries, pups — you name it!
Need new tires? Whether you just got a flat tire or need to replace all four of your tires, you'll find the right tires for your car at the right price with our online tire catalog, which includes run-flat tires. You can browse by make, model, year, and trim level and get your tires delivered to your nearby Firestone Complete Auto Care for complimentary mounting services.