You know you need to have your tires rotated. You hear other drivers talking about it. It even says so in your owner's manual! But that doesn't mean you don't have questions about tire rotation, questions about cost, frequency, and whether it's really worth it. Get these answers and more, from your friendly neighborhood technicians at Firestone Complete Auto Care.
Why do tires need to be rotated? Even wear.
Tires need to be rotated to even out wear. Front and rear tires carry different loads on most vehicles. Front tires carry a slightly heavier load and tend to wear faster than rear tires. The front-right tire wears faster than the front-left tire because we tend to take left turns faster than we take right turns. Who knew?! And in front-wheel drive vehicles, the front tires wear out almost twice as fast as the rear tires.
If you've ever wondered which tire goes where during a rotation, check out this tire rotation diagram. It shows how tires are rotated on front, rear, and four-wheel drive vehicles. As you can see, a tire rotation is more than a game of musical chairs. There's a specific way your tires must be rotated!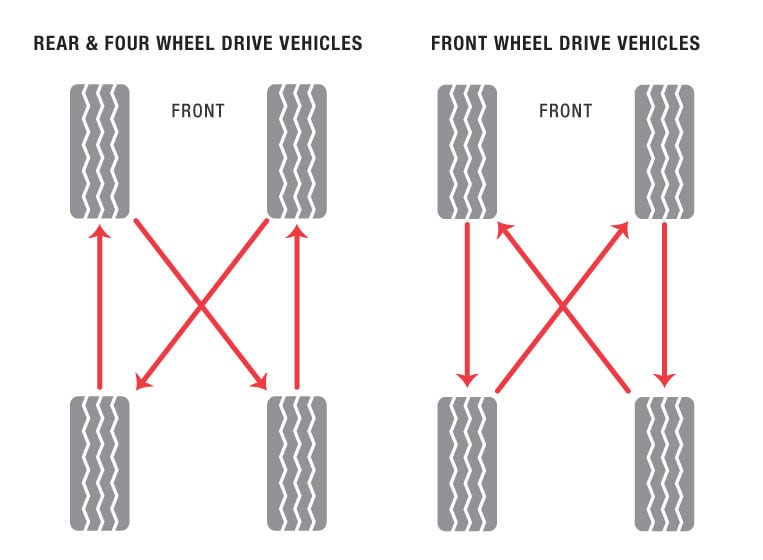 How much does a tire rotation cost? Less than you think.
Buy tires at your local Firestone Complete Auto Care and you'll receive lifetime free tire rotations. Even if you buy tires elsewhere, rotating your tires is a financially savvy move that can save you money over time, says Consumer Reports.
When wear is equally spread out over all four tires, you can go farther with the same set. That means fewer tire changes over the life of your car. Cha-ching! Plus, uneven tires can decrease your fuel efficiency. Keep them properly rotated and you can expect to make fewer pit stops at the gas station. Another cha-ching!
You don't need a significant investment of time or money, either. Many drivers have their tires rotated during an oil change. Depending on where you go, having both done at once can sometimes lead to a discounted price.
What's a good tire rotation frequency? Check your owner's manual.
Start with your owner's manual. The manufacturer will likely offer guidelines for your specific make and model. If your manual is MIA, consider rotating your tires every 5,000 miles, the tire rotation frequency that's generally recommended by the National Highway Traffic Safety Administration. No two cars and drivers are the same, though, so you may want to consult your technician too. Together, you can decide the best tire rotation frequency for your vehicle and driving style.
What happens if I hold off on tire rotations? It's a risk.
You're gambling with your safety by not rotating your tires. Uneven tire wear can lead to poor handling, making a flat tire or full on tire failure more likely to occur. Bad weather and other drivers are already tough enough to navigate on their own. Don't make things more dangerous by cutting corners on tire rotation.
Your tires need to be as dedicated as you are. Regular tire rotations can make sure they stay that way. Stop by your nearest Firestone Complete Auto Care for a tire rotation or schedule an appointment online to have your tires rotated at a time that's most convenient for you!