---
Kathy Jalivay

Kathy Jalivay is a Twin Cities, Minnesota mother of two. With her firstborn leaving the nest this fall, Kathy understands the importance of a reliable vehicle and solid set of ground rules for her college driver.
---
The graduation parties have ended, and now your newly minted "adult" is packing his or her car for college.  Maintaining a car and being safe, away from home long term, carries a whole new set of responsibilities for most teens.  If your college driver has the privilege of bringing their car or the family car to school, here are a few important tips they should keep in mind.
Insurance Agent
Know your insurance agent—his or her name, number and where the office is located.  Most insurance offices now offer after-hours service for immediate assistance.  Yes, there really is a "Jake from State Farm" at 2 am.
Insurance Card
Your insurance information is all located on that handy card sent in the mail every six to 12 months.  Most cards also have an emergency or road service number on the back to contact if you are stranded, in an accident, or need help.  In most cases, the card lists your insurance agent's phone number, and should also show coverage—review the coverage with your college driver. It is important for college drivers to know such details should they get in an accident or have a claim.
Bumming A Ride, Or Being The Taxi For Your Friends
No doubt having wheels on campus can be both a blessing and a curse. The blessing is that he or she can make a run to the nearest Walmart or fast food joint on a whim, however they also have to endure the endless requests by newfound friends to bum a ride to those same fine establishments.
Advice for the college driver: be smart, don't be distracted, and be sure all of your occupants are wearing their seatbelts. When going somewhere unknown, check out driving directions on MapQuest or Google Maps first.  The last thing you want to do is get lost with a stranger or near stranger in tow. Additionally, do NOT let your student lend his or her vehicle to others. Some insurance companies won't cover your vehicle in the event of an accident if driven by someone unauthorized. More often than not, you also won't know the record of the person who is driving it.
Maintenance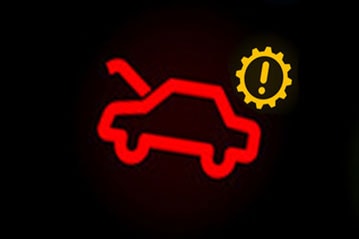 Maintenance should be one of the topics to discuss with a college student.  It's important to protect the investment made in a vehicle.  Keeping a car serviced and maintained will help to avoid an unwanted breakdown and protect the car's longevity.  Explain all possible warning lights that could appear on the dashboard, and the importance of taking the car into a shop if one lights up. Review the owner's manual.
Frequent Inspections 
Most campuses have remote parking lots. A lot can happen in the parking lots of a college campus. Advise your college student to make it a point to check on the vehicle every other day or so, start it up, keep the battery life healthy and protect it from vandalism.  Vandals and thieves love vehicles that appear to be neglected.
Know Where The Critical Information Is
By now, your college driver should know his/her car has a manual.  But do they know that the tire size, tire pressure settings, and other key information is on the inside driver side door panel and most likely on the gas cap door on their car?  Before they take off to the collegiate pastures, do a walk-through and show them the ins and outs of the car.
Check License Renewal And Tabs/Tags
Being hours away or even another state away with expired license tabs/tags can get your student a nice, expensive ticket. Before departing on the big college adventure, ensure that license plate tabs/tags and driver's license are up to date, and will remain for the duration of the college stay.
Emissions Testing (not all states)
Not all states require this, but be sure your student knows your state's emissions testing regulations. If required, make sure testing is completed. Most states have an EPA website outlining emission testing rules for the area.
Valuables 
Rule of thumb for college drivers: Just like when you are at home, keep all valuables out of sight in the vehicle.  You don't want a thief to crack out a window and rip off that backpack.  Lock valuables safely in the trunk or take them to the dorm room or apartment.
Locking The Doors (Always) 
Always lock the car doors.  The locks are there for a reason—for your protection! Have your son or daughter keep an extra set of keys with them, so in the event of misplaced keys they still have access to the vehicle.  A lot of cars today have fobs. It is difficult to replace these without the key-code, so it's a good idea if parents can safely keep the extra fob for safekeeping.
Drinking And Driving
This should be a no-brainer. Yep, this is a no-brainer.  While most college campuses are dry, libations flow outside the campus. Engrain into your college student that if participating in alcoholic consumption of any kind – don't drive.  Call a taxi or a friend who hasn't been drinking.  Walk home or as a very last resort, give the keys to a non-drinking designated driver.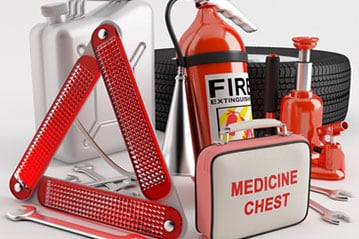 Emergency Road Kit
The best going away gift for a college student is an emergency road-service kit for their car.  Be sure to include emergency phone numbers in the event there is no cellular service or your cellular contact information is not available.
Gas It Up!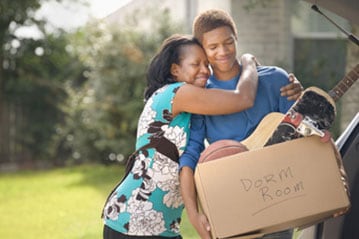 Be sure your college student makes it a regular habit to check the car's fuel.  Knowing how much gas is in the tank will go a long way in keeping them safe and sound.
Sending your precious cargo off to college is a daunting task. Equip them with the understanding it takes to be responsible for a car, so they can one day pass the knowledge on to their own precious cargo.