---
Mike Marshall

Mike Marshall is a Duluth, MN writer originally from Houston, TX. Over the past three years he has learned the intricacies of driving on frozen roads. Utilizing top-tier car organization tactics, most people believe his 2013 Nissan Rogue is still brand new.
---
The average American spends 600 hours each year in their car. With all that time in the car, vehicles will eventually become cluttered. Clutter not only diminishes the appeal of a car, but the Environmental Protection Agency estimates that for each additional 100 pounds in a vehicle, miles per gallon are reduced by as much as 2%.
Let's Get Started!
In order to organize your car, first, take everything out so you can take stock. Begin by removing all of the trash.  Once these items are removed, it is worth investing in a small mobile trashcan for the car. Use leftover grocery bags as trash bags. Make it a habit to rid the vehicle of all trash each time you return home. Also, remove any items that won't be needed during the next ride.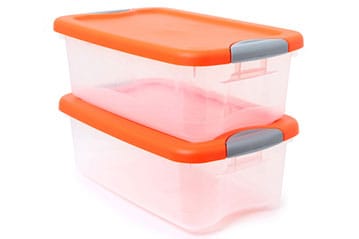 Often the biggest source of clutter in vehicles comes from items that are only needed temporarily. Such items include sports equipment, camping gear, and road trip supplies. Keep these items in convenient containers and store the containers in easily accessible areas of the home or garage. The easier these items are to access, load and unload, the more inclined you will be to only bring these along when needed. Over time, the savings in gas mileage will add up.
Organizing For the Future
There are numerous specialty cargo organizers on the market that make loading, unloading, and storing belongings a much simpler task. The more user-friendly it is to place items in the car and remove them upon returning home, the more likely you will be to do so.
Looking for specific solutions to begin the decluttering process? A visor-mounted sunglasses rack and a dash-mounted phone mount are tidy ways to house two of the most common road trip accessories. Additionally, a collapsible coupon organizer in the glove box is an affordable way to neatly organize all important vehicle documents.
Be sure to make the driver's area a clutter-free zone. Nothing should ever be able to fall near the driver's feet and impede the use of the pedals. Front seat car organizers will help to keep clutter from getting loose. These can be placed on a vacant seat cushion and stocked with all of the loose items needing to be close at hand. Most front seat organizers will also have slots for power cords.
Back seat organizers not only offer additional storage, but can be outfitted with fold-down trays to support food plates, DVD players or other entertainment devices.
For travelers with children, toy components and food crumbs can quickly transform the interior of a car into a mess. Keep a handheld vacuum in the garage or parking space. If meals have been consumed in the vehicle during the latest trip, remove all clutter and run through with a vacuum. Taking just a minute with the vacuum will keep the car looking and smelling clean.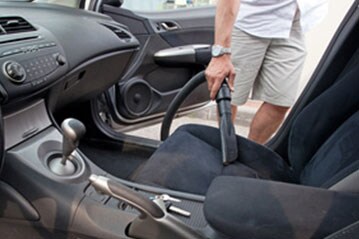 If Fido is a frequent passenger in your vehicle, consider purchasing a pet hammock. There are many varieties of pet hammocks available for canine travelers. A pet hammock connects to the headrests between two rows of seating and prevents pets from tumbling into the foot space between seats in the event of a sudden stop. It's not exactly a pet seatbelt but it's the next best thing.
It's about peace of mind.
Clutter in a vehicle is not just a physical nuisance—it also causes mental distress. It inhibits the ability to focus. Keeping the car organized not only feels and looks good but it can increase mental concentration on the road (and reduce stress!). So, keep the vehicle well organized and tidy to create a pleasant, safe driving experience that you and your passengers can enjoy.