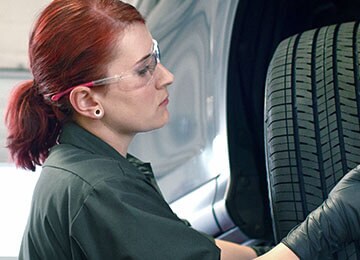 The techs at Firestone Complete Auto Care are dedicated to keeping your car on the road—but what makes them tick when they're off the clock? We sat down with Maintenance Tech, Brianna Fernando to hear how she got her start and see what keeps her going.
How did you get into cars?
Brianna: I went to a high school that had a bunch of trade electives. I decided to take auto shop because it was a good skill to know—do your own oil change, stuff like that. I ended up falling in love with it.
What do you love most about being an auto tech?
Brianna: I get to use my hands. And it involves thinking—taking something that's broken or faulty and fixing it. My goal is to always take something and make it better than what it was coming in. It's a craft.
You actually knew how to work on cars before you got a license, right?
Brianna: Yeah, that's a funny thing. I was also the girl who knew how to work on cars before I could drive them. And believe it or not, when I first got my permit, I was afraid to drive cars. I didn't want to! So, for two years, I was the girl that only fixed cars, I didn't drive them.
What do you remember about your first car?
Brianna: It was a '99 Camaro and I named her Midnight because she was a very dark blue. It had T-tops—they no longer have them—but basically, it was two moonroofs you would take off and put in the trunk. It's a mix between a convertible and a sunroof.
Do you work on your own car today?
Brianna: Well, I have an older vehicle, so it's got a lot of oil leaks and stuff—well, it had a lot of oil leaks. But I like cleaning it. I like making an engine look new again.
How is working on someone else's car different?
Brianna: I enjoy it just the same. But it has more of a purpose, I'm not just doing it for myself. I'm doing it for someone else, someone who doesn't necessarily know what they're doing on the vehicle. I find that rewarding.
How do you feel working in a male-dominated industry?
Brianna: People love seeing a female in a male-dominated industry, you know? They're like, "Oh, a girl who wrenches?!" It's a great feeling to know that people are appreciating someone stepping out of the box and doing something that is not traditionally done. It makes me feel great.