At Firestone Complete Auto Care, we care for much more than your car! Our parent company, Bridgestone Retail Operations (BSRO), helps kids and teens across the country by supporting the Boys & Girls Clubs of America.
BSRO's corporate social responsibility initiative, Driving Great Futures, helps kid and teen Club members access healthy extracurricular programs like career coaching, college readiness, STEM, and physical education. With every visit to Firestone Complete Auto Care, you can support Club youth, too! Learn more about how we helped children in 2019.
How We Drove Great Futures in 2019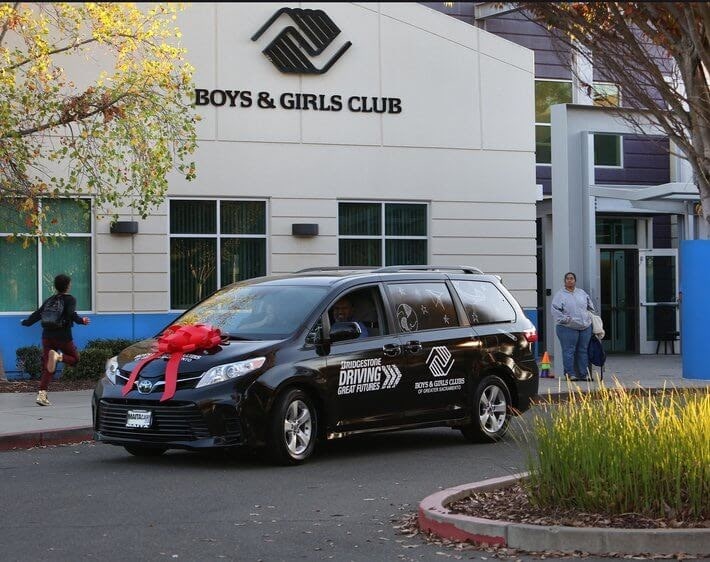 Boys & Girls Clubs of America help kids enjoy safer childhoods that give way to healthy, and productive lives. How do the Clubs accomplish this? By providing youths a safe environment, consistent mentorship, and high-quality programs that help them get and stay on the path to success!
However, even with excellent facilities and dedicated staff, many Club kids still face one problem — transportation. According to the organization's president and CEO Jim Clark, "Getting to and from our Clubs is one of the biggest obstacles families face, and Bridgestone is helping us overcome this by providing reliable transportation."
In 2019, BSRO focused on being part of the solution by:
Supporting Club transportation programs with grants that helped maintain and update their van fleets with fuel-efficient Bridgestone tires.
Awarding grants to help Clubs pay for fuel costs and drivers' wages.
Donating over 2500 hours of company time during which staff members volunteered at local Clubs and serviced Club vehicles.
In 2019, BSRO's Driving Great Futures initiative helped raise over $4 million and impacted more than 600,000 Club youths. Since 2015, this program has raised over $10.5 million for Boys & Girls Clubs of America.
How You Can Get Involved
As said by Jim Clark, "Thanks to Driving Great Futures, we've seen an increase in new members and daily attendance which tells us this program is making the difference we needed."
Will you help us continue to make that difference?
Ask how you can make a small contribution to the Driving Great Futures program at your next visit to your neighborhood Firestone Complete Auto Care. You'll get affordable car repairs and professional services along with the satisfaction of contributing to a better future for kids across the country. Together, we can make 2020 the greatest year for Driving Great Futures yet!