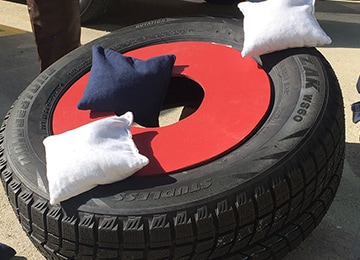 Whether it's the start of football season, or you're gearing up for the big game in February, everyone loves a good tailgate. And no tailgate would be complete without a lot of food and a good old-fashioned game of cornhole.
This year, mix things up a bit with a DIY cornhole made out of a set of old tires! Not only is it more cost-effective than the pricey cornholes you can buy at the store, but it's a good way to reuse old tires and craft with friends.
DIY Cornhole Materials
Two old tires
Two square ¼" Plywood boards
Jig saw
Pencil
Compass
Yardstick
Drill with drill bit and Phillips-head screw bit
1/2" drill bit
Sand paper
Paint roller
Two colors of paint
Nail gun and nails
Bricks
Steps for Transforming Old Tires into Cornhole:
Using a pencil, make a dot at the center of your plywood board. Make a 6" diameter circle around the spot that you marked with your compass. Repeat on the second piece of wood.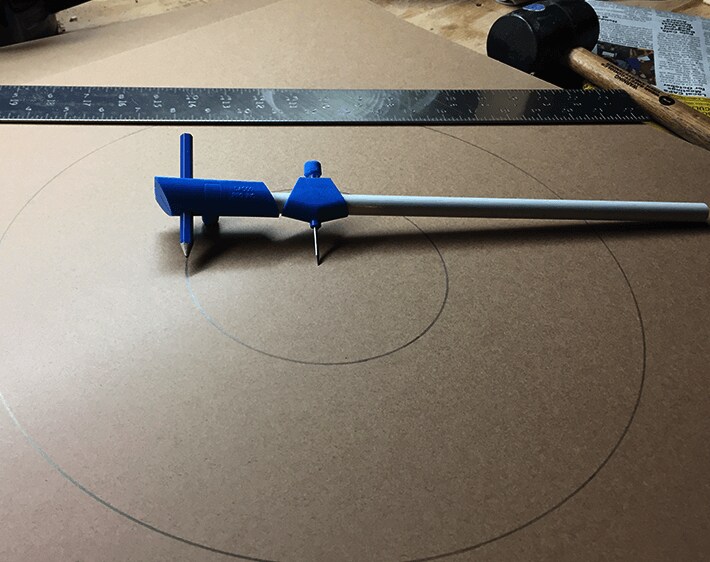 Measure the diameter of the hole on your tire using the yardstick. Add an inch or two to the width that you measured. Place your compass on the dot in the middle and make a circle with the new diameter you calculated. For example, if your diameter was 10 inches, your circle should have a diameter of 12 inches. Repeat on the second piece of plywood.
Drill a hole along the edge of the inner circle large enough to accept the jigsaw blade. Repeat this around the circle every inch or so to make cutting easier.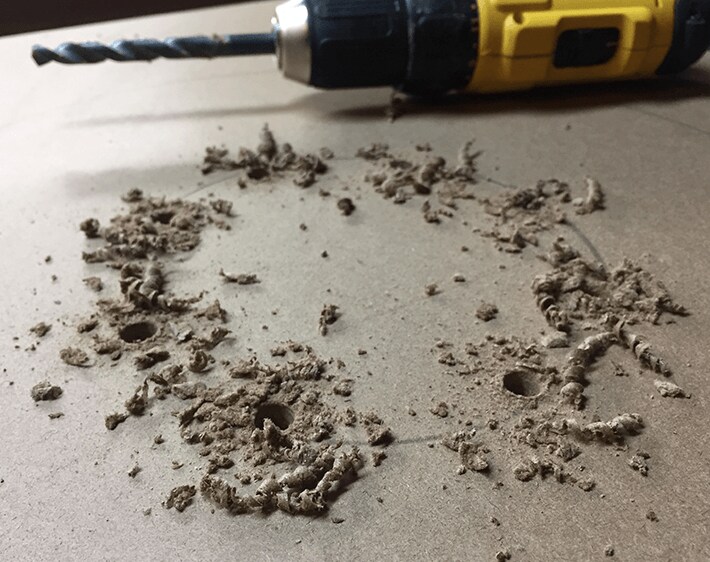 Place your jigsaw in one of your pre-drilled hole and cut out your circle, connecting the drilled dots. Lightly smooth out the edges of the hole with the sandpaper.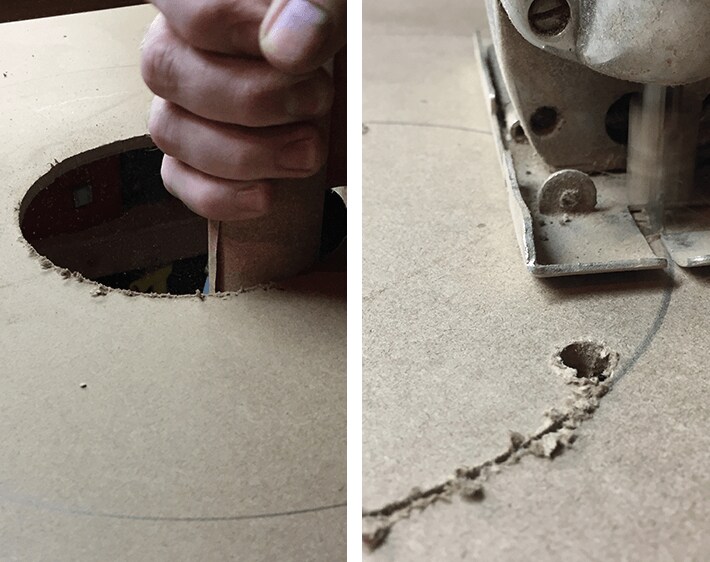 Repeat steps 3 & 4 with the larger circle, making holes along the edge, before using the jigsaw and then smoothing down.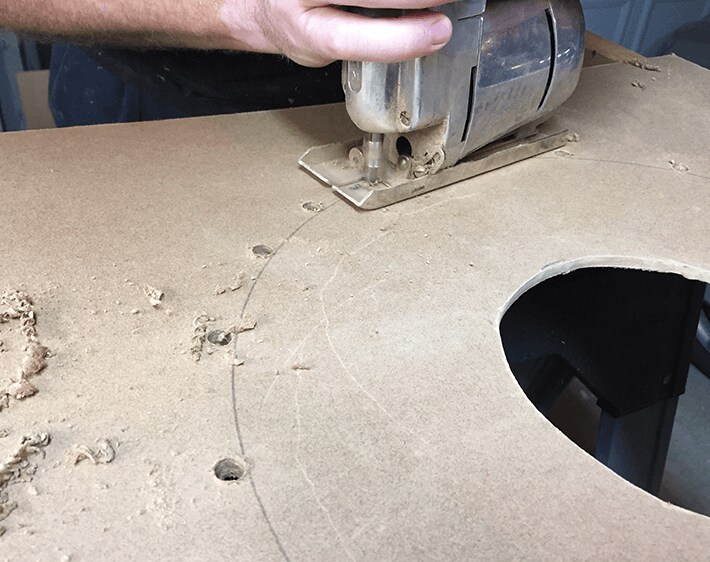 Using your roller, paint the entire circle you cut out, making sure to get the edges of the inner and outer circle, so the wood doesn't show through. Repeat this to the other circle, with a different color of your choice.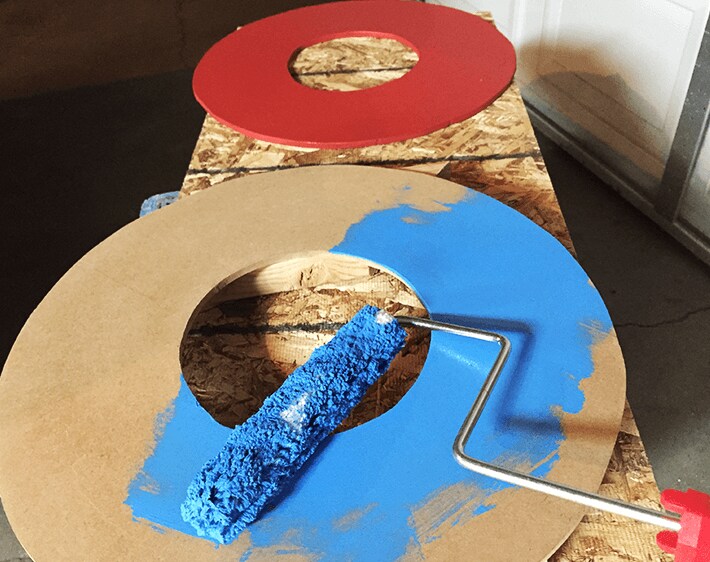 Let the two circles dry.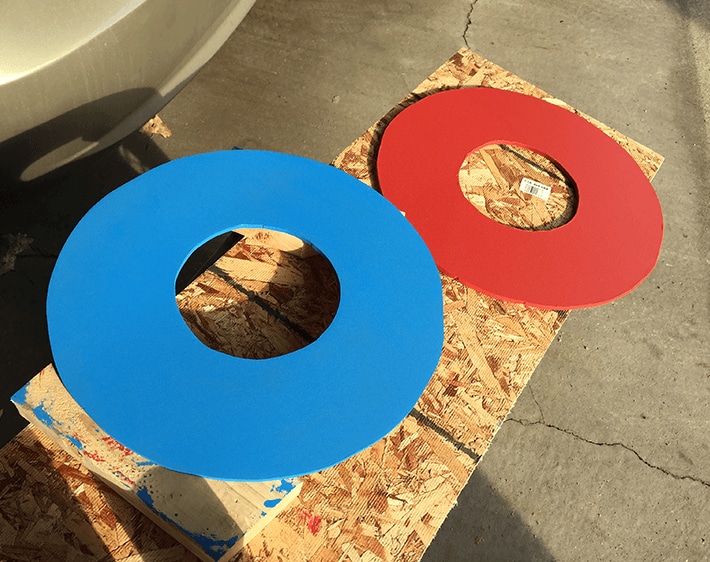 Secure the painted plywood to your old tire with the nail gun and nails. Use about 12 nails around the perimeter, spaced like a clock. Repeat on the second tire.
Use a set of bricks to elevate the tires to your desired height.
Once your tires are set up with the bricks, you can get to playing (and crushing your competition)!
Before you head out to tailgate and toss bags into your new impressive cornhole set, make sure your car is running right at your nearest Firestone Complete Auto Care location. Or visit us here for the latest tire and auto service coupons.