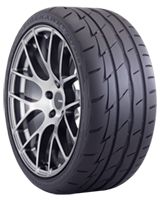 Ready for racetrack performance for the real world? Then you need the ultimate sport performance tire from Firestone. Firehawk Indy 500 tires at Firestone Complete Auto Care are inspired by the racetrack and made for the highway. So, if you're looking track-inspired performance tires, then look no further.
Why Buy Firestone Firehawk Indy 500 Tires?
Sports-grade performance meets sporting heritage with Firestone's Firehawk Indy 500 tires.
Here is a tire that delivers impressive handling for sports cars and sedans. It does so at an affordable price that empowers car owners everywhere to unlock a one-of-a-kind driving experience.
It's all possible thanks to the technology and design elements behind the Firehawk Indy 500. It's a potent blend that enables drivers like you to enjoy fast and safe summer driving under a variety of conditions.
What Are Performance Tires?
Some drivers want nothing more than practicality from their cars. They use their car to go to the office, the grocery store, and maybe a road trip every now and then.
Those drivers don't need performance tires.
Other drivers revel in the driving experience and choose their cars accordingly. Because tires have a big impact on the car-driving experience, however, regular tires won't do.
Such drivers need performance tires, which means the tires:
Feature a tread pattern optimized for dry and wet traction.
Are made of rubber compounds that can withstand the kind of wear that may occur at high speeds.
Focus on precision and responsiveness.
Firestone Firehawk Indy 500 Tires Perform
In Dry Conditions
Inspired by the cherished Indianapolis 500, Firestone Firehawk Indy 500 tires are ultra-high summer performance tires. They're the tires that provide the kind of extreme performance that enthusiasts seek.
We're talking excellent handling and impressive cornering in dry conditions. The tire's wide shoulder blocks make such maneuverability possible. They increase the tire's stiffness for dynamic cornering and fast acceleration from a complete stop in dry conditions.
In Wet Conditions
Firestone's proprietary Pulse Groove™ technology means you won't miss out on performance when things get wet.
Pulse Groove™ improves water evacuation. That helps increase resistance to hydroplaning for better control on wet roads. Because no matter where you drive, an unexpected summer shower can strike at any time and create challenging road conditions.
The Firehawk Indy 500 is ready, though, with not only Pulse Groove™ but also an improved wet rubber compound and tread design that provides 20% shorter stopping distance on wet roads (as compared to Firehawk Wide Oval Indy 500 Tire).
For a sports car tire that performs as good as it looks, choose Firehawk Indy 500 tires.
Firestone Knows the Indy 500
Firestone's rich and rewarding history with the Indianapolis 500 race—dubbed "The Greatest Spectacle in Racing"—stretches back more than a century, to one of the very first races. In that time, we've proudly watched Firestone tires carry many drivers to victory.
The same passion and expertise that has gone into every winning set go into the Firestone tires we sell today. And nowhere is that truer than with these Firehawk Indy 500 white letter tires.
Firestone Firehawk Indy 500 Tires Review
Drivers sharing input on Firehawk 500 tires rave about performance capabilities such as the tire's:
Outstanding handling on wet traction and launching on dry pavement
Rigid sidewalls that impart driving confidence when cornering
High-speed predictability and traction in on-track driving
Where To Buy Firestone Firehawk Indy 500 Tires
The spirit of the Indy 500 belongs in your driveway. It's ready to roll in on the ultimate performance tire for the street: Firestone Firehawk Indy 500 tires.
You can find them at your nearest Firestone Complete Auto Care location. For even greater convenience, find Firestone Indy 500 tires for sale online. Schedule an installation appointment to save time in the store!
Visit your local Firestone Complete Auto Care today to learn more about Indy 500 tires and to find the tire size that's right for you, including the ever-popular 15-inch Firestone Firehawk Indy 500 tire.