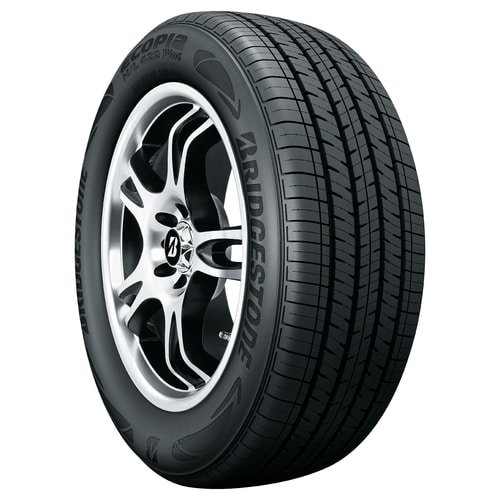 Ready to equip your SUV with one of Bridgestone's leading eco-friendly all-season SUV/CUV tires? Bridgestone Ecopia H/L 422 Plus tires are engineered for performance and fuel efficiency.
Ecopia H/L 422 Plus Technology & Benefits
The Bridgestone Ecopia H/L 422 Plus tire may be one of the new kids on the block, but it knows its way around the block and beyond.
The Ecopia H/L 422 Plus, introduced in 2018 to replace the Bridgestone Dueler Ecopia H/L 422, is engineered for long-lasting performance and improved fuel efficiency — all while offering all-season stability and a smooth, comfortable ride. It's among the latest additions to Bridgestone's Ecopia line of eco-friendly tires.
Made for crossovers, SUVs, and minivans, the Ecopia H/L 422 Plus touring tire provides:
An innovative, computer-optimized tread pattern that paves the way for a secure, comfortable ride in all-season conditions. This tread pattern helps fight irregular wear, improves traction, and delivers comfort at the same time.
Four full-depth grooves that disperse water to combat hydroplaning.
Slots and sipes that produce "biting edges" to provide traction in conditions where grip might be diminished.
Continuous tread ribs that offer a reliable grip and reduced road noise.
Are you looking for Ecopia tires for cars and sedans? You'll want to check out the Ecopia EP422 tire, instead.
What makes the Ecopia H/L 422 Plus tire so eco-friendly?
The Ecopia H/L 422 Plus delivers those benefits while also being environmentally
conscious thanks to:
Low rolling resistance: Tires with low rolling resistance are aimed at cutting down on the loss of energy as a tire rolls. As much as 15% of the fuel burned by a car can go toward fighting rolling resistance.
The silica tread compound of the Ecopia H/L 422 Plus is engineered with proprietary NanoPro-Tech, which leads to lower rolling resistance, as well as better handling in wet and dry conditions during all seasons, along with lower carbon emissions. Meanwhile, the fuel-saver compound in the sidewall of the Ecopia H/L 422 Plus boosts fuel efficiency by cutting down on the generation of heat.
Additionally, nylon-reinforced steel belts fortify the Ecopia H/L 422 Plus with strength and durability.
Did You Know?
Leave the roof rack at home when you can. Hauling cargo on your roof increases wind resistance and lowers fuel economy, notes the U.S. Department of Energy.
Who buys Ecopia H/L 422 Plus tires?
Some Bridgestone Ecopia H/L 422 Plus reviews on Consumer Reports note that the tires have a great wear rate and that they outperformed expectations. Others love the "quiet ride."
If you've got a crossover, SUV, or minivan and want dependable tires that maximize fuel economy, lessen environmental harm, support safe driving in all seasons and deliver a smooth, comfortable ride, the Ecopia H/L 422 Plus may be the answer.
Where can you buy Bridgestone Ecopia H/L 422 tires?
Where can you find the Ecopia H/L 422 Plus? Head to your nearest Firestone Complete Auto Care to get your vehicle geared up for all-season, high-performance, fuel-efficient driving — whether you're going around the block or across the country. We carry Bridgestone Ecopia all-season tires in many sizes, along with a variety of other Bridgestone tires for cars, trucks, and SUVs.