"Capital isn't that important in business. Experience isn't that important. You can get both of these things. What is important is ideas." — Harvey S. Firestone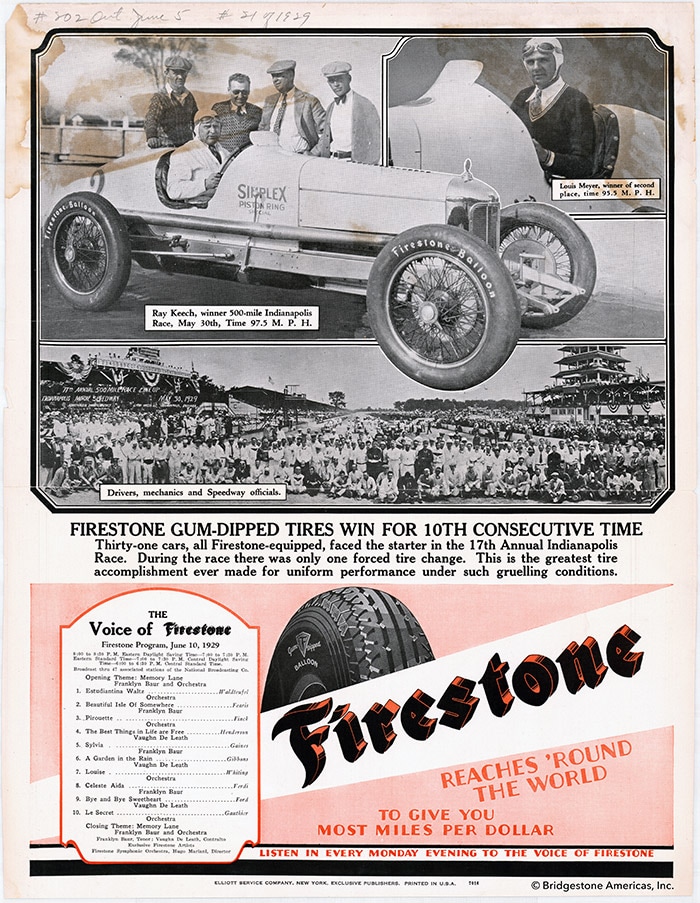 Harvey S. Firestone came up with ideas that forever changed how we get around on four wheels.
With the goal of providing "the most miles per dollar," Firestone rolled out a number of tire innovations, including:
Non-skid treads with raised rubber treads to grip the road better.
Double cord breakers, which dispersed pressure evenly throughout the tire.
Gum-dipping, which made tires stronger and insulated them against high temperatures.
The first pneumatic suspension device, a rubber suspension filled with air that eliminated body roll when rounding corners and absorbed bumps in the road.
From the Motor City to the Windy City
Firestone's ideas were rooted in his work at his uncle's buggy company in Detroit. He'd moved there after being born and raised on a farm in Fairfield Township, Ohio.
At the buggy business, another young man named Henry Ford bought a set of tires from Firestone—an encounter that would lead to a strong friendship and business partnership. It wasn't long, though, before Firestone left his uncle's company and set off for Chicago.
In the Windy City, Firestone founded his first tire business in 1897. He sold his stake two years later and put the proceeds toward launching The Firestone Tire & Rubber Co. in 1900 in Akron, Ohio, which was fast becoming a major hub for tire manufacturing. In its first year in business, Firestone Tire & Rubber sold $110,000 in tires. In 1920, tire sales reached $115 million.
Innovation in Akron
Two years after landing in Akron, Firestone's company opened its first factory with a dozen employees. A year later, in 1903, the company started making its own tires. By 1910, sales had zoomed past the $1 million mark. The sales growth included Ford Motor Co.'s purchase in 1905 of 2,000 sets of Firestone tires for Model T cars; at the time, it was the largest tire order in history.
(Aside from Henry Ford, Firestone's well-known pals included President Warren Harding, inventor Thomas Edison, and writer John Burroughs.)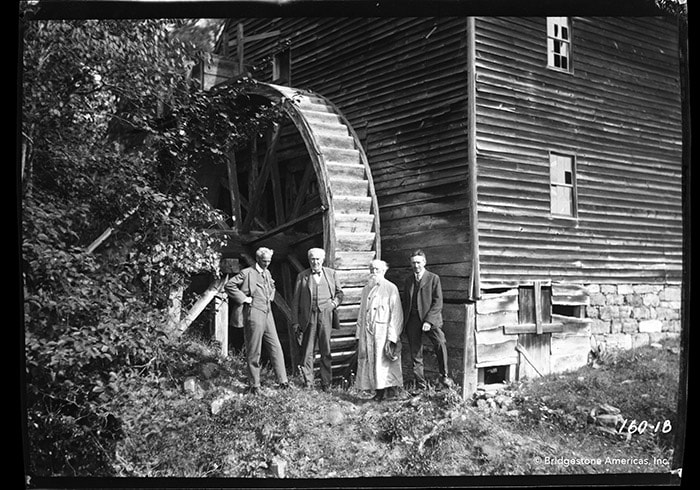 "Firestone's skills in marketing and product innovation helped his business stand apart from his competitors," reports the Motorsports Hall of Fame. "His company became known for its pioneering efforts in passenger, truck and farm tires, innovations in production processes, and early involvement in racing to showcase the durability of its products."
One of the company's pioneering efforts was the introduction in 1908 of the first all-rubber, non-skid tire.
Victory in Indy
The next year, 1909, racer Barney Oldfield won a 300-mile race called the Indianapolis Sweepstakes in a car with Firestone tires. Two years later, in 1911, the Firestone brand's association with the Indy 500 was born. At that year's debut of the Indy 500, driver Ray Harroun grabbed the checkered flag in a racecar equipped with Firestone tires.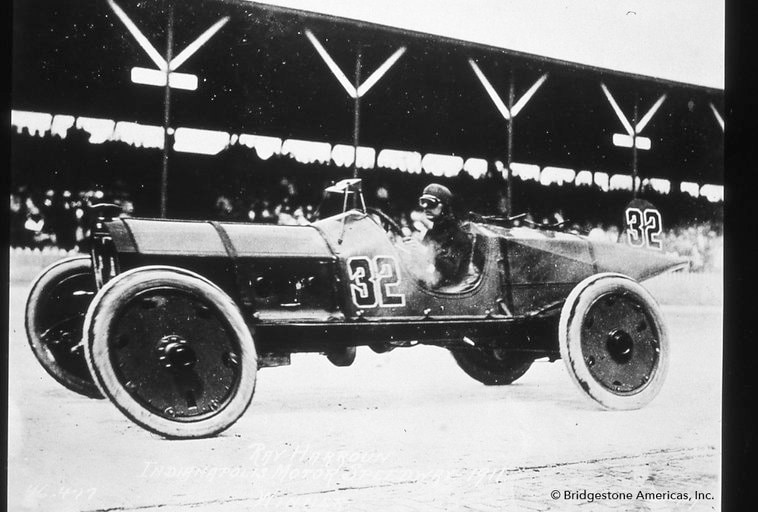 "Today, the driver knows that his victory in the race and his life depends to a great extent upon how good his tires are," Firestone said in a radio address from the Indianapolis Motor Speedway in 1930.
A series of racing successes with Firestone-equipped cars reinforced the phrase "Win on Sunday, sell on Monday"—meaning that automotive businesses, including tire dealers and car dealers, see a spike in customer traffic the Monday after a Sunday race.
This commitment to racing aligns with one of the beliefs of Firestone Complete Auto Care: "When the rubber meets the road, the rubber should always win."
Pioneering in Shipping & Retail
Aside from making tremendous strides in the tire industry, Harvey Firestone also paved the way for innovation in shipping. In 1918, during World War I, military operations turned to trucks to ship supplies to the battlefront. Firestone jumped on the trucking bandwagon by championing the "Ship by Truck" movement to transport goods by road instead of rail—a movement that gave rise to the trucking industry.
Firestone's company also went on to pioneer the retail tire, repair, and service sector, with his "successful and ambitious" launch, as Harvard Business School calls it, in 1926 of one-stop service stations under the name Firestone Tire and Service Centers (now Firestone Complete Auto Care). That same year, Firestone was producing more than 10 million tires a year, accounting for one-fourth of the tires made in America.
A Living Legacy
Harvey Firestone remained president of The Firestone Tire & Rubber Co. until 1932, when he stepped down from that role and became chairman of the board. Firestone died six years later, on Feb. 7, 1938, at age 69 in Miami Beach, Florida.
After Firestone's death his four sons—Russell, Leonard, Roger, Harvey Jr. and Raymond—sat on the board of directors, with Harvey Jr. and Raymond also serving as CEO. The four Firestone brothers carried on their father's inventive ways and helped develop viable synthetic rubbers during World War II.
Eight decades after his passing, Harvey S. Firestone's legacy lives on in his tire empire, which Japan's Bridgestone Corp. acquired in 1988.
"When we consider the future of the transportation and the part that rubber tires will play in the new scheme of things, the opportunities of the Firestone organization become almost too big to grasp," Firestone said during a speech at his company's annual sales convention in 1917.
From day one, Firestone has been committed to staying ahead of the curve. We still are. Visit your local Firestone Complete Auto Care and shop Firestone tires to experience more than a century of quality!