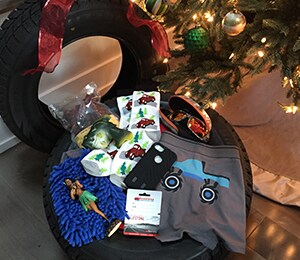 The holidays are around the corner and with them come many joys: warm drinks, fuzzy socks, and quality time with family, to name a few. However, it can also come with the daunting task of finding the perfect gifts for the people in your life. But if those people happen to love trucks, have no fear, your perfect gift list is here.
Blizzak Tires
Give the gift of driving confidence. Rugged Blizzak tires bite into snow and ice to give your trucker added control in winter's worst driving conditions.
Phone Case
Truck people are passionate about their ride. Why not let them show their love for all to see? A unique tire tread phone case lets them take their calls in true trucker style.
Beef Jerky
Taking the road less traveled can work up an appetite. Give your truck lover something to munch on while they're out and about.
Hula Girl
Say "aloha" to this classic dashboard decoration that will liven up any truck. Simply place her on the dashboard and watch her hula into the holidays!
Sunglasses
Practical and stylish, a pair of sweet shades is the perfect gift for the guy or gal who loves to hit the road in their pickup.
Truck Boxers
For those times when your truck guy wants to be low key about his love, deck him out subtlely with a pair of truck boxers.
Trailer Hitch Ball Cover
Protect your truck lover's trailer hitch ball (and his or her shins) with a fun and funky cover that's a tribute to another one of their favorite pastimes...fishing!
Truck Washing Mitt
Perfect for the DIYer, a truck washing mitt delivers a lint-free, scratch-free shine to their most prized possession—and it's durable enough so they can use it over and over again.
Firestone Complete Auto Care Gift Card
At the end of the day, nothing matters more to a truck lover than taking care of their prized possession. Give them the gift of a Firestone Complete Auto Care card, so they can care for their truck with peace of mind it's in expert hands.
From stocking stuffers to presents under the tree, any gift that indulges your truck lover's passion will be a gift worth remembering. Stop by your local Firestone Complete Auto Care to grab a new set of wheels or gift card today!