---
Guest Blogger: Maria Oreta
---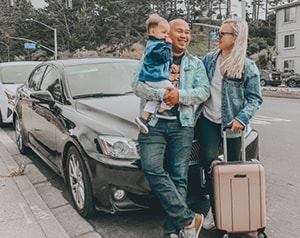 Arizona was my old dream. I wanted to see with my own eyes the incredibly beautiful nature of this state. That's why I was so happy when the night before my birthday Gelcy made me a surprise and we went on a family road trip.
After 14 hours on the road and a sleepless night, we were at the most amazing place I've ever seen. Grand Canyon met us with hot weather and an incredible view. It seemed to me that this was just a mirage. I remember standing on the top of Grand Canyon and thinking about how happy I was. I couldn't believe that nature could create such a miracle of the world.
Besides Arizona, we also stopped in Nevada. My husband had always wanted to see Las Vegas, so we decided to stay there for a couple of nights and get to know this city. We were walking in the night Vegas and I decided to find out how Gelcy planned our road-trip. He said that a couple of weeks ago, he went to check his car in Firestone Complete Auto Care. It's a is a leading national auto care provider where 3,500 hardworking and trustworthy technicians keep your car running newer, longer since 1926. Find some great coupons for Firestone service here.
After that he booked the hotel and made a route for our trip. When everything was planned, he had to wait for the right moment to tell me about the surprise. To be honest, it was the best birthday in my life and I can't wait when we will go on the next road-trip.