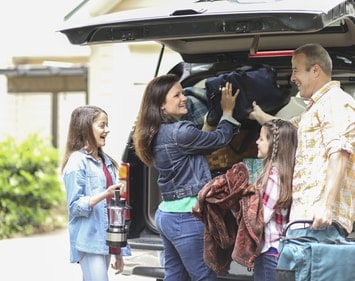 Driving to Yellowstone National Park for a summertime getaway with the family? Jumping in the car for a Fourth of July beach trip? If so, you'll be sharing the road with millions of excited road-trippers.
To make your summer road trip as smooth as possible, you'll want to take care of your car so that it can take care of you. Tackle these five important maintenance services before you head out on a long drive to help ensure you reach your destination without a hitch.
1. Maintain the exhaust system.
Never thought to check the condition of your exhaust system? The middle of nowhere isn't a place you want to wish that you had. A faulty exhaust system could mean poor fuel efficiency, decreased power, and sometimes, improper venting of the poisonous gases that your engine produces.
If you've been hearing engine noises like popping and hissing, checking your exhaust system is vital to road trip success. The noises could signal problems with the exhaust manifold, muffler, tailpipe, or catalytic converter.
And if you're not hearing engine noises? It's still a good idea to have a technician look at your car's exhaust system before a long trip.
"Vehicles that are 5 or more years old should have their exhaust systems checked by a professional every year or two, even if nothing feels or sounds bad," advises Cars.com.
You don't want to exhaust yourself having to get a broken-down car fixed during your vacation.
2. Adjust the steering and suspension.
There's more to a smooth drive than keeping the kids entertained. (But hey, we have that covered, too! Check out these crafty kid-friendly games and road trip activities that are actually fun for the whole family.)
Loose steering parts, damaged shocks or struts, broken or worn-out mounts or bushings, and vehicle swaying or bouncing could throw a wrench in your summer plans—and make for a really bumpy trip.
Before you hit the road, point your dash in the direction of a professional who can examine your car's steering and suspension system to ensure a smooth ride to your vacation destination.
3. Examine the tires and alignment.
Get your kicks on Route 66. Not a flat tire.
Getting a flat tire is one of the most common reasons that drivers call roadside assistance. To help prevent a flat-tire disaster, ask a trained technician to inspect your alignment and tires, including the spare.
Among other things, a tire check includes a look at:
Tire Pressure: Is the tire pressure set to what's recommended in your owner's manual? An under- or overinflated tire can lead to a variety of issues, such as a bumpy ride, premature wear, overheating and, worst of all, a tire blowout.
Tire Wear: Is your tire tread in good condition? Are the tire wear patterns uneven? You can't depend on your tires if the tread isn't deep enough or there's too much wear to gain traction on the road.
A tire inspection could also reveal misalignment, which can decrease the lifespan of your tires and reduce fuel efficiency.
4. Give your brakes a break.
The braking system is one of the most critical safety features of your car. But like many other car parts, it can overheat and put your family at risk—especially if it hasn't been serviced in a while.
Make sure the braking system is in tip-top shape before you and your family hop in the car and head out for a summer drive. You never know what kind of conditions you might encounter on a long road trip, from stop-and-go city traffic to animals crossing the desert highway.
A thorough brake check can get to the bottom of brake warning signs like grinding, squeaking, steering-wheel shaking, and sponginess when the brake pedal is applied. This includes an examination of the brake pads, rotors, drums, hoses, and brake fluid.
5. Perform general maintenance.
Don't overlook the seemingly little items that could put a roadblock in your summer road trip. Among other things, a trained technician can check your car's:
Fluid levels, like engine oil and coolant
Spark plugs
Cabin, fuel, and air filters
Battery charge
Once you address these five maintenance tasks—whether they result in tweaks, repairs, or replacements—you can relax and truly enjoy your long summer road trip. Pro tip? Take care of everything with a Complete Vehicle Inspection at Firestone Complete Auto Care. And if you need us during your journey, we're probably not far. We have more than 1,700 locations across the country.