Automotive tires don't last forever. They get tired, so to speak, and eventually reach the end of the road. But retired tires don't have to end up in the trash or in the environment we live and play in.
Bridgestone's Tires4ward tire recycling program, launched in 2012, envisions a waste-free tire industry and reflects the company 's commitment to sustainability "Our Way to Serve." For every tire Bridgestone Retail Operations sells in the U.S., the goal is to ensure that one spent tire—or any tire that has been taken out of use—serves another valuable purpose.
Tires4ward Helps Old Tires Live New Lives
At Bridgestone's more than 2,200 company-owned retail stores in the U.S., including Firestone Complete Auto Care locations, spent tires go on to become material in rubberized asphalt, construction materials, and landscaping mulch. Or the tires help produce fuel for energy.
Spent tires—those that have worn out their usefulness for a vehicle—also are molded into products like floor mats, roof mats, and stone paving, and even are recycled for use in new tires such as Bridgestone's leading Ecopia line of fuel-efficient tires.
Tires4ward Reaches Beyond Retail Stores
Last year alone, Bridgestone retail stores prevented more than 10 million spent tires from being dumped in landfills. Bridgestone's commitment to a waste-free tire industry doesn't stop at the stores, though.
The Bridgestone Tires4ward program also recycles tires collected as part of organized cleanups of public lands, rivers, streams, and lakes across the country. To support those cleanups, Bridgestone formed a partnership with the River Network, representing more than 2,000 state, regional, and local grassroots groups that seek to protect lakes, streams, and rivers around the U.S.
Plan Your Own Community Cleanup with Tires4ward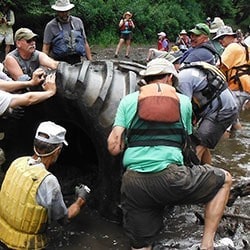 You can request Bridgestone's help in recycling tires picked up during these cleanups by completing a Tires4ward Request Form. Once the form is filled out, Bridgestone will contact the cleanup coordinator to schedule a tire drop-off at a local Bridgestone retail store or arrange on-site tire removal.
To date, Bridgestone has supported more than 650 community cleanups and recycled almost nearly 200,000 tires from rivers, streams, and communities nationwide.
The in-store initiatives and community cleanups are two examples of how Bridgestone is working to change the landscape of the tire and automotive industry and realize the vision of a waste-free tire industry.
The Tires4ward tire recycling program is just one component of Bridgestone's obligation to be an industry leader in every aspect of the business, including good stewardship of the earth and its precious resources. Bridgestone's commitment to sustainability is reflected in the company's environmental mission "to help ensure a healthy environment for current and future generations."
One tire at a time, Bridgestone is moving forward with that mission. You can, too.