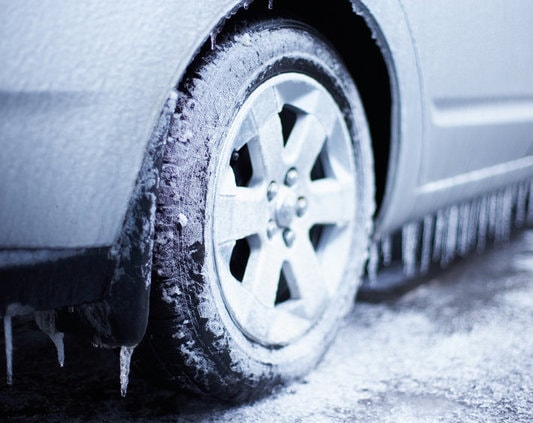 When do you swap out your summer tires for your winter tires? If you wait until the first snowflakes hit the ground, you're not alone. However, this isn't the ideal time to do so. The truth is, you should have winter tires installed on your vehicle when the temperature drops, whether there's snow in the forecast or not! Learn more about the right time to make the switch so you can avoid a long line at the tire shop and, most importantly, make it to your destination safely in cold weather.
Switch to Winter Tires When
The temperature consistently dips below 45ºF.
True or false: Winter tires are only important if you live in snowy areas.
The answer: False! Winter weather tires are designed to keep you safe when temperatures dip, even when the forecast calls for blue skies and dry roads.
Here the thing. If it's cold enough that you need a coat and gloves, you should probably put on winter tires—snow or not. As the temperature drops, the tread compound in your regular, all-season or summer tires can become stiff and inflexible. The rubber in snow or winter tires is specifically engineered to remain soft and flexible despite drops in temperature, which translates to better traction, braking, and handling for you!
You can feel a thumping in your tires.
If you start to feel a "thumping" sensation in your tires (and you know it's not a flat tire), dust off your winter tires. This feeling is typically most noticeable in the morning and goes away after you've been driving for five to ten miles. Overnight, tires that aren't ideal for cold temperatures can form flat spots as they sit on the pavement. As you drive and the rubber warms up, these flat spots gradually flex and work themselves out.
A "thumping" in your tires is often a warning sign that the weather is too cold for your tires to perform at their best, and your current set has lost their elasticity and "springiness." Switch to winter tires and the thumping will be gone!
Your tire tread depth is lacking.
Having sufficient tread is crucial during every season, but especially during winter when the roads can become covered in ice, snow, and slush. To easily check the tread on your tires, all you need is a penny. Place the coin between the tread ribs so that Abe Lincoln's head is facing down, pointing toward the center of the tire/ground. If you can see any of his head, it's a good time to talk to a technician about buying new tires, ASAP. Your tires may lack the tread they need to safely grip the road. Driving in wintery conditions will be especially dangerous.
Don't wait for the first frost to get your vehicle ready for winter. Bridgestone Blizzak tires have confident stopping power, reliable handling, and impressive grip in cold weather, snow, ice, and whatever else winter throws your way! Avoid the mad rush for winter tires, get ahead of the game, and stop by your local Firestone Complete Auto Care today. Your neighborhood technician can advise you on the best time to make the switch based on your climate and current tire wear. They can also help you understand how to properly store your tires between seasons so that when spring and summer roll around, your rubber is ready for the road!