THE SPENT TIRE INITIATIVE
OUR SPENT TIRE INITIATIVE LEAVES NO TIRE BEHIND.
For every tire you buy from us, Firestone Complete Auto Care sees a tire to valuable
reuse – whether it's your old tire or one we find in the community on your behalf.
HOW THE SPENT TIRE INITIATIVE WORKS.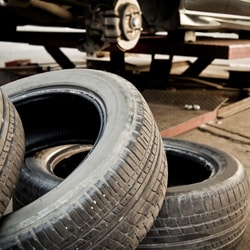 HOW THE SPENT TIRE INITIATIVE WORKS.
NO TIRE LEFT BEHIND.
YOU PURCHASE

Buy tires from one of our 2,200 nationwide stores. Thank you for your purchase!

WE COLLECT OR FIND

We take your old tire or aim to find another spent tire in the community to match the one purchased (one-for-one).

REUSED OR RECYCLED

We find a company that can recycle or reuse this tire for another valuable purpose.
THE TIRES WE RECEIVE SEE 100% REUSE.
THAT MEANS ZERO WASTE.
THE SPENT TIRE INITIATIVE:
IT'S OUR ONE-FOR-ONE PROMISE, WITH NO TIRE LEFT BEHIND.
We announced our one-for-one Spent Tire program on Earth Day, 2012, with the goal of reusing, repurposing or recycling a tire for every single one we sell in our stores. It's part of our waste-free vision for the tire industry.
Keeping spent tires out of natural habitats, creeks and landfills is essential. We won't let them accumulate. We won't let the resource go to waste. We won't do the bare minimum either.
Building upon the rate already achieved by our Bridgestone Retail Operations stores nationwide, we promise 100% of spent tires received by our company-owned Firestone Complete Auto Care, Tires Plus, Hibdon Tires Plus and Wheel Works stores see valuable reuse or recycling. In 2013, we also launched a voluntary program with affiliated Bridgestone retailers to develop their commitment to zero waste, too.
Auto Care Tips & Advice
From the Completely Firestone Blog