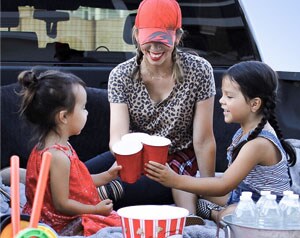 One of my favorite things about fall is football and with football comes tailgating. It's all about spending time with your family and friends. For us, family includes our three kiddos. It may sound a little crazy to bring little ones to a football tailgate, but it's totally doable and everyone CAN have a good time with a little extra planning. Of course, be sure to visit your local Firestone Complete Auto Care Center to get your car ready for the tailgating season!
1. Include Them In Prepping
Make t-shirts or have them craft DIY game day décor. You can also take them shopping ahead of time for shakers, pom poms, etc. They will be cheaper ahead of time, too. Kids love being included and having them help from the start sets a positive tone for the event.
2. Plan For Naps
Depending on how young your kids are, you may need to make sure there is going to be a nice little spot for naps or at least some downtime. If you're going to be using a truck to tailgate, consider bringing blankets and pillows for the bed of the truck. You may also want to bring a tent to provide shade as well.
3. Kid-Friendly Drinks & Food
Pack things like juice boxes, food pouches, cut fruit, sandwiches, etc. for your littles to eat while you chow down on your messy burgers and wings. I always find that juice boxes and food pouches entertain my kids for some reason anyway. Whatever works!
4. Games!
I feel like this might be the most important tip. While adults are content with conversation for hours, kids are not. Bring all the entertaining things. I like to stop by our local dollar store and pick up a few games, bubbles, whatever I think the kids will enjoy. These games also tire them out, which usually results in some pretty solid naps. Score!
5. Take A Walk
Be prepared to take the kids away from the rest of your group at some point. Pack a few snacks and walk around the stadium, meet the mascot, or find some fun activities for you and your kids. This will help break up their day a little and hopefully maintain positive moods.
If you have kids, you already know you have to go with the flow most days, and tailgating is no different. Things won't be perfect, but I totally believe kids pick up on our energy and react to it. Just relax and have a great time. You'll make some awesome memories with your kids!