---
Guest Blogger: Jhamil Bader
---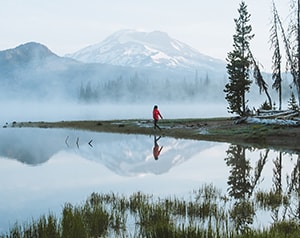 Central Oregon offers diverse scenery from the high desert of Smith Rock State Park to the lakes, mountains and lush forests along the Cascade Lakes Highway and Santiam Pass. I've teamed up with Firestone Complete Auto Care to bring you a summer travel itinerary from of our recent road trip to Bend, Oregon including a few locations visited, and a few of our favorite locations that we couldn't help but include. We also included a few activities for families with kiddos as well as some eateries in the area that we particularly enjoy. This itinerary is perfect for anyone who wants to get away for just a weekend or it can be added as part of a longer Oregon road trip as well. It includes locations that are great for families who are just starting to go on adventures with their kiddos, or whose kids aren't up for a longer car/tent camping road trip yet!
If you're preparing for an upcoming road trip be sure to download a Firestone Complete Auto Care coupon via their website!
Thursday: Traveling to Bend, Oregon
Day one, we picked up the kiddo and headed south to connect with Highway 22 from Salem, Oregon. It's my personal favorite route as the greenery along the way is absolutely stunning. It connects up with Highway 20 through Sisters and then onto Bend. You can also take a side detour down Highway 126 at the junction of Highway 22 / Highway 20 heading south to Sahalie and Koosah Falls. It adds a bit of time but is a worthy pit stop on the way out if you leave for Bend earlier in the day.
This trip we didn't have as much time, but we make a pit stop at Suttle Lake for both the kiddo and us. We're all happier when we make a stop or two along the way to stretch, snack, etc. We made a mental note to come back, as there are some wonderful cabins/camping areas at the lake that seem like a perfect little getaway.
We then continued onto Bend and our friend's house. It was easier to stay in town for this trip particular as I had too much gear for us to put the seats down and car camp, and the weather forecast was looking a bit iffy for tent camping on Saturday (it ended up snowing in the area we would have been tent camping on Saturday morning). We try to tent or car camp whenever we can though as the kiddo loves it sooooo much! I love a cozy cabin or hotel as much as the next family with kiddos, but just being outside with the fresh air and that wonderful campfire smell is hard to beat.
Two alternative routes:
Southeast from Portland – take I84 east to connect with Highway 26 through the Mount Hood National Forest. Stops to consider along the way include Mirror and Trillium Lakes, which are both quite accessible (a northwest forest pass and or $5/day fee is required at the Mirror Lake trailhead).
Northeast from Eugene – take Highway 126 to connect with Highway 20 through Sisters. Stops include Sahalie and Koosah falls, or Proxy falls depending on the time of year.
Friday: Sunrise with Friends, Good Eats, & Family Adventures
4 am, bright and early I was up and in the car headed to Sparks Lake. Bailey and the babes slept in for this one so I went solo to meet up with some friends. It was quite refreshing, getting away for a couple hours with just my thoughts. I highly recommend that if you are going on a road trip with your significant other, or your kids, that each of you takes a morning or evening on one of the days to have some alone time. Understandably if you're taking your kids and they need hands-on attention throughout the day, that time may be more limited… but if you are camping one of you can sneak out for sunrise one morning before the kids wake up and the other can get some time the next morning. If you can make it happen, do!
Location Tip: Camp at Sparks Lake
Although we didn't camp on this particular trip, it wouldn't feel right to leave out a mention of camping at Sparks Lake. It's a first come campground with spots for both tent and car/RV camping and if you can get a spot it's more than worth it. Our little one absolutely LOVES to go camping, no matter the location, and being by the lake makes it that much better. Not to mention the views of South Sister, Mt. Bachelor, and Broken top are stunning.
I quickly got the tummy rumbles and headed back to the place we were staying in town to grab Bailey and the kiddo and then we headed to Rockin' Daves for breakfast!
The rest of the afternoon we spent exploring around Bend, visited a few local parks and headed down to the old Mill district for a little window-shopping and some ice cream. Side note, if you're road tripping and you'll be in town for part of the time (with kiddos), definitely stop by some parks. It will help get some energy out, keep them happy, and will make them enjoy the time out in nature all that much more. Our personal favorite is Blakey Park.
Lunch Option: Pizza Mondo, easily one of the best by the slice pizza places in Oregon that also offers vegan options! We didn't make it there this trip, but it's rare for us to visit Bend without eating a slice at Mondo.
We wrapped up the day picnic style heading back out to Sparks Lake with the whole gang. We invited a friend of Bailey's along with her four-year-old daughter. The kiddos had SOOO much fun together. If you can connect with fellow parents (if you've got kids), locals or just fellow creatives you should definitely take advantage of the opportunity! It was looking extra moody as we reached the lake but the kiddos were more than ready to explore. So we headed out to the lake to test some gear, eat a lot of fruit and throw rocks in the water. It started to pour just as we were packing up but honestly, the kids minded it the least of all of us. I think the number one thing I've learned from sharing the outdoors with our little one is that he doesn't really care about the weather or a specific location. If he's outdoors, camping, kickin' up dirt and throwing rocks off mountains or into lakes, he's happy.
Some Additional Spots to Visit in the Area:
While Sparks Lake is easily one of the most popular lakes along the Cascade Lakes Highway, it is far from the only one. You'll either need a northwest forest pass or a $5 / day pass for most if not all of the lakes along the highway, so be sure to have a couple $$$ of cash on you if you don't have the forest pass. Here are a few of our other favorite lakes that are definitely worth checking out.
Devil's Lake – the green color of the lake, especially after a rainfall is truly magical. It also offers a few walk-in, designated camp spots on a first come basis
Todd Lake – another beautiful lake with a stunning view of Mt. Bachelor when you walk around to the backside of the lake. There are some prime spots for setting up a hammock as well!
Elk Lake – easily one of my favorite lakes along the highway, with some beautiful sunrise photo ops if you explore around a bit.
Saturday: Rest and Relaxation
All three of us were pretty zonked after the late night Friday, so we slept in. We got up and went to grab breakfast at Longboard Louie's, another of our favorite breakfast places in Bend.
We then relaxed for a bit before heading out to meet with some friends for a birthday party, hit another park and then drove back to Portland.
Additional locations to see and food to eat!
Camp at Smith Rock State Park – heading northeast from bend is Smith Rock State Park and Campground, which is another first come spot that is a must visit for the area. I've camped there every summer for the past 3 years or so, and I can honestly say you'll meet some of the friendliest, kindest, and most energetic people when you stay there. The area is beautiful with hikes ranging in difficulty as well as climbing opportunities for all ages (there are a few climbing structures near the camping area for the little ones). There is a day use and per night camping fee of $5 / day for the day use and $5 / night for camping.
Lunch Spot - Next Level Burger
We're vegan/plant-based but we still LOVE fast food, and since there is no veggie grill in Bend, Next Level Burger is a fantastic option to grab a quick vegan bite. They also have vegan shakes!
Dinner Spot - Pho Viet & Café
We love pho and pretty much all types of Asian cuisine and there are some excellent vegan options on the menu as well!
I hope you enjoyed this post about our recent trip to Central Oregon along with some bonus spots and tips! I think the most important thing to remember when traveling will kiddos is that there will always be something that doesn't go as planned. Just go with the flow and focus on having fun. I will be updating this blog over the coming months, as we make additional trips to Bend, so be sure subscribe for updates or check back occasionally! If there's a spot I've missed that you'd like me to add or visit and review drop a comment below!
If you are preparing for an upcoming road trip visit Firestone Auto Care's website to download a coupon!
Thanks to Firestone Complete Auto Care for making this trip possible. All of the opinions and views included in this post are my own.