---
Guest Blogger: Jehava Brown
---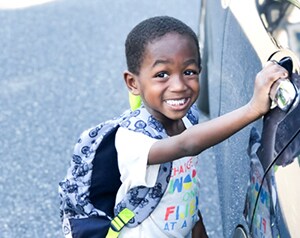 Our family loves to travel. If you follow me on Instagram, you know…we are always taking road trips, or hopping on a plane to go somewhere. It's important for us to get away, and enjoy all different cities have to offer.
There's a downside to traveling as a family and I say this from some less-than-exciting experiences with my own boys. Here's the only issue…if you are not prepared, those road trips can get really stressful with kids in tow. This is why over the years, I have learned some really great road trip hacks that help traveling go a lot smoother.
1. A SNACK BAG FOR EACH PERSON
Pack each person a bag with a few different snacks. I use a single 1 gallon bag with each person's name on it. Add to the bag a few small snack bags of veggie straws, cheese crackers, popcorn and a fruit snack. This limits the need for sharing or arguments over who has more. They each have their individual snack travel bags. Set a timer for when everyone can pull something out of their bag. Our boys run through snacks and their appetites are pretty extensive…so I set a timer to grab something every hour.
2. ROAD TRIP SCAVENGER HUNT
The week before going on a trip, have the kids draw up various items they will see on a road trip to get them excited. They can draw as many items as they can think of. If your child is younger, you can draw with them. When a little boredom starts to set in, we take a turn doing everyone's scavenger hunt, spotting the items while we travel. It's fun for the whole family, and it keeps the kids busy.
3. BRING A POTTY & TOILET PAPER
I have a 4 year old that is potty trained, but sometimes does not realize he has to go potty until the last minute, and there isn't a rest stop in eyes sight. We have all been there. Bring a portable potty in the back of your car for emergencies. Pull over to the side, and let them go. Don't forget baby wipes, hand sanitizer and toilet paper.
4. PLAN YOUR STOPS
Take some time the day before setting out to see where the best places to stop are in route. Many times, we have gotten stuck on the road, everyone is hungry, and there is only one random exit with only one fast food option. We'll stop there…only to find that if we only waited another 15 minutes, there was a busier exit with plenty of food choices coming up. A little bit of planning ahead of time, will help planning for stops a little smoother.
5. GET A NEW SMALL TOY FOR EMERGENCIES
Depending on the length of your trip, there seems to be a tipping-point…everyone is on the verge of crazy, and just tired of being in the car. This is the perfect time to break out a new toy they haven't seen. I'll buy something really inexpensive like a car, small coloring book, or new crayons for each child. I hide it until I really need it. No matter how small the toy, during a long car ride, almost anything will be super exciting to your child.
6. PACK A BAG WITH PLASTIC UTENSILS & NAPKINS
Do you know how many times we need these things on car trips & they are no where to be found?! Every time…We go through napkins at an insane rate. There are many times we get fast food, and there is no straw or utensils in the bag, and we've already driven away. Now I am stocking a bag with these things, and keeping them in the glove box for each time someone needs one.
7. GET YOUR CAR CHECKED PRE-TRIP
I remember when I was young, my parents took us on a road trip…our van had issues. We were stranded on the side of the road until my dad could walk to the nearest exit to get help. This took hours. I don't think there is anything worse than getting stuck on the side of the road with little kids who just want to get to your destination.
A great way to bypass any issues that could arise is getting a full vehicle check-up before getting on the road to make sure everything is working right. A really simple way to do this is visiting your local Firestone Complete Auto Care. Firestone Complete Auto Care backs all of their work with a Triple Promise that guarantees your repair experience will be Fixed Right, Priced Right, and Right on Time. So…make sure you download a coupon right HERE to get ready for your next upcoming trip.
I hope you will plan some great adventures this summer with your loved ones, and these tips help you enjoy them a little more!