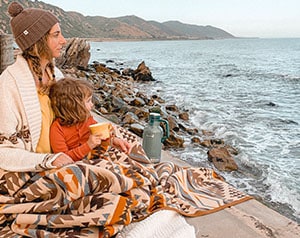 When I planned our beach road trip, I was sick in bed with an ear infection. I must've browsed through hundreds of rental homes and campsites just looking for a place as close to the water as we could find on relatively short notice. It was 6 weeks out from our travel date of Memorial Day weekend and everything was already booked. So when I happened across a cute little cottage on the beach, we snapped it up! Then it was time to start planning our trip to Ventura – a little seaside town about an hour and a half northwest of Los Angeles.
My husband took care of making sure our car was in road trip-shape. We always like to do a little pre-trip check – just to make sure everything is safe and good to go before we do a long drive. It's a good time to do some routine maintenance like getting an oil change, topping off fluids, and making sure the air pressure is correct in the tires. If you need some help getting your vehicle summer road trip ready, swing by your local Firestone Complete Auto Care store. Firestone Complete Auto Care is with you all the way because they have 2,200 locations coast to coast.
My role was planning and packing for the trip. Well in my mind, Memorial Day weekend is the start of summer, so I had a classic summer beach vacation in my mind. You know, the kind of trip where you tote everything and the kitchen sink down to the beach and spend all day there? Building sand castles, searching for seashells and, most importantly, laying on your towel reading a book until you get so hot and sweaty that you simply must take a dip! With this hot, sunny trip in mind, here was our family packing list:
beach towels
 sun hat
sunglasses
 reusable water bottles
 sand toys
 sunscreen
 beach tent
 water shoes
 bathing suits
 binoculars
Little did I know that Southern California was about to get hit by an uncharacteristically chilly late Spring! When I checked the weather the day before we left I was surprised to see that the temperature in Ventura was forecast to be in the 50s and 60s and rainy over the weekend! This was definitely not the weather we'd hoped for, but we were determined to make the most of it, so at this point, we added the following to our list:
wool blanket
 sweaters
 raincoats
 long johns
 warm socks
 warm hats
 thermos & tea
Luckily, since we were driving we had plenty of space to pack gear for whatever weather California decided to surprise us with. Aside from our beach essentials, we also brought along a cooler filled with all the groceries we'd need for the weekend (we decided to cook most meals at home to save time and money), things to entertain our daughter, Prairie – books, toys, stuffies, and coloring supplies, podcasts to entertain us (I don't know if podcasts count as things, but they truly are a road trip essential in my opinion!), and plenty of fun road trip snacks of course!
My husband Andy took Friday off of work so we could have leisurely day to drive there. We left in the morning hoping to avoid traffic – since, unfortunately, we had to drive through Los Angeles on our way from our home in Joshua Tree to Ventura. We broke up the trip by stopping for a delicious vegan lunch in Los Angeles. Then we stopped again for farm stand fruits and veggies and a surprise roadside petting zoo in Oxnard. We arrived at our cottage just in time to enjoy the view from our waterfront home away from home. We spent the late afternoon on the porch watching for dolphins and then took a sunset stroll on the beach before bed.
It was pretty cold that evening, but luckily we had packed that wool blanket so we braved open windows in order to enjoy the fresh air, the sound of the waves crashing and that ocean breeze. Despite sleeping on a broken futon, I woke up feeling refreshed and ready for whatever the day would hold. Somehow I didn't feel so stressed and sad anymore about the cold weather, I was just excited to drink some coffee, get dressed, and take my toddler out for her first experience tide pooling!
I could see the tide was really low since the rocky shoreline in front of our rental house was exposed, and it hadn't been the afternoon before when we arrived. So we hurried out to spend the morning peeking into pools and under rocks to glimpse hermit crabs, sea anemones and lots of other cool sea life! Prairie got so excited to see all of the sea creatures up close and personal that she took an extra-long nap that afternoon – which is the true hallmark of a great family trip.
So in the end, this trip – which we were worried was ruined due to unseasonably cold temperatures – actually ended up being wonderful. We relaxed, laughed, connected and created beautiful memories together. And truly that is the joy of family road trips – getting out of our comfort zone and just enjoying whatever we discover together!