---
Megan Demarais

Megan Demarais is a writer residing in Duluth, MN: a city so picturesque she endures sub-zero temperatures all for three glorious months of basking in sunshine and Lake Superior's splendor.
---
Ah, summertime: the beach-bumming, sundress-sporting, barbeque-devouring season we crave nine months out of the year. With longer daylight, comes vast opportunity to get your car on the open road and seize the sun… and there's no spontaneity slayer quite like having to race home to pack a bag (and figuring out what exactly to fill it with).
From impromptu picnics and beach retreats to off-the-cuff cruises turned road trips, keep your summer in drive by packing this auto-friendly arsenal. Go from Workday Wilma to the Sovereign of Sunshine with just a pop of the trunk!
Summer Trunk Essentials: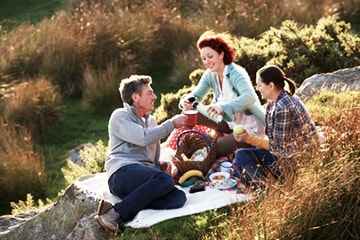 1.) Picnic blanket: Keep clothes dry and sans-dirt. A picnic blanket (especially the one's with felt backing) can also be used as a makeshift towel or covering.  An added bonus is most every blanket can easily roll up to fit in the tight corners of your trunk.
2.) Gallon of water: Besides providing hydration for both human and furry friends, having a gallon of water can also aid in the case of an overheated radiator.  Pro tip: Use non-plastic whenever possible.
3.) Bubbles: No matter what size or age, bubbles are always a good idea.
4.) Water guns: Drive off the beaten path and park the car. Throw your co-pilot (or children) a water gun and give them a five-second head start…whoever comes away driest wins!  These inexpensive toys are also a fun way to cool off pets and people alike.
5.) Disposable camera: No, this is not a misprint. Plagued by an era of instant gratification, a disposable camera is an amusing (and strikingly suspenseful!) way to document your escapades. Cameras are also an effective means of documentation in the unfortunate event of an accident for insurance purposes. Cell phones die, people! Disposable camera photos live forever.
6.) Bucket and shovel: Have kids? Watch their eyes light up when you pull a bucket and shovel out of your trunk.  Priceless.
7.) Frisbee: A casual day at the beach or park can quickly transform into a competitive round of Frolf (Frisbee golf) once this gets pulled from the trunk!
8.) Set of plastic cups/utensils: You'll be surprised at how beneficial storing a six-pack of plastic cups can be – pop up bar in a pinch!  These can also serve as a water dish for pets.   Pro tip: Save your unused, wrapped utensils from to-go orders.
9 & 10.) Sunscreen/bug spray: If you choose ignore packing everything else on this list but sunscreen and bug spray, you will remain in fine shape. There is nothing worse than a day of enjoyment cut short by sunburn or bug bites.
11.) Baby powder: A handy sweat-absorber AND when sprinkled on after beach fun, the sand will literally brush right off! A travel-sized bottle can last you the whole summer.
12.) First aid/ car emergency kit: A primed traveler laughs in the face of chaos. Cuts, stings, bites, and burns–be equipped for both the ups and downs of an adventure.
13.) Wipes: Sticky hands, spills, and quick clean ups; wipes are vital to any trip of any length or type.
14.) Flip-flops: Heading straight from work? Ditch the heels (which aren't exactly sand and grass friendly) and slide on a pair of flip-flops. Your feet will thank you.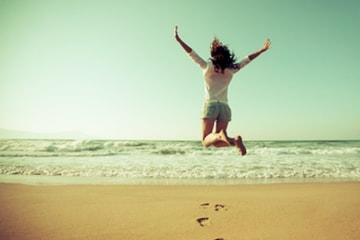 15.) Spare swimsuit/change of clothes: A spare swimsuit and change of clothes tucked away in the trunk has rescued me in multiple scenarios, and is especially valuable if you have kids. Pro tip: Fold clothes in Ziploc bags for safe and dry keeping.
16.) Roll of quarters: Never let your journey be deterred by tolls. Have a roll of quarters tucked away for tolls, meters, or an emergency food/beverage run.
17.) Umbrella: Rain or shine, an umbrella will shield you from all possible elements Mother Nature produces.
18.) Matches or a fire starter: Add fuel to summer nights by stowing a box of matches in a Ziploc bag. In the event your adventure takes you camping, you could also store a fire starter for emergency lighting.
19.) Flashlight/LED lantern: Keep adventures going at anytime of day or night! An LED lantern is useful, as it won't require a match and is brighter than a flashlight.  Pro tip: Tape batteries on the outside of flashlight to prevent battery waste.
20.) Protein bars & non-perishable snacks:  Similar to water, having sustenance at arm's reach will provide happiness and full bellies to all around! Think non-perishable, and individually wrapped when possible (almonds, pretzels, nut butter, popcorn).
21.) Paper towels: From cleaning messes to drying hands, paper towels are as much of a staple in the car as they are in the kitchen.
22.) Toilet paper: Need I say more?
23.) Utility knife: Zoom from outdoor novice to MacGyver status by adding a utility knife to your summer car pack. It's called utility for a reason.
24.) Reusable shopping bags: Many of you already have these awesome eco-bags in your trunk at this very moment.  Convenient for when you need to carry key items or need a temporary receptacle. Pro tip: Pack these bags inside the roll of the paper towel.
Last but not least, a wise woman once said your summer hasn't started unless there's a cooler in the trunk.  Here's the kicker: put the above items INSIDE of the cooler! Voilà: space saver in the trunk, beverage chiller, and wickedly easy way to transport all your item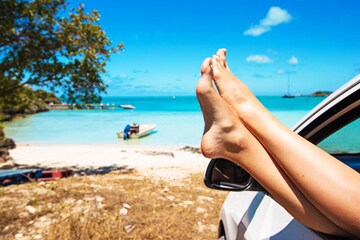 This summer packing list for your trunk is by no means exhaustive; needs may vary by individual or adventure. While it might seem extensive, these items don't demand massive trunk space or weigh much.  Now pack these items up, get in the car, and drive somewhere you've never been. Roll out that blanket, kick off those kitten-toes, and take full advantage of every sunlit minute summer shines upon you!