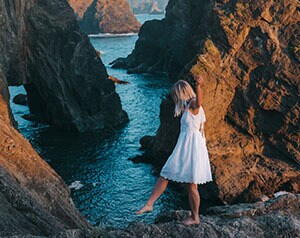 One of my favorite road trips to take is driving up the West Coast to explore California, Oregon, and Washington! Along the way, you get to experience so many different types of terrains from the Redwoods of California to the rugged coast of Oregon. My motto is to always take the scenic route, so when it comes to driving up the West Coast, taking Highway 101 is so worth it.
Driving up the coast gives you some of the most beautiful California views of endless ocean, it really needs to be on everyone's bucket list. The highway is definitely windy, but as long as I've got my car serviced and ready at Firestone Complete Auto Care, I feel good to take on the California roads!
Here are my top seven must-see spots when driving up the West Coast.
1. McWay Falls
This waterfall is right off the 101 highway. The drive leading up to it is absolutely stunning, but this waterfall cascading onto a beach takes the cake. Although you're not allowed to access the beach, even seeing it from above is a magical experience! This waterfall is super close to Big Sur as well, which is also a beautiful area to explore.
2. San Francisco
A road trip is not complete without a stop in The Golden Gate City! I love a mix of exploring cities and nature when I go on any road trip, it really allows me to feel like I get to experience all the area has to offer. When visiting San Fran, make sure you get to see a great view of the Golden Gate Bridge. My favorite vantage point is the Baker Beach area.
​3 Redwood National Forest
The Redwood National Forest is home to some gentle giants. Driving through these behemoth trees that are hundreds of years old gives you a feeling like no other. There's also plenty of short hikes you can do in this area to really get into nature and get to experience this ancient forest.
4. Samuel H. Boardman Corridor
Once you get into Oregon, you have a lot of options when it comes to what route to take, but my go-to is following the coastline. The Oregon coast really is so unique and beautiful. There are so many gorgeous spots to stop off in this area that you can really spend all day - however, my favorite is definitely the Samuel H. Boardman Corridor. It's only about a 10-minute hike down to it, but it is such a gorgeous site. If you can manage to get up early enough, then sunrise at this spot is amazing. However, sunset also has its own magic.
5. Portland
Portland is weird and quirky and I love it! This great city is home to some amazing cafes, restaurants, and bars. When I travel up the coast, I always enjoy spending at least a night in this city. If your a fan of sweets, then Voodoo Donuts is a must.
6. Seattle
Seattle is a marvelous city to explore, as well. Even though I call this one my home, I definitely love to hang out there as much as I can. If it's your first time exploring Seattle, then there's nothing quite like the Pikes Market. I love picking up some fresh flowers from the market and walking around looking at all the goods.
7. Skykomish
Washington has some of the most stunning natural views! My favorite part of Skykomish is that even though it's only an hour from Seattle, you feel like you're in a whole new world. There are so many hikes to check out around this area, but the drive itself is lovely too. Make sure to check out the Skykomish River Bridge when you're there. It's a sight to see, especially if you catch a train going across it.
You'll definitely not regret taking this road trip, but it's so important to make sure your car is ready for extensive time on the road. The good news is you can get ahead of the game by scheduling an appointment with Firestone Complete Auto Care! You'll definitely be glad your car is road trip ready.