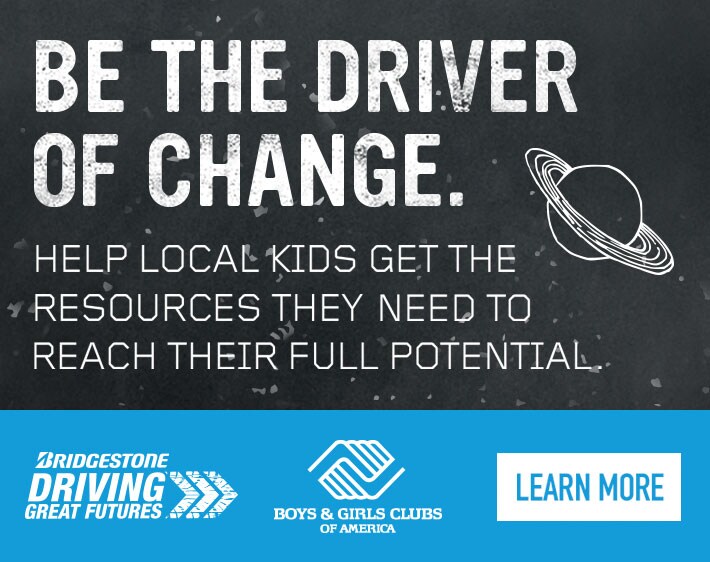 Visit Firestone Complete Auto Care during the month of June and you'll have an opportunity to do much more than get your car serviced or repaired.
June 1, 2018 marked the launch of Bridgestone Retail Operations' (BSRO) annual Driving Great Futures campaign benefitting the Boys & Girls Clubs of America (BGCA). With your help, Firestone Complete Auto Care can raise more funds and serve more young people than ever before—even young people in your community!
Since 1860, Boys & Girls Clubs of America has encouraged youth to reach their full potential by providing a safe, productive place for them to go. The organization aims to help young people graduate from high school, make goals and plans for their future, demonstrate good character, contribute positively to their community, and cultivate a healthy lifestyle.
And it's working! According to BGCA's National Youth Outcomes Report, young people who participate in Club activities are less likely to use alcohol and marijuana and more likely to have higher grades, volunteer, and engage in physical exercise!
Join Forces with Firestone Complete Auto Care
Your donations will help provide young people transportation they need to get to the Club. Firestone Complete Auto Care has helped raise more than $4 million to date, and this year funds will go toward much-needed transportation grants.
With these grants, Boys & Girls Clubs will be able to purchase new vans (complete with Bridgestone DriveGuard tires) to transport members to and from their local Club or Club activities. For Clubs with vans, the money will go toward improving and maintaining their vehicles.
"This year's pledge to donate and maintain Club vans will, in a very tangible way, drive great futures for kids and teens across the country," said Joe Venezia, the president of BSRO.
Learn more about this year's Driving Great Futures initiative in the video below.
Four Easy Ways You Can Show Your Support for Kids
Ready to help? It's easy! Visit your local Firestone Complete Auto Care between June 1 and June 30, where you can donate to Boys & Girls Clubs of America when you purchase tires or other services. You can also:
With more than 2,200 tire and automotive service centers participating in the Driving Great Futures campaign nationwide, it's easy to see how donations could add up quickly. This is your chance to stay on top of vehicle maintenance, keep your car running smoothly, and make a difference in your community, all at once. Come to your nearest Firestone Complete Auto Care today and help us drive great futures!