As the largest network of tire and auto care centers in the world, our parent company, Bridgestone Retail Operations (BSRO), is always looking to do more — whether that's breaking our fundraising records for Boys & Girls Clubs of America or giving you more convenient options for taking care of your car.
And in the spirit of giving you more, BSRO expanded our footprint of company-owned tire and car care locations in 2019 with the goal of bringing convenient auto services to a spot near you! With a total of 36 new store openings under the brand names Firestone Complete Auto Care, Tires Plus, Hibdon Tires Plus, and Wheel Works, we were able to open up over 300 new job opportunities.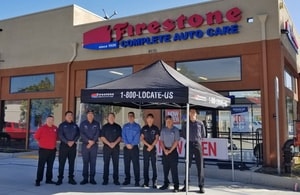 At Firestone Complete Auto Care, we're excited about creating jobs and facilitating proper car care in the local communities where new stores have opened. We couldn't have said it better than Marko Ibrahim, VP of Stores at Bridgestone Retail Operations said, "We hope to continue the success we had in 2019 this year as we work toward our goal of being the most trusted provider of tire and automotive service in every neighborhood we serve."
In 2020, Bridgestone Retail Operations plans to add another 50 new locations to its network of over 2200 existing car care centers, with 20 openings before the summer! So, next time you need an oil change or think your car battery is dying, chances are, there will be a BSRO retail location close to you! Find out where you can get convenient car care near you or contact your local Firestone Complete Auto Care to inquire about new job opportunities popping up in your city.