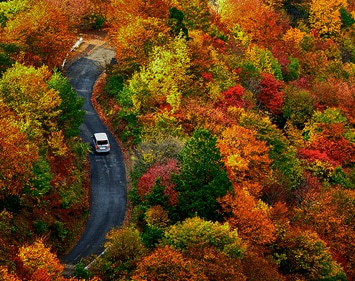 Something almost-magical happens across the U.S. every autumn – ordinary roads are transformed into fleeting art galleries filled with blazing, fiery color. And fall foliage aficionados will pack up their cars to take it all in before it fades away. Here are our top picks for some of the best scenic drives for fall color. And no matter which trip you make, stop by a Firestone Complete Auto Care and let our skilled techs make sure your car is on-the-road ready.
EAST COAST
Jacob's Ladder Scenic Byway
Where: Massachusetts
When: October
Winding through the Berkshires in Western Massachusetts, this short but sweet 35-mile trek follows part of the Appalachian Trail and offers drivers a leisurely look at the gorgeous fall foliage.
Hudson Valley
Where: New York
When: October
Largely an agricultural area, Duchess County in New York's Hudson valley affords drivers sweeping autumn-hued vistas, peppered with weathered barns and grazing animals.
MIDWEST
Upper Peninsula
Where: Michigan
When: Late September through October
This scenic five-hour trek loops around Michigan's Upper Peninsula, showcasing gorgeous fall color as well as a waterfall or two.
The Driftless Area
Where: Wisconsin
When: Late September through October
Never touched by glaciers, the Driftless Area in Wisconsin features sculpted hillsides that come alive with vibrant color. Architecture buffs will enjoy the added bonus of Frank Lloyd Wright designs along the way.
Glacial Hills Scenic Byway
Where: Kansas
When: October through early-November
Rolling through over 60 miles of wooded countryside, the Glacial Hills Scenic Byway gets its name from the hills and valleys carved from ancient glaciers. Stop in the tiny town of White Cloud for the 4-State Lookout platform that offers a panoramic view of Kansas, Missouri, Nebraska, and Iowa.
SOUTH
Smoky Mountains
Where: Tennessee
When: October through November
Starting at the very top of Ol' Smoky, this trip delivers 49 miles of fiery fall color as you travel down the mountainside. The 11-mile loop around Cades Cove in Gatlinburg adds waterfalls and streams to the panoramic viewing.
Blue Ridge Parkway
Where: Virginia & North Carolina
When: Early October through early November
With more than 450 miles ambling through the majestic Blue Ridge Mountains, you'll find no shortage of breathtaking autumn photo ops at every turn.
WEST COAST
Columbia River Highway
Where: Oregon
When: Mid-October
Constructed in the early 1900s and considered one of the first scenic highways, this trip offers drivers 75 miles of autumnal glory when the cottonwood, ash, and maple trees begin their annual transformation.
Lake Tahoe
Where: California
When: Mid-October through November
A scenic 42-mile stretch offers foliage fans some serious color–from lime-hued aspens to marigold-shaded cottonwood trees–all lining the beautiful lake itself.
West Elk Loop Byway
Where: Colorado
When: Mid-September through October
This historic, scenic road showcases a stunning, 200-mile display of gold and crimson aspens that contrast beautifully with the snow-capped Rocky Mountains in the distance.