With roughly 55 million potholes across America, there's a good chance you've noticed a few during your morning commute.
Potholes begin forming when water seeps into cracks in the road. Fluctuating temperatures cause this water to freeze, melt, and evaporate. As the water expands and contracts, it widens the crack it seeped into. Eventually, what starts as a little crack turns into a big hole that can damage your car!
Drivers spend millions of dollars every year repairing pothole damage to their tires, alignment, and suspension. Potholes are a problem everywhere, but drivers in these ten cities have it bad—real ka-thunking bad! Find out if your city is on the list, how to report potholes, and where to go if your car has pothole damage.
Philadelphia, PA
Philadelphia may be the City of Brotherly Love, but it's not exactly the city of vehicular love. The Philadelphia Streets Department has filled 14,460 potholes since January 1, 2018. But according to CBS, there's still more to do! The potholes in Philly were so rampant throughout 2018 that many residents took matters into their own hands by pouring concrete on city streets. Yikes! Help out by reporting Philly potholes online.
Baton Rouge, LA
Local officials in Baton Rouge are constantly filling potholes, and they've been doing so for the past several years. Even still, the city's road conditions aren't ideal. In 2015, local news station WBRZ reported that pothole damage in Baton Rouge was so commonplace that the city implemented a reimbursement system for pothole-related car repairs. If you live in Baton Rouge, you can report a pothole and file a vehicle damage claim on the Department of Transportation and Development website.
Denver, CO
[caption id="attachment_1857" align="aligncenter" width="710"]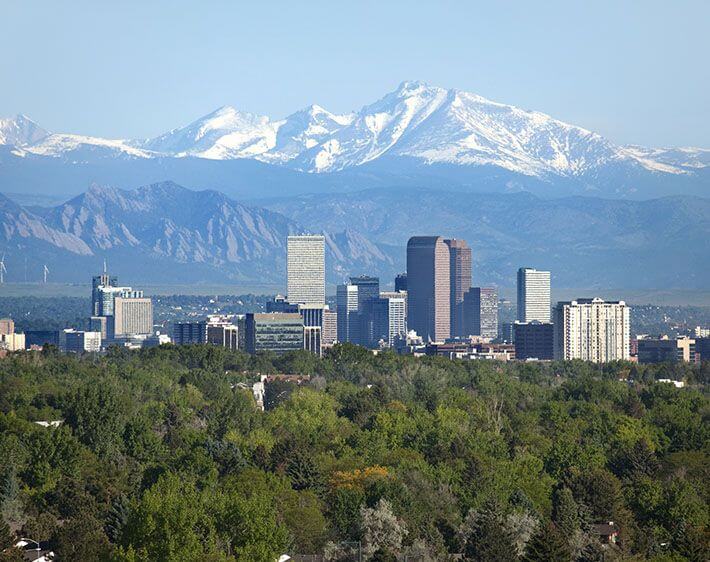 Denver skyline with Rocky Mountains in the background.[/caption]
In 2017, Colorado legislators passed a bill to designate almost $2 billion toward highway and road repair on Colorado's pothole-riddled roads. Unfortunately, that money wasn't enough to cover repairs for even the major metropolitan areas of the state (let alone suburban or less populated areas). Potholes in the capital city of Denver have continued to accumulate over the years, resulting in more pothole damage costs for Mile High City drivers. If you live in Denver, you can request a pothole patch through the City of Denver's website or by calling (720) 913-1311.
Bridgeport, CT
According to local news station WFSB, the state of Connecticut spends $1.5 million every year on pothole-related projects. When you consider that the state of Connecticut takes up fewer than 5,000 square miles total, that's quite a hefty budget for road repair! Bridgeport is one of the worst cities for potholes in Connecticut, with Hartford falling not too far behind. Report a pothole in Bridgeport using Bridgeport 311.
Seattle, WA
The city of Seattle has increased its pothole repair efforts in recent years due to extreme weather conditions, both in winter and in other seasons that have seen record rainfall and big temperature swings. If you're driving in Seattle, it's a good idea to check your vehicle year-round (not just at the end of winter) for signs of pothole damage. Report potholes in Seattle through the FindIt, FixIt app, online, or by calling (206) 684-7623.
New York City, NY
[caption id="attachment_1861" align="aligncenter" width="755"]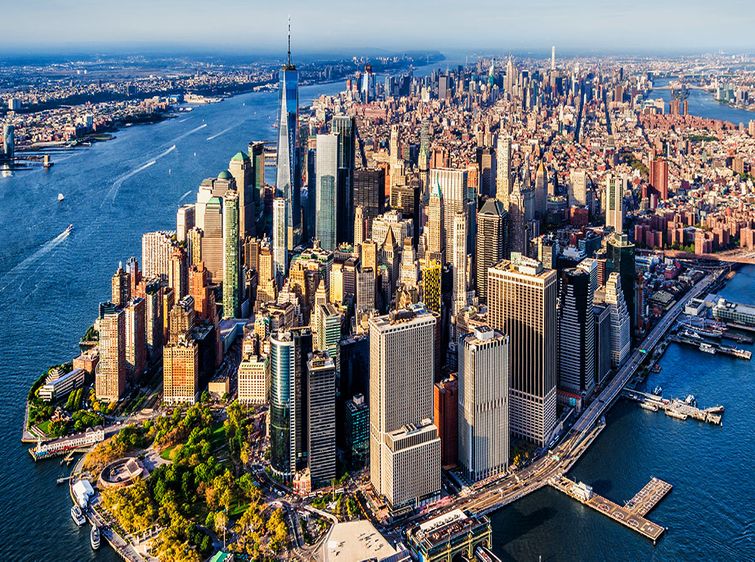 Aerial shot of Manhattan Island.[/caption]
As one of the most populated cities in the world, New York City has trouble keeping up with the potholes plaguing their busy streets. Harsh winter weather and constant use make New York City roads a place where pothole repair never ends. If you spot a big pothole in the Big Apple, report it on NYC.gov.
Cleveland, OH
The Midwest experiences highly variable weather conditions throughout the year, making potholes unavoidable in cities like Cleveland, Ohio. The problem only seems to worsen each season. In the winter and early spring of 2018, Cleveland auto repair shops saw about 30% more pothole-damaged vehicles than in years prior, notes the local CBS station. The city of Cleveland reports that they have 10-12 crews per day working to repair potholes across the city. Help out by reporting potholes to (216) 664-2510.
Honolulu, HI
[caption id="attachment_1860" align="aligncenter" width="755"]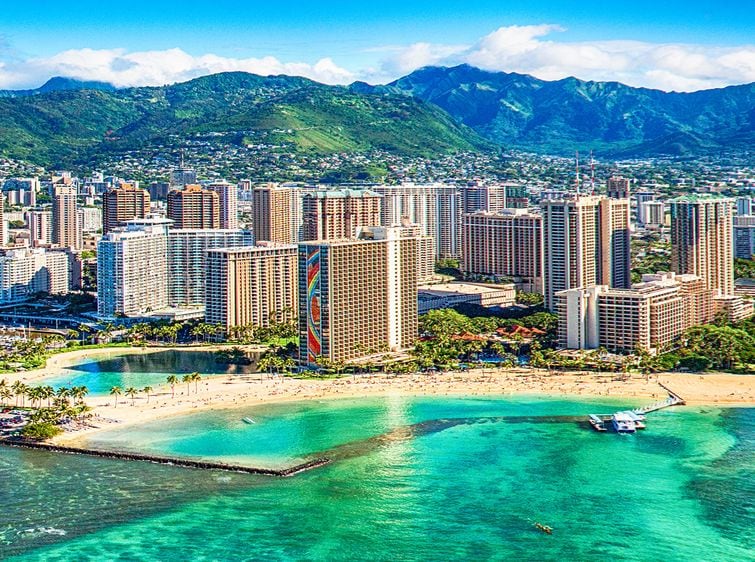 Aerial shot of Honolulu skyline.[/caption]
Reports from AAA indicate that the average cost of pothole-related vehicle repair in the United States is more than $300. If you live in Honolulu, there's a good chance you can think of a million ways you'd rather spend $300!
Unfortunately, poor road conditions may demand that Honolulu drivers save their extra cash for car care. A study by TRIP, a non-profit that reports on U.S. roads, found that Honolulu drivers paid an average of $745 in car repairs related to poor road conditions—hundreds more than the national average. Go online to report a Honolulu pothole that needs repair.
Milwaukee, WI
Most potholes result from the freezing and thawing of roads during the winter, which means areas that see frequent ice and snow are often hit the hardest with pothole damage. Milwaukee sees an average of about 50 inches of snow every year, making it one of the worst spots in the country for pothole damage. In fact, the problem was so bad in 2018 that Domino's Pizza gave the city $5,000 to go toward fixing potholes. You can report Milwaukee potholes online, by calling (414) 286-2489, or on the MKE Mobile app.
San Francisco, CA
A 2016 study by AAA showed that more than 16 million drivers across the country were affected by potholes. Run the numbers and you'll see that there's a good chance many of them were in San Francisco. A Pothole Report of the Metropolitan Transportation Commission graded the Bay Area's roads a 67 out of 100 possible points on the PCI (pavement condition index). That's a narrow D- on the high schooler scale!
But SF isn't the only West Coast city with a pothole problem. The state of California has several metropolitan areas—Los Angeles and San Diego, to name a few—that see a significant number of pothole repair cases every year. Report a pothole in the good ol' Golden State online.
Where to Go for Pothole Repair
You don't have to live in one of these cities to hit a pothole. They're everywhere! Pay attention to signs of pothole damage to your car and make an appointment at your local Firestone Complete Auto Care as soon as you spot a potential problem. Repairing little issues before they turn into bigger problems can save you time and money down the road, especially if that road is littered with potholes.