It seems just as you've got the house fully decked for the season, you have to leave it all behind to visit family and friends. Why not take some of that holiday joy to go with these DIY projects? They're easy. They're inexpensive. And they'll have you smiling all the way over the river and through the woods to Grandma's.
Ugly Sweater Seat Covers
Just grab a few holiday sweaters to make your car merry and bright.
Materials:
Knit sweaters (XL or larger)
Holiday hats (Make sure they have some stretch)
Steps:
Gather materials.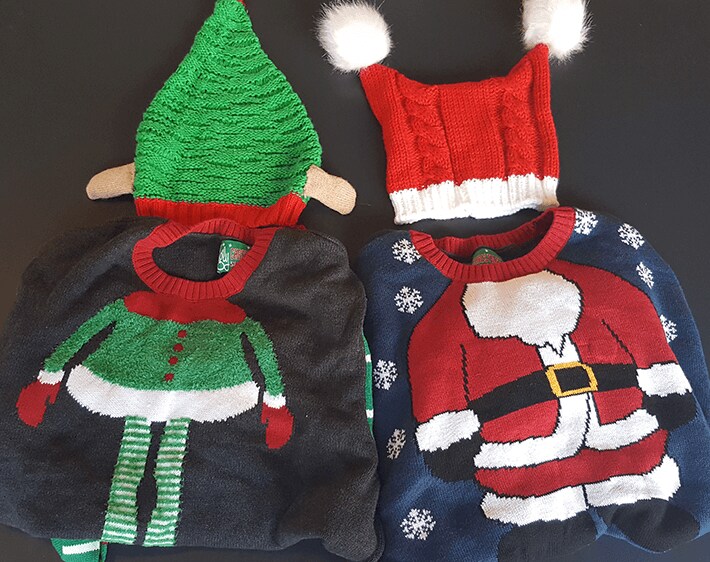 Step 1: Pull sweater over the seat.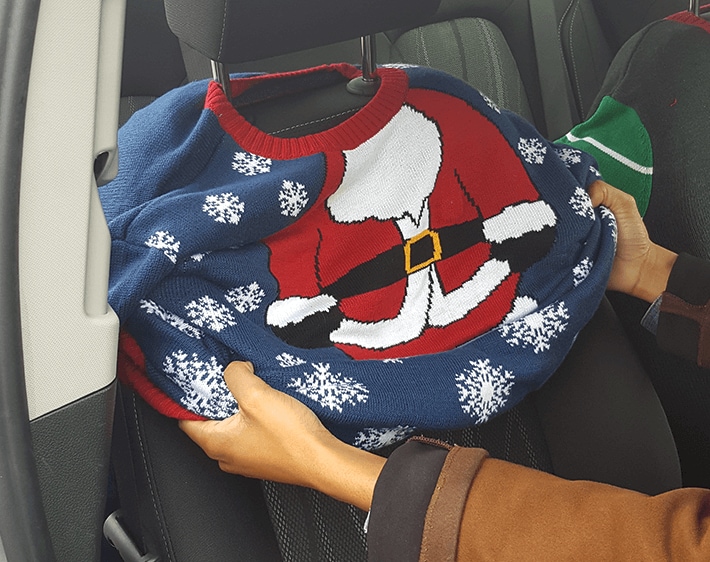 Step 2: Tuck sweater into seat cushion.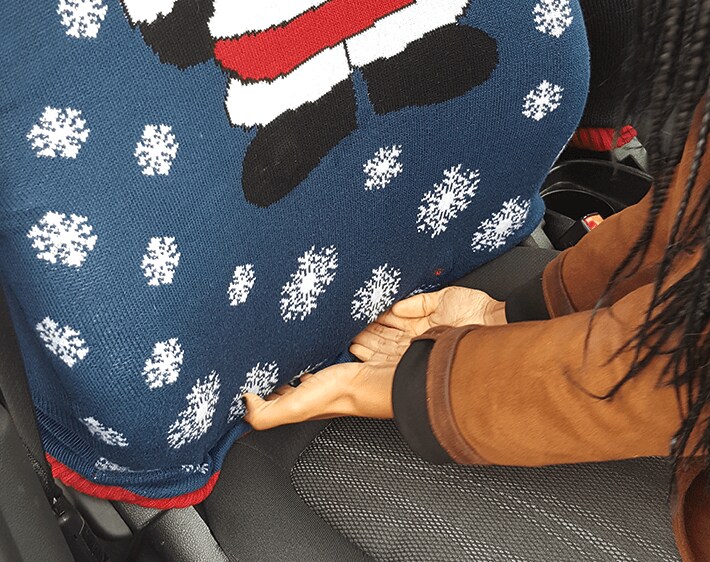 Step 3: Pull arms to the back of the seat and tie in a knot.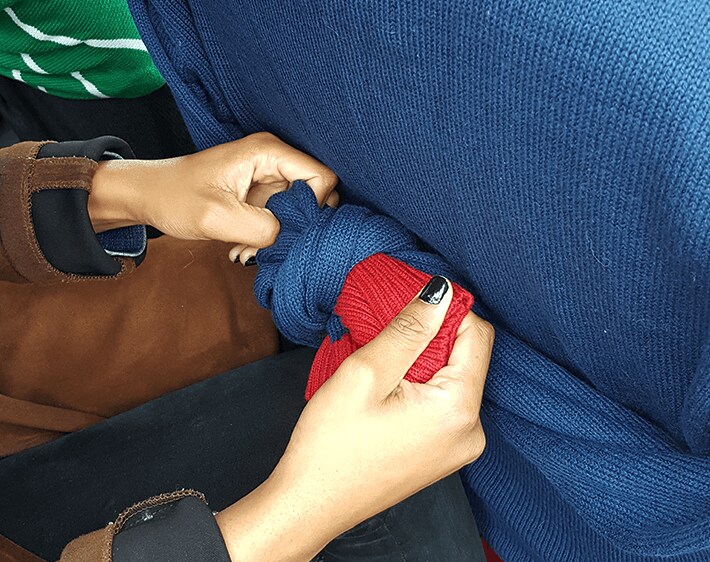 Step 4: Cover headrest with hat.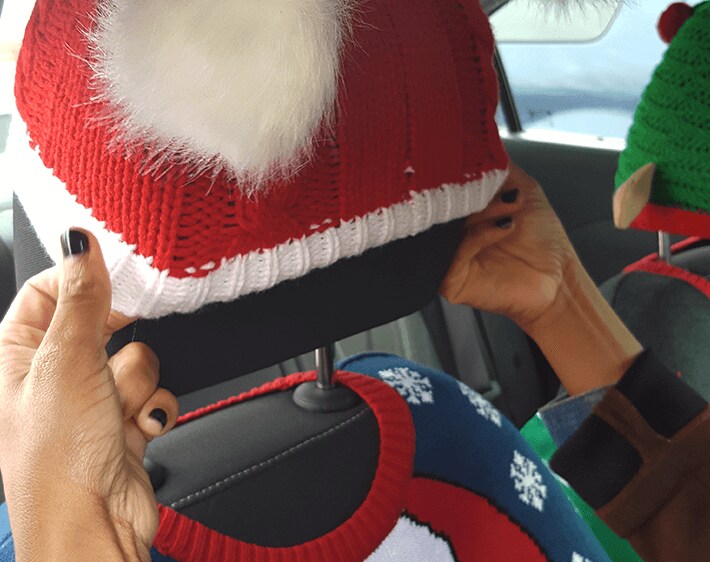 Step 5: Now sit back and enjoy the ride!
Christmas Tree Air Freshener
Give a traditional car air freshener a holiday makeover.
Materials:
Pine-scented tree-shaped air freshener
Mini-ornaments
Wide ribbon or small fabric scrap
String
Scissors
Glue or glue gun
Steps:
Gather materials.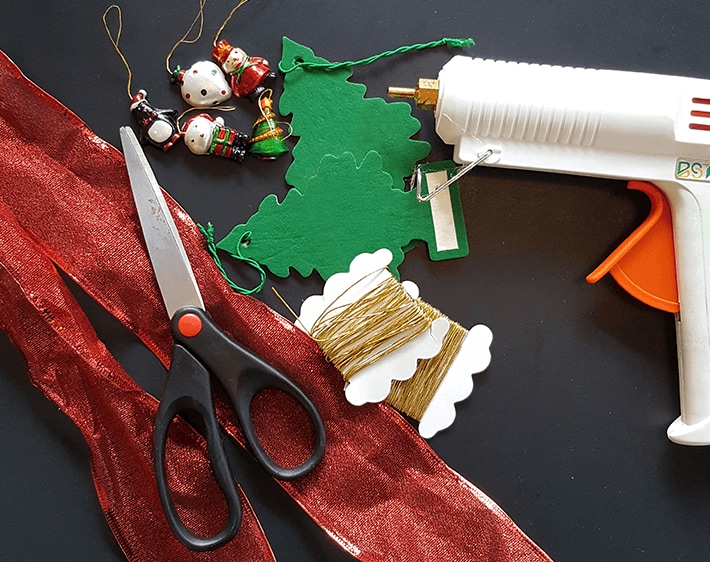 Step 1: Loop the string through the top hole and tie a knot. Secure the knot with a small amount of glue.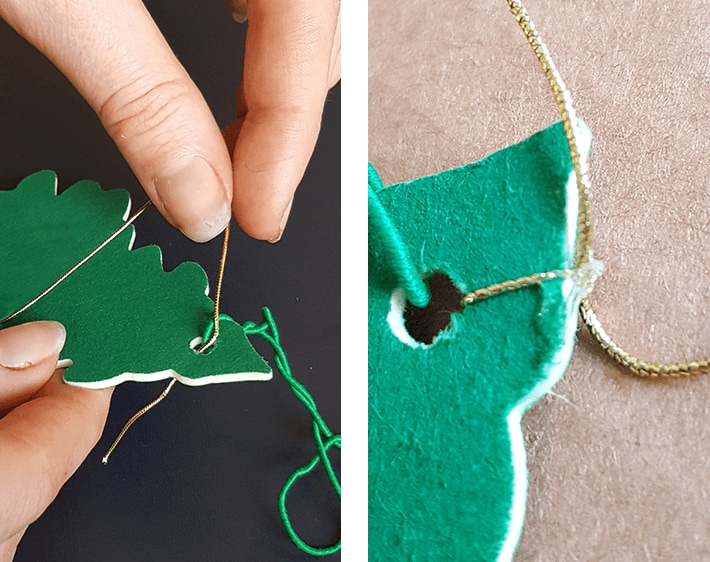 Step 2: Create a tree skirt with the ribbon or fabric cut to size. Fold and secure with glue.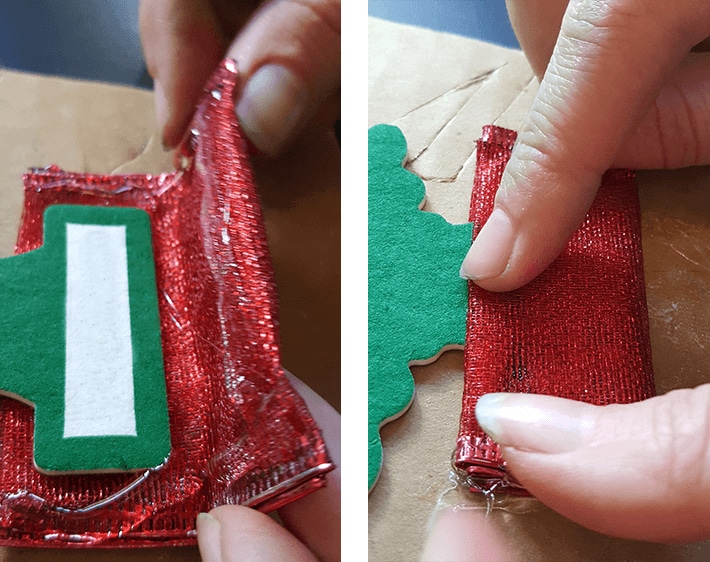 Step 3: Thread ornaments through the string, securing with small knots. Then, drape the string and ornaments across the tree, like you would garland.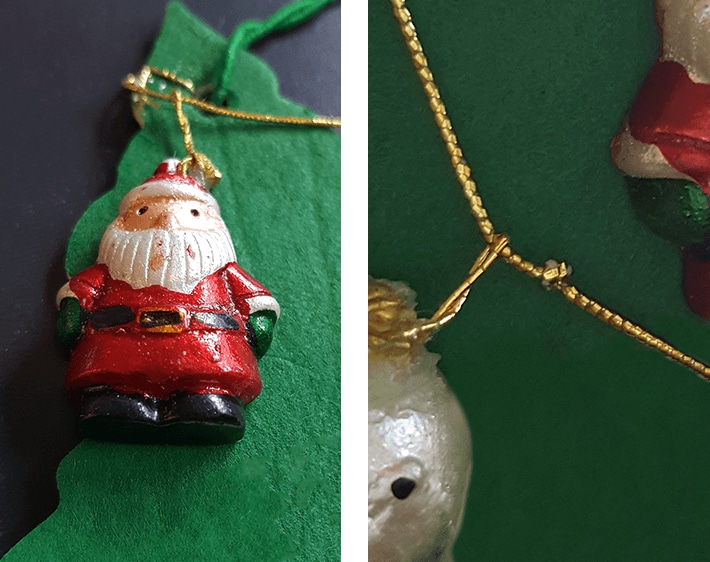 Step 4: Wrap the remaining string around the base of the tree and secure with a knot or glue. Trim any excess with scissors.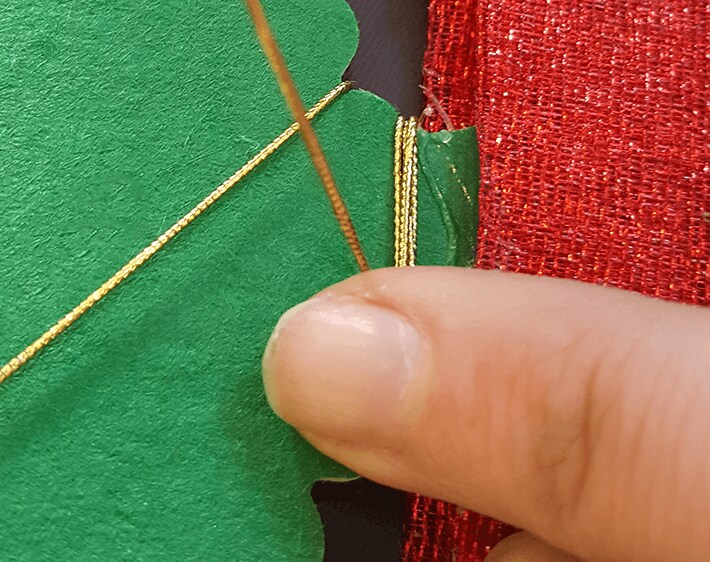 Step 5: Your tree is ready to hang!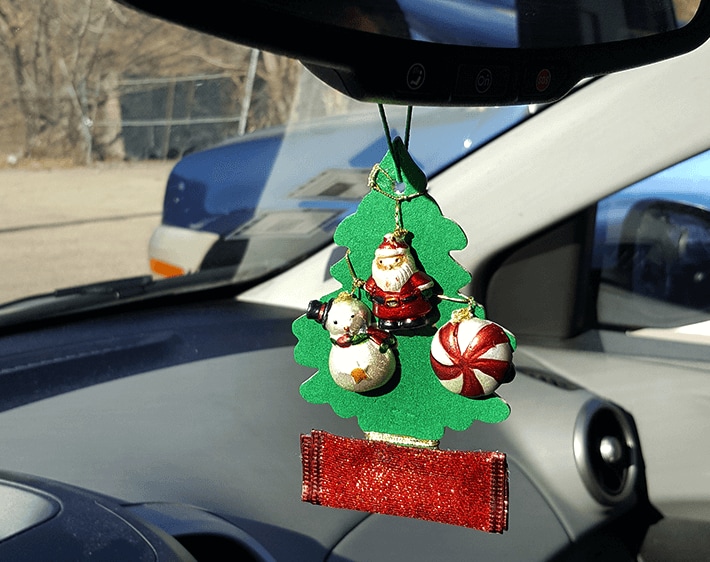 Holiday Floor Mats
Protect your car's interior with a festive touch.
Materials:
Mat or rubber sheet (If you can't find one to fit your car, you can cut one to fit using a utility knife)
Outdoor fabric
Spray adhesive
Fabric paint
Water-based polyurethane
Paint brush
Stencil
Scissors
Duct tape
Measuring tape
Iron (optional)
Utility Knife (if cutting mat runner)
Steps:
Gather materials.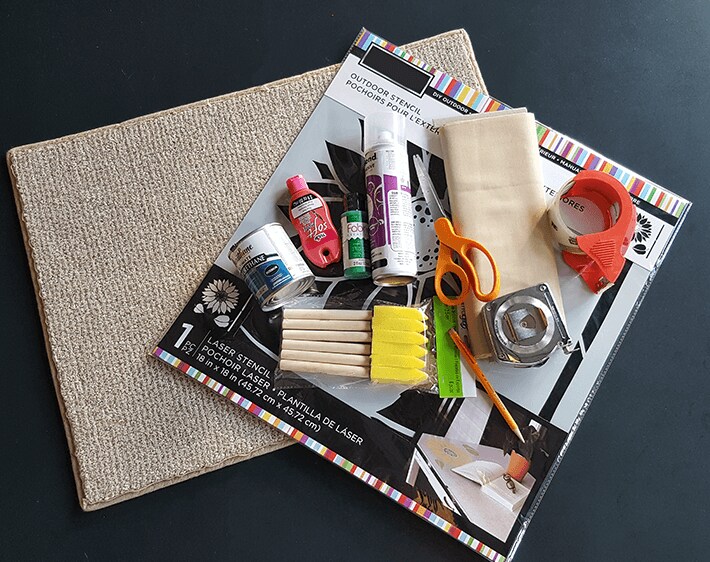 Step 1: Place the mat on the fabric and cut so you have about 5 extra inches on all sides.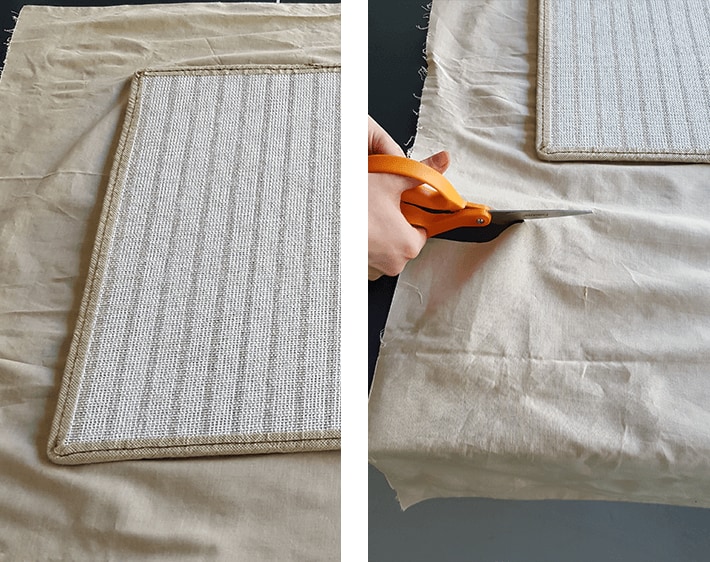 Step 2: Lay fabric on a flat, hard surface you can paint on. We temporarily taped ours to a foam board to keep it secured. (NOTE: you may want to iron your fabric first.)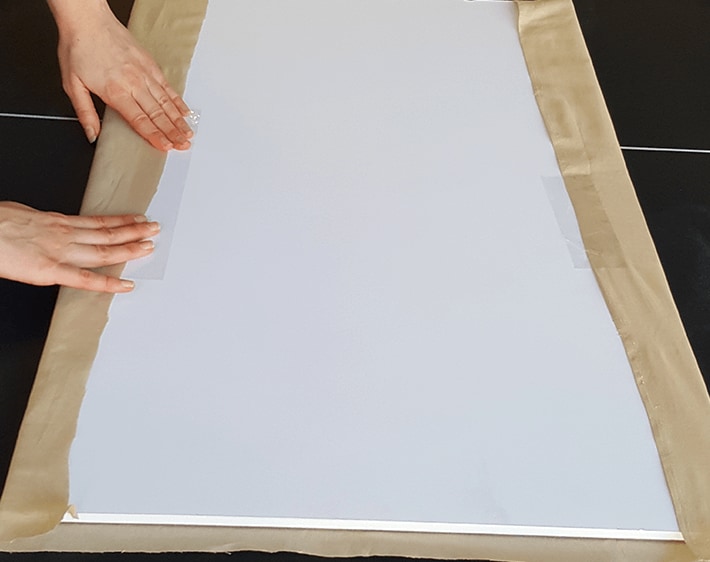 Step 3: Paint your fabric with a stencil, stamps or free-hand. Allow to dry.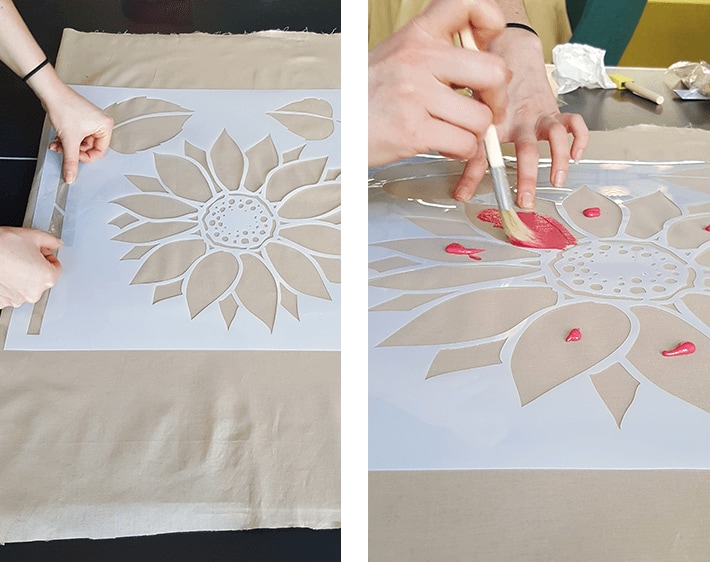 Step 4: Spray the adhesive to the top side of the mat and the backside of the fabric and position fabric, smoothing out any wrinkles with your hands.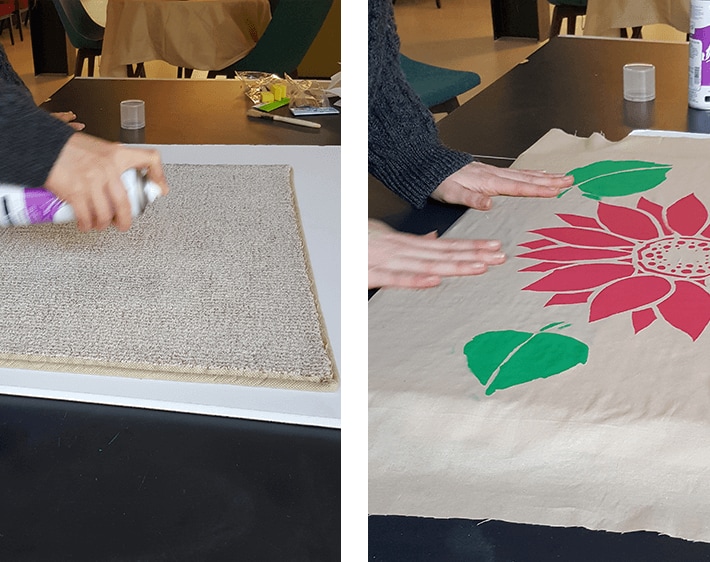 Step 5: Once everything's in place, turn the mat over and fold the excess fabric to the back, securing it with adhesive or hot glue. You can also use duct tape to hold fabric edges down. (Don't worry, no one will see it!)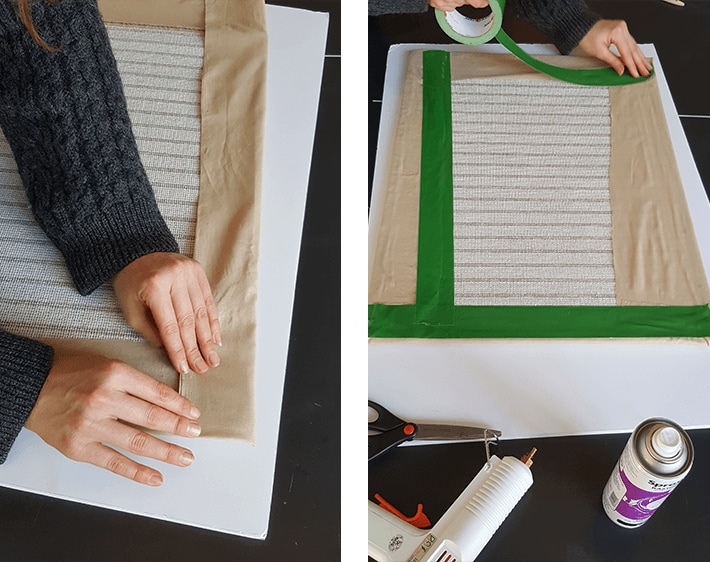 Step 6: Brush a thin coat of polyurethane and allow to dry. This gives your mat extra protection against the elements, so feel free to use multiple coats.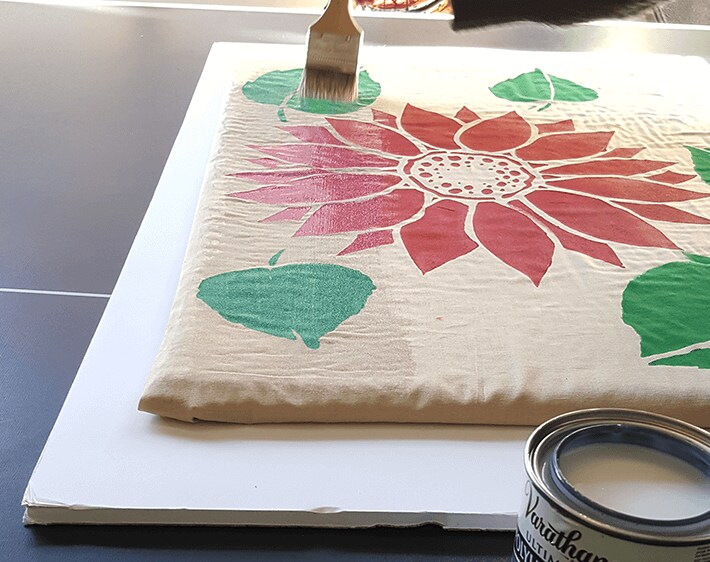 Step 7: Place finished mats in your car. Ta-da!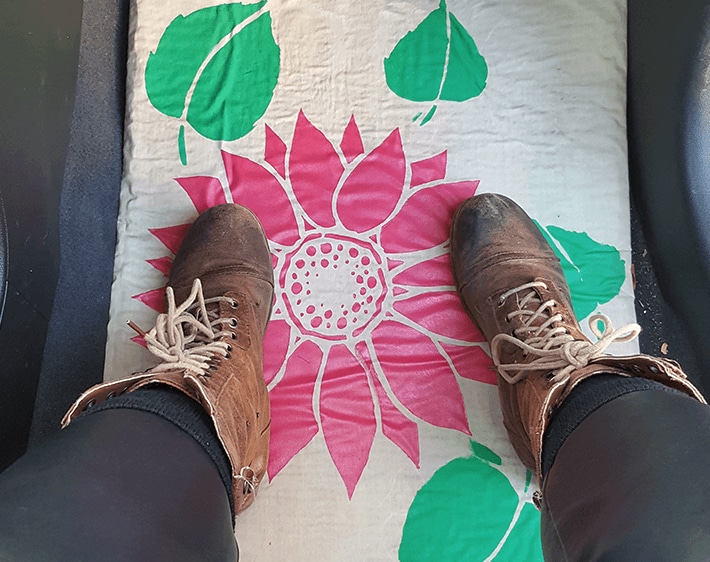 Festive Headrest Covers
Add some seasonal flair to your holiday road trips.
Materials:
Fabric (look for fabric that has a bit of stretch)
Ribbon
Fabric glue
Scissors
Measuring tape
Pencil
Steps:
Gather materials.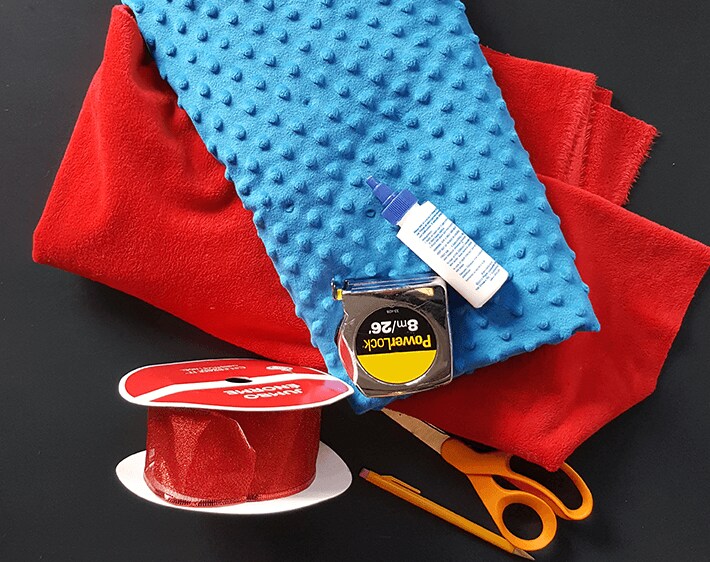 Step 1: Measure headrests including width, height and depth. Cut fabric based on measurements. For example: our headrest was 8.5 in X 8 in X 5 in – so we cut our fabric 14 in wide (8.5in wide + 5in deep = 13.5 and we rounded up), 25 in tall (8in tall for front side + 8 inches tall for backside + 5 in deep = 21. We then added 4 inches to have a little extra space – you can always cut or tuck in any excess.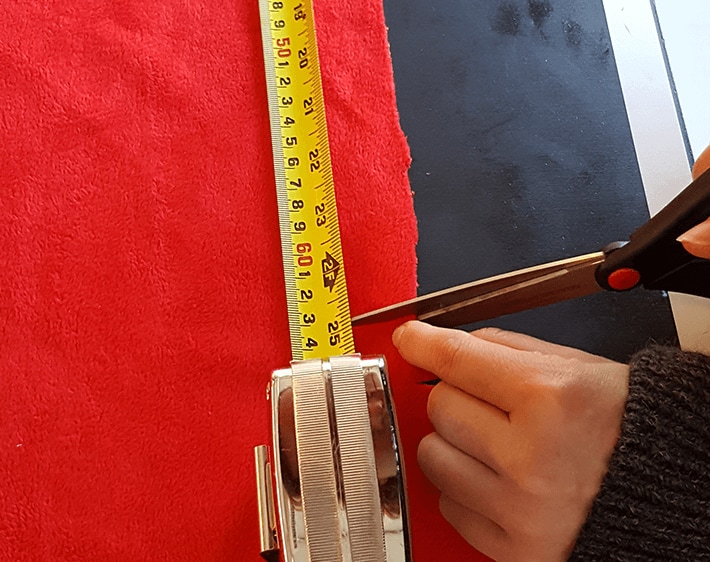 Step 2: Lay the fabric face side up (i.e., the side you want to show) and run a thin line of glue around half of the fabric, as shown.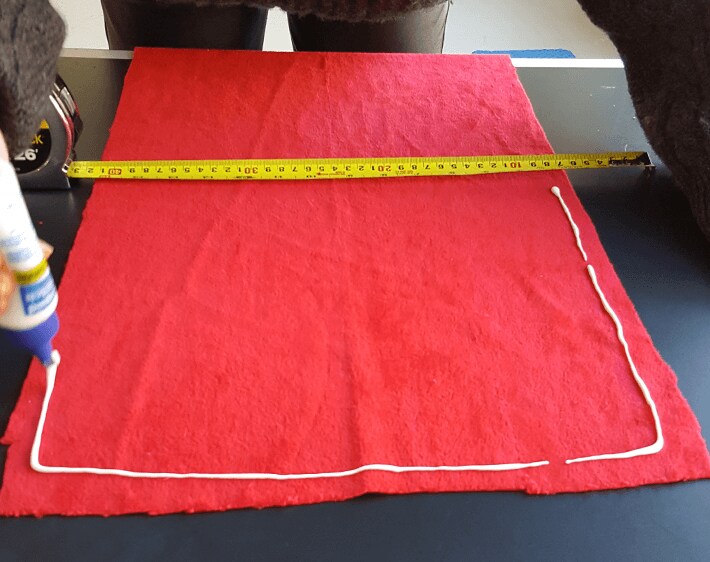 Step 3: Fold the fabric in half and pat the edges with the glue to secure and let dry.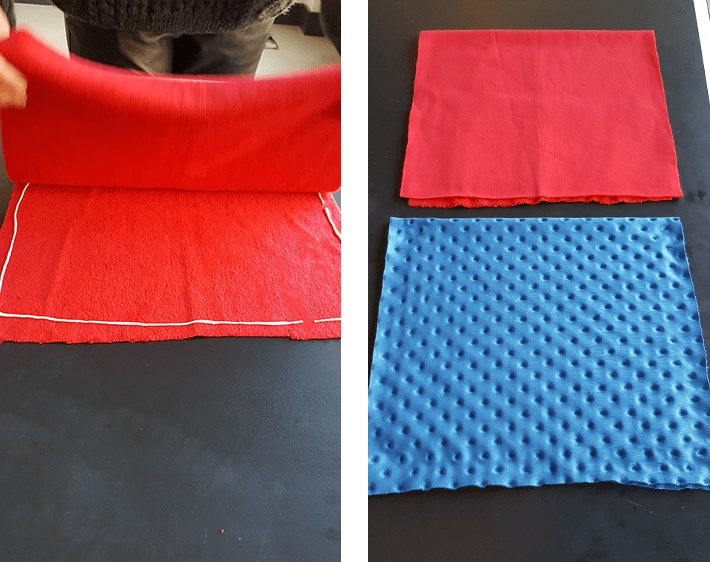 Step 4: When thoroughly dry, cut the unglued side open to create a 'pillowcase' and turn inside out.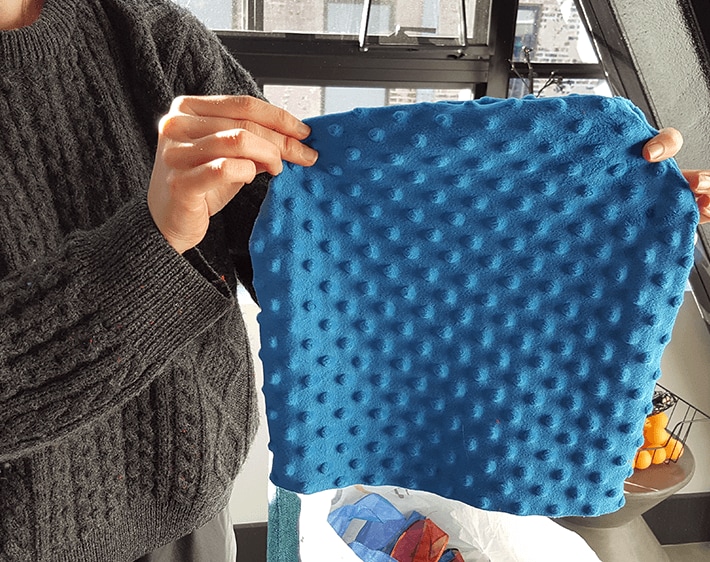 Step 5: Cut a long piece of ribbon (ours was 35 in) to use as your trim.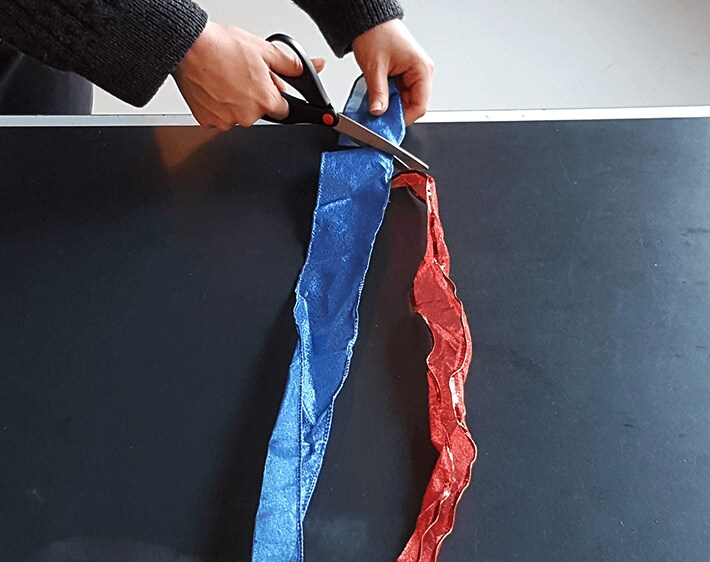 Step 6: Pull your new cover down over your headrest and tuck in any excess fabric.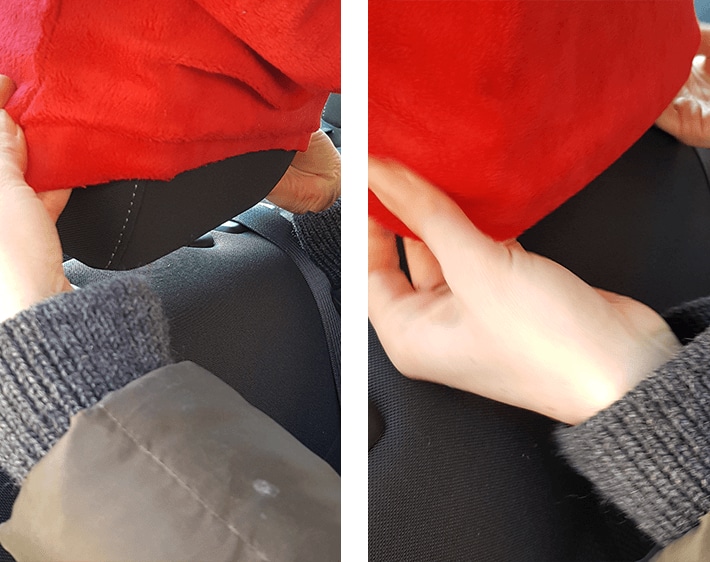 Step 7: Wind the ribbon under the headrest and tie a bow at the top to complete your headrest 'gift'. We added a few lights for an extra festive touch.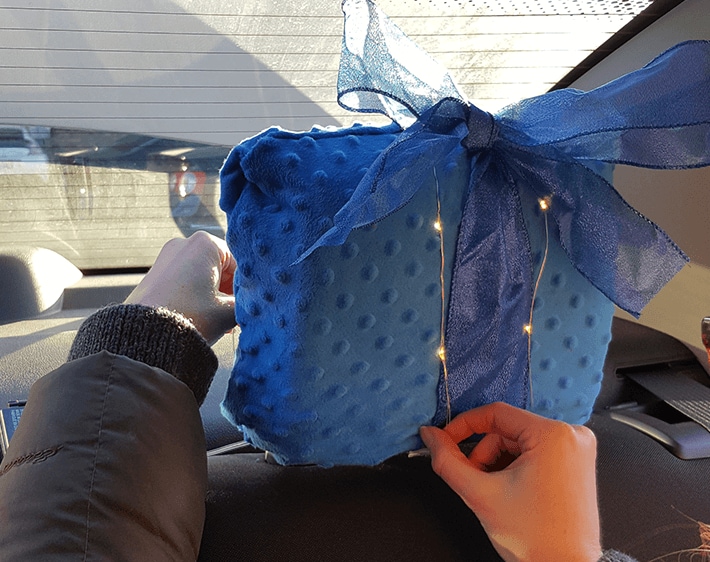 Step 8: Let the holidays begin!