---
Guest Blogger: Elizabeth Cannon
---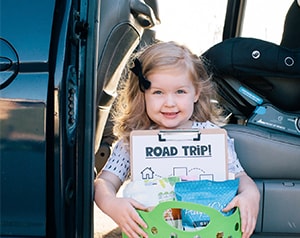 Summertime has officially begun and you know what that means, don't you? It's road trip season! If you guys remember we took a super long road trip last year to Arizona, and we will not be doing anything that crazy again, but we have a few shorter road trips planned. This year we are traveling with two opinionated toddlers rather than one toddler and a sleeping baby, and I knew this would be a game changer. That's why I'm so excited to have partnered with Firestone Complete Auto Care to share my favorite road trip hack with you guys. Keep scrolling to find my super easy (and cheap) way to keep your kids happy during your road trip this summer, and it might just include a free printable.
Here's the thing, every kid is different, but that's what makes this hack SO perfect. Enter the road trip basket! It's completely customizable and if you're kiddo is old enough you can even include them in the process. Everything they need for the trip will be in their personalized basket, every kid gets their own and all of the stuff stays nice and neat in the basket! We took a trip over to our local dollar store to snag everything we needed. The key is to make a small basket for each of your kids and fill it with items that are going to keep them happy. Luckily, both of my kids are so close in age that it was pretty easy to snag the same things to keep the smiles on their faces and minimize arguments. That's the key with these though, whatever is in your basket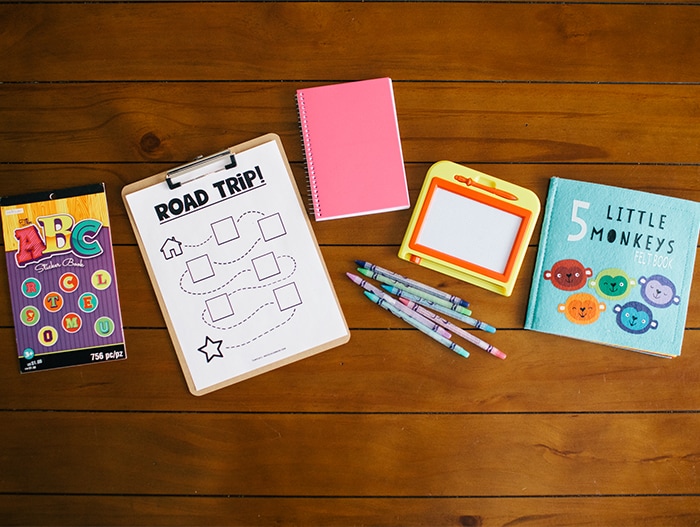 is YOURS and you're in charge of it! I included snack in their baskets and while they were the same ones, they got to pick when they wanted to eat each thing so it made them feel pretty special. I even threw in some things that are tried and true favorites from home. The sky's the limit with these baskets, so have fun with them and fill them according to age and the amount of time you know you'll be spending on the road. Below I'll share some of my favorite items specifically for toddlers.
Road Trip Map: this is my new favorite thing to bring on longer drives in the car, and I'm so excited to be able to share it with you. It is fully customizable to your trip and will work for kids of any age. For my kiddos, since they are younger, I filled it out with stops and destinations along our drive and any time we completed one, they got to put a sticker on the square. When all the squares are full, we are there. It helps include them and helps reduce complaining when we have to stop or get out of the car because it means they get to put on another sticker. I also let them color all over that thing! If your kids are older you can involve them in different ways like letting them fill it out or making it a race to see which kid can spot landmarks along the drive rather than filling in stops and destinations. Scroll to the bottom of the post to download one for yourself!
Mini Spiral Notebook: for some reason my kids love to color on blank paper but sitting in a car seat makes it hard to color on big bulky pages of computer paper. This way each of them get their own little book to hold in their lap and draw or put stickers in. Then is all stays neat and tidy in the notebook.
Clipboard: this sounds like a weird one, but I promise you it's so handy! I keep the Road trip map clipped onto this but I also have a mini hack within the hack for you. We like to buy big coloring books but my kids have the hardest time coloring and keeping the pages open and not flopping closed on themselves. I will actually let them pick a page and I will rip it out and clip it to the board for them. Then when they're doing it goes behind the new pages and voila, everything is still neat and tidy while still being easy peasy.
Felt Busy Books: this one is more for the little ones, but I'd say even 5 or 6 year olds could enjoy these if they are a theme that fits their interests. You can snag these online, sometimes in the dollar section of your local store, or even make them. We have a stash of them so I grabbed a few out of the cupboard for the kid's baskets. They are essentially a reuse-able activity book and each page have a different skill or game that can be played an unlimited amount of times. My kids love them!
Snacks:

do not underestimate the power of snacks on a road trip! You can buy snack sized packages of your kid's favorites or just pack some things up on your own. The trick is to have a good variety of small things so they can eat healthy snacks throughout your entire trip. You do not want to run out of snack, I repeat you do NOT want to run out of snacks. Trust me!
Get your Firestone Complete Auto Care coupon by clicking here!
Download the Road Trip Map for FREE by clicking here!