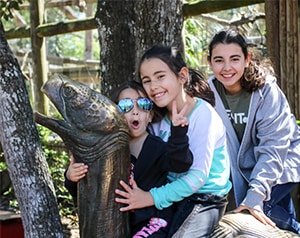 ---
Guest Blogger: Heather Castillo
---
Thinking back to all the trips that I took as a child, the road trips with my grandparents were always my favorite. Whether we were driving up the east coast, or just a few hours away, each minute spent in the car and sightseeing were so memorable. I knew that when I had a family of my own, I was going to make sure to give my kids that same experience. And while there are always lots of "are we there yet"s and more rest stops than I can count, I know that the memories we make will last a lifetime.
Road Trips Done Right
Earlier this year, we took a road trip from Florida to Georgia and back. It was a week we will never forget. We loved the experience so much, we started planning our next road trip before we made it back home.
Safety First
Before we head out on any road trip, we always make sure that our car is in perfect shape. Whether it be the oil, the tires or the breaks, when you're driving long distances, there is nothing more important than making sure you and your family are safe. For this reason, we rely on Firestone Complete Auto Care. Firestone Complete Auto Care backs all of their work with a Triple Promise that guarantees your experience will be Fixed Right, Priced Right, and Right on Time. Their 3,500 hardworking and trustworthy technicians keep your car running newer, longer since 1926. I trust them with my car and with my family's safety.
Prepare for the Journey
Each of us are different. We have a variety of things that we love to do when we have free time. So we make sure to give the girls each a backpack and have them fill it with things to keep them busy while we're on the road. The contents of those backpacks range from headphones, coloring books and crayons, journals, drawing pads and playing cards to stuffed animals. They always make sure to leave some space in those bags for souvenirs from each of the places we go and every adventure we have.
Stray From the Itinerary
We try to plan things out for each of our road trips, but some of my favorite experiences are those that were spontaneous. When you're on a road trip, and you see a sign for something on the side of the road, don't be afraid to pull over. It's those little gems that you didn't know about that turn out to be the most memorable. For us, one of those places was St. Augustine Alligator Farm. We live in Florida, so we aren't strangers to alligators. In fact, we occasionally have them in our backyard. Going to an alligator farm wasn't at the top of our list but we decided to take a detour and visit the alligator farm and the girls had an absolute blast. Had we stuck to our plans, they would've missed out. One of the things we love to do is ask for local treasures at the front desk of the hotel we are staying at. You can also reach out to the local visitor's bureau for each city and they will be happy to share their top tourist spots.
Capture Every Moment
Photography is something I truly love. There is something so special about being able to capture a moment and look back on it. Whether it's on your phone, or with a camera, make sure to capture every memorable moment (especially the ones that aren't posed). I love to sit back and let my family explore and have fun. Allowing them to live in the moment, gives me the opportunity to capture it for them. Once we get back home, I'll print my favorites or create a photo book filled with photos of the trip. The girls love to pull those photos and books out every now and then and relive the trip. Each photo sparks a memory and I find them sharing stories that I know they'll be sharing as they grow up.
Plan as a Family
No matter where you go, or what you do, make sure you are enjoying your family. We find that road trips always bring us closer. Being confined to a car for hours on end, gives us more of an opportunity to connect. Planning a road trip is not something that is done by just one of us. It's a family affair where each of us gets to give our suggestions and choose places to stop and things to do. Allowing our kids to help us plan our trips gets them just a little bit more excited about each stop. The look in their eyes when they see us enjoying their part of the trip is a sight I'll never get tired of.
Relax
You don't have to be out and about all the time to have fun. Dedicate some of your time to relaxing. My family loves the water, so give them a pool or a beach and they can spend hours having the time of their lives. Don't be afraid to enjoy your downtime. Find a hotel that offers the on-site amenities that work for your family and take advantage of them.
We can't wait for our next road trip this Summer and can't wait to show you all of the fun places we will be headed. Have you recently taken a family road trip? Comment below and share your favorite road trip memories.
Are you planning a road trip? Make sure to visit Firestone Auto Care and download a coupon to get your car ready for your family road trip.