---
Guest Blogger: Chelsea Padgett
---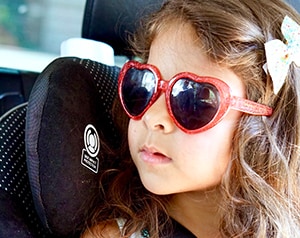 When I was eight my family moved from the burbs of Northern California to the high desert of Central Oregon. Every summer we would road trip back to Cali to see our Grammy and our friends. I remember helping my dad pack the back of the minivan like a real-world Tetris game. My brother, sister, and I would stuff our backpacks with busy work to keep us entertained on the eight-hour drive. I remember packing walkmans, books, and stencil fashion design sets. I did have a GameBoy, and I would play it a good amount. Nowadays the kids have the tablets and they've become less of a hobby and more of an obsession. Every time I give my girls screen time it becomes all they want to do. If it's out of sight, it's out of mind but on our recent drive from Northern Colorado down through Vegas and on to Los Angeles we allowed them to play it a little and watch a movie or two. I wanted to be armed with plenty of other ways to pass the time though.
One of my fondest memories of being on a long drive was when we went to Apple Valley. My Grammy sat with me in the back seat and she taught me how to braid my Cabbage Patch Doll's hair. My Grammy was always one to turn something dull into an adventure. She used to have us hunting for Eskimos and Indians in the snow-covered mountains when we would go cut down our Christmas trees and would tell us tales that we were on our way to see a forest of trees with trunks the size of a car when we were really going to Great America park. I try to carry on her adventurous and imaginative spirit with my girls as we drive through new places. We will look for fairies and elves in the trees or shooting stars in the night sky. Take advantage while they are little enough that their imagination will play along.
Keeping the kiddos entertained on a road trip is considered a safety concern for me. When kids aren't occupied they get uncomfortable and moody, and that usually escalates into tears & tantrums. Screaming and crying can be distracting for the driver. It makes energy in the car tense and puts everyone in a bad mood. Make sure to be prepared before you head out on your road trip! Firestone Complete Auto Care can help get your car ready for the drive and I have 6 great ways to entertain the littles without a screen. Click HERE to check out a variety of great coupon offers. Firestone Complete Auto Care backs all of their work with a Triple Promise that guarantees your experience will be Fixed Right, Priced Right, and Right on Time!
6 Screen-Free Ways to Entertain Kids in the Car
1 || Sing-a-long Singing in the car is a classic group activity. James Cordon even has a whole Carpool Karaoke series! Whether you are singing nursery rhymes or rocking out to the radio (playlist) it's a great way to pass the time.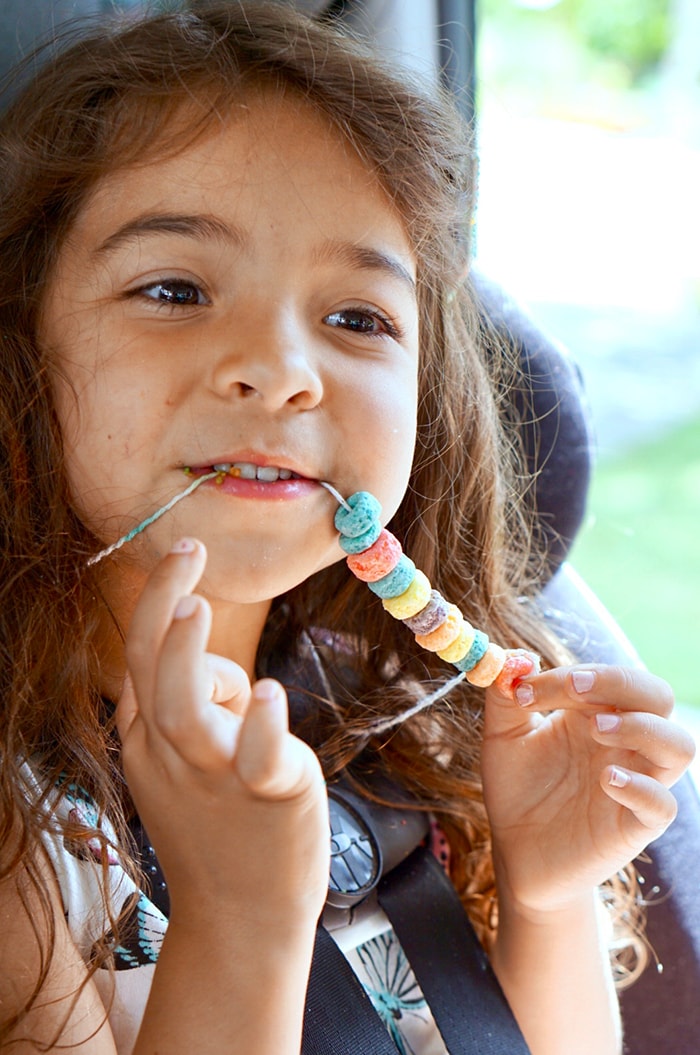 2 || Games There are plenty of games you can play that don't require any boards. The Rhyme game, where one person picks a word and you go around trying to think of words that rhyme. Alphabet story game. Would you rather? 20 questions. Great travel board games are road trip BINGO, License plate hunt, and MAD Libs.
3|| Mirror I know this might sound odd to some, but if your kids are anything like my little sister or my daughters, a mirror can keep them busy a while. My girls love making funny faces in the mirror and if they are old enough they can even play with some play makeup. If you don't have a hand mirror handy the selfie camera works too (kinda a screen, but not really…)!
4|| Snack Necklace Making a necklace out of string and noodles is a classic kinder craft. When traveling we make the cereal O's version. They keep busy while making and while eating the creation! Find the steps and tips for these below.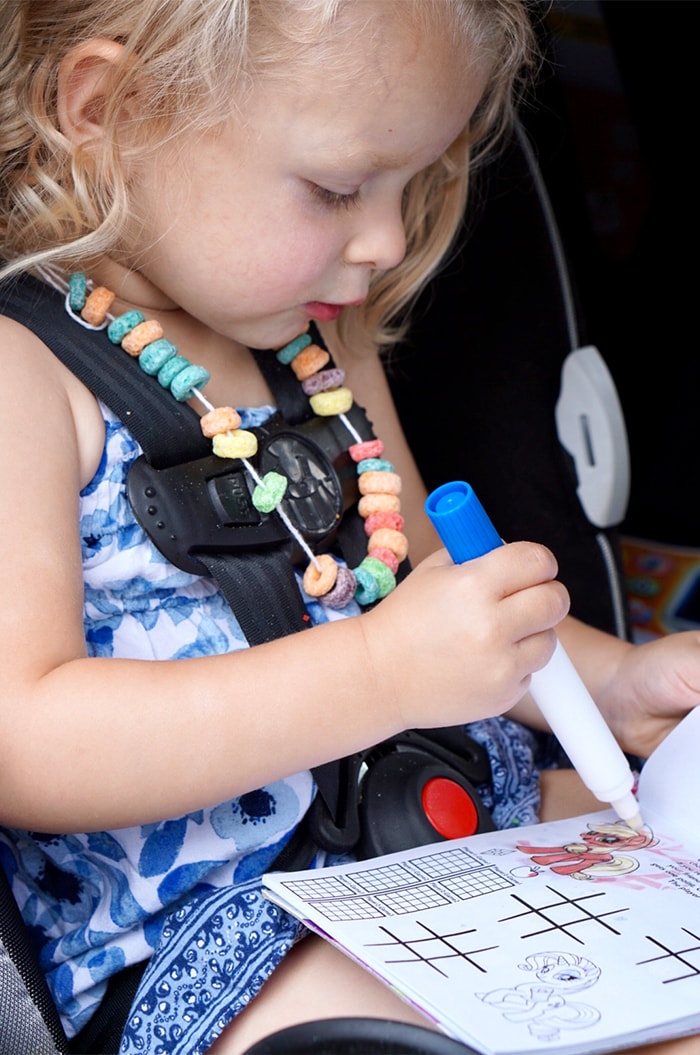 5 || Coloring My girls love to color and draw! We've found a few different things that make it super simple when traveling. Try out these scratchers, re-usable watercolors, magic markers, color wonder, and sticker activities.
6 || Toys My brother used to tote around an old school cylinder duffel bag full of hot wheels. It went with us everywhere. The metal smell is still something I recognize. My girls love to collect the little princess figurines, Shopkins, and Hatchimals. Car rides are a great time to put them play. Slime and Putty are great ways to get some sensory play time in too.
Snack Necklace
What you'll need:
String – Pro Tip – use a cotton string so the cereal doesn't slide off if they drop the string
Cereal – any type of O cereal
Scissors
Tape – Tape the end they hold so it doesn't fray
Tie the string so something nearby. We used the cup holder in their car seat but you could use a door handle or the headrest of a seat in front of them. Make sure you give extra sting so they have enough slack to move the string around. So simple and it'll keep them busy for a while.