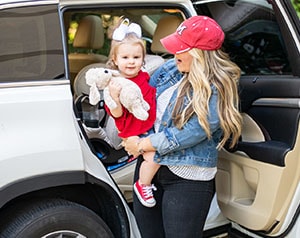 This post is written in partnership with Firestone Complete Auto Care.
If your family is like mine, summer is filled to the brim with parties, travels and so much time outside creating memories. Even as I write this, I am sitting in a Paris hotel, listening to the cars and trucks drive by out the window. Once we return from here, we head to Colorado (sweet P is coming to that trip) and then we'll be road tripping a few other places during the month of July. While I love traveling by plane, I just LOVE a great road trip. Luckily, I'll have one this summer with my besties and then another with Aaron and P (how fun that I get to do two with different people?). Today, I wanted to share my top five road trip essentials with y'all!
1. Make sure your car is in check.
We trust Firestone Complete Auto Care and always have. My first car in high school had Firestone tires, and my parents have always had them, so it's a no brainer for us to turn to Firestone Complete Auto Care centers. I always make sure the gas tank is filled before and everything else is in order by popping my car into one. Luckily, there are over 2,200 locations nationwide, so you can visit before, during or after if needed. You can also visit their website to learn about all the services performed, see the locations and more.
2. Playlists.
YOU MUST have great tunes if you plan to be in a car for long periods of time. We use Spotify, but obviously do what works for you. I love having a few different options to keep from getting bored (country, old school jams, pop, etc.). For me, road trips with your girlfriends are the best for singing all those old school songs you remember from high school and college, but Aaron and I have been known to belt it out, too!
3. Podcasts.
I know I just said music is key and it is! However, even music can get a bit repetitive and a great podcast can help. I'll do a post soon on our favorite ones, but we typically weave them in and out of our music and listen to series, episodes or just one offs! Don't forget a phone charger for your music or your podcasts.
4. Snacks.
ALL THE SNACKS. I know this isn't a great excuse, but I typically use road trips as a reason to eat all the chips. We don't buy them at home, so when I have them, UH OH! I love stocking up on my favorites, but we always have healthier options too like rX bars, apples and other nibbles. Plus, if you have kiddos, you know snacks are a complete necessary for road tripping I always restock at gas stations and maybe throw some candy in, too.
5. Reusable water bottle.
Ice cold water keeps me hydrated and alert, so I always have some on hand. I prefer my own tumbler for waste reasons and also the cold factor (I typically refill at gas stations and no one minds). Just like you tune up your car, you need to remember to keep yourself tuned up, so drink plenty of water along the way. Plus, it helps keep waste down in your car since you won't be throwing plastic bottles around.
There are obviously so many more things to pack (another post, ha), but these are my essentials. You can tell first and foremost, you have to get your car in tip-top shape and with Firestone Complete Auto Care, I can easily make that happen. After that, it's all about getting on the road and keeping it fun and entertaining until your destination. Some of my favorite trips ever have been road trips and I don't think we'll be stopping anytime soon! So head to your local Firestone Complete Auto Care and get on the road!