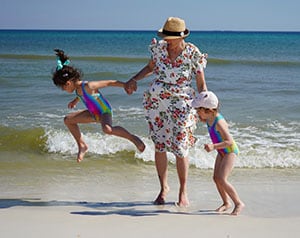 Anyone who knows me knows that I don't like traveling by airplane. I am not ashamed to say that I am more afraid than my girls. Since we live in Tennessee, it's great that we have planned family road trips to destinations near and far. In addition to driving being an economic option for traveling, we also really enjoy the journey. We love cruising along at our own pace, stopping where we want to stop, and experiencing all of the views and sights along the way. For Spring Break, we took a road trip from Tennessee to Florida and back. It was a week we will never forget. We loved the experience so much, we started planning our next road trip before we made it back home. So, I thought I would share some tips of our trip to Pensacola Beach, FL.
An important factor is to start planning in advance the things we need to do in order to travel without stress. Since we tend to take a lot of road trips, keeping our vehicle in good shape to hit the road, is super important to us as a family. Sometimes, with all of the preparation like getting the family ready, packing, thinking about snacks and scheduling the route, we can overlook the actual vehicle doing the driving – but the car needs some attention.
Safety First
Check your tires: if tires are worn, change them. Check the tire pressure and rotate, as needed.
Check your battery and replace worn wiper blades
Inspect your AC: don't you want to be ready for summer heat? You may also need to replace the air filter (this will help with allergies too). While you may be able to check some of these tasks on your own, I think it's critical to use a professional when dealing with more advanced issues. Firestone Complete Auto Care offers expert automotive maintenance services that are thorough and convenient. Entrusting a professional will ensure everything is done correctly and safely. Find your local Firestone Complete Auto Care store or visit their website to schedule an appointment and prepare your car for the road trip season. If you need assistance en route, there are 2,200 Firestone Complete Auto Care locations coast to coast.
Prepare for the journey
We make sure to give each girl a backpack and have them fill it with things to keep them busy while we're on the road. The contents of these backpacks range from coloring books and crayons, journals, stuffed animals and favorite toys. Do not underestimate the power of snacks on a road trip! You can buy snack-sized packages of your kid's favorites or just pack some things up on your own. The trick is to have a good variety of small things so they can eat healthy snacks throughout your entire trip. Once we have prepared the girls' backpacks and suitcases, it's nice to load the car together.
Relax
Once you arrive at your destination, dedicate some of your time to relaxing. My girls love the water, so we give them a beach and they can spend hours having the time of their lives. Even though it was still cold, we spent the hottest hours of the day at the beach, sharing lunch together. We built sand castles and took long walks to collect shells in the sand. Be sure to capture every moment – I love photography, and there is something so special about being able to capture a moment and look back on it. Whether it's on your phone or with a camera, make sure to record every memorable moment. Once we get back home, I like to print my favorites and create a photo book filled with photos of the trip. The girls love to pull those photos and books out every now and then and relive the trip.
Are you planning a road trip? What is your favorite destination? But first, make sure to visit Firestone Auto Care and download a coupon to get your car ready for your next family road trip. Disclosure: This post is sponsored by Firestone Complete Auto Care.