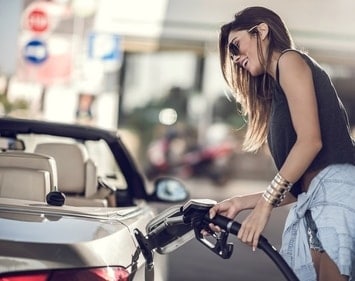 According to AAA, over 41 million Americans will travel by car this Fourth of July—the most ever recorded for Independence Day! That means it's a great time to read up on ways to increase your vehicle's fuel efficiency. Check out Bridgestone Retail Operations' five tips for saving money on gas this summer.
1. Slow Down
Paying attention to the speed limit can help you save money in more ways than one. There's speeding tickets to worry about, but also your gas mileage since fuel efficiency decreases at speeds over 50 mph. In fact, the Department of Energy (DOE) estimates that for every five mph over 50 mph, drivers spend an additional 19 cents per gallon.
2. Drive Diligently
Avoid aggressive driving such as excessive acceleration and slamming on the brakes. Not only will this help you stay safe on the road, but it can also save you money. According to the DOE, aggressive driving techniques can decrease your highway gas mileage by up to 33% and city mileage by up to 5%.
3. Get Regular Maintenance
Routine maintenance can help diagnose, treat, and prevent car issues that lead to wasting gas! Worn spark plugs, bad brakes, and sagging belts can all compromise fuel efficiency—and many drivers don't even know it. It isn't all bad news though—well-aligned wheels and properly inflated tires can help you save fuel! Catch small issues before they become expensive repairs by getting a free Courtesy Checkup at Firestone Complete Auto Care.
4. Lighten Up
Did you know? According to the DOE, every 100 pounds added to a car can cost you an additional 3 cents per gallon. So, before you go on a long road trip this summer, check that you packed everything you need and removed anything you don't. Sunscreen and a spare tire? Bring 'em. Neglected set of dumbbells and unnecessary camping gear? Ditch 'em.
5. Install Fuel-Efficient Tires
Also known as eco-tires, fuel-efficient tires are engineered for low rolling resistance, which simply means that they require less energy to roll. For example, due to its unique tread design and energy-saving rubber compound, the Bridgestone Ecopia EP422 Plus can reduce fuel consumption by up to two gallons every month when compared to a conventional tire.* Imagine how much money you could save!
Don't let the summer road trip season wear down your tires or your bank account! Put these money-saving tips into motion and visit your local Firestone Complete Auto Care today for a free inspection.
**Fuel savings estimated based on lab testing Ecopia EP422 vs. Turanza EL400. Actual road savings may vary based on tire pressure, tread life, vehicle, driving style and road conditions.