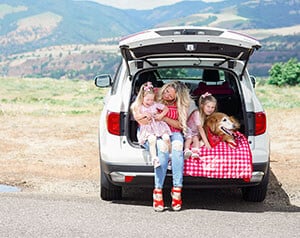 It's summer road trip season! Our family goes on a lot of road trips and, luckily, we live close to a ton of beautiful places here in Oregon. Whether you're looking for the beach, mountains, desert, rivers or lakes, we have them. One of our favorite road trip destinations is Hood River. It's a quick hour trip from Portland, so it's totally doable with the girls and Dexter. Hood River really does have something for everyone. Unique playgrounds for the kids, dog-friendly breweries, wine tasting, hikes, shopping, festivals and farms galore.
Road Trip Prep
Prior to heading out on our road trips, we make sure our car is in tip-top shape by visiting our local Firestone Complete Auto Care. They'll make sure you are good to go before heading out on your trip. It definitely puts our mind at ease. Have you ever been on a road trip where something goes wrong with your car? It's not a fun predicament to be in. But Firestone Complete Auto Care is there to help.
Road Trip Activities
One of our must-have road trip activities is our road trip scavenger hunt. I created this fun activity, printed it off, and had it laminated so we can use it over and over again with dry erase markers. The girls have an absolute blast finding all of the items on the list! It keeps them busy and we love playing it together as a family. We do have a DVD player in our car to keep them entertained. But, to cut down on screen time, we love using our road trip scavenger hunt.
Our Hood River Must-Sees
I wanted to share some of our favorite spots in Hood River if you're planning a trip. On this trip, our first stop was Rowena Crest which is just 10 minutes east of Hood River. It's a must-see if you're in the area. The views are amazing! It's famous for the views of the curved roads and the wildflowers. If you are up for a hike, the paths are also amazing up here. Beware: it can get super windy.
Another great stop in Hood River is Waterfront Park. Here, you can see the famous windsurfers on the river, play at the beach or let your kids run wild at their unique playground. A lot of the equipment is built into the ground. Our girls could spend hours here. If you get hungry, there are several amazing breweries across the street. Pfriem is our favorite. They have a large play area for kids too. The wait times can get long here at the breweries here, so I'd suggest putting your name in first and then letting your kids play or strolling the waterfront. (They'll call you when your table's ready!).
Downtown Hood River is home to several boutiques, shops, and restaurants. One of the local wineries even has a tasting room right downtown. Hood River has a really great farmer's market in the Summer/Fall you should absolutely check out. It takes place downtown, too. There is another playground that we really love called Children's Park. It's a must-see if you have little ones. It looks like a tree house!
The last stop on our trip is usually Panorama Point. It's just a 5-minute drive from Hood River and has views of Mount Hood, Mount St. Helens and Mount Adams on a clear day. You can also see views of the many farms and orchards in the Hood River Valley. It is truly breathtaking. Once we're done here, we usually head to a few farms on the way home. Hood River farms are known as the "fruit loop" since they have so many different fruit varieties available. Apples, peaches, pears, strawberries, blueberries, you name it. We love visiting the sunflower fields here too in late Summer/early Fall. Absolutely stunning!
The drive to Hood River is also SO beautiful. You can either take the old Columbia River Gorge Highway, or Highway 84. We make sure to stop at all the beautiful waterfalls on the way if we have time. Some of our favorites are Latourelle Falls, Multnomah Falls, and Horsetail Falls. It's such a great day trip for us.
We had such a great time heading out to Hood River again. Each trip is unique and I'm so glad we are giving our girls these fun memories. I know they really loved the road trip scavenger hunt and now ask for it every time we get in the car. I'm so glad we were able to put our mind at ease knowing our car was ready to hit the road thanks to Firestone Complete Auto Care. Keeping our kiddos safe is our top priority and we are able to continue our traditions knowing our car is road trip ready. Make sure to schedule your appointment at your local Firestone Complete Auto Care before you head out on your next road trip. They're with you all the way, with 2,200 locations coast to coast.