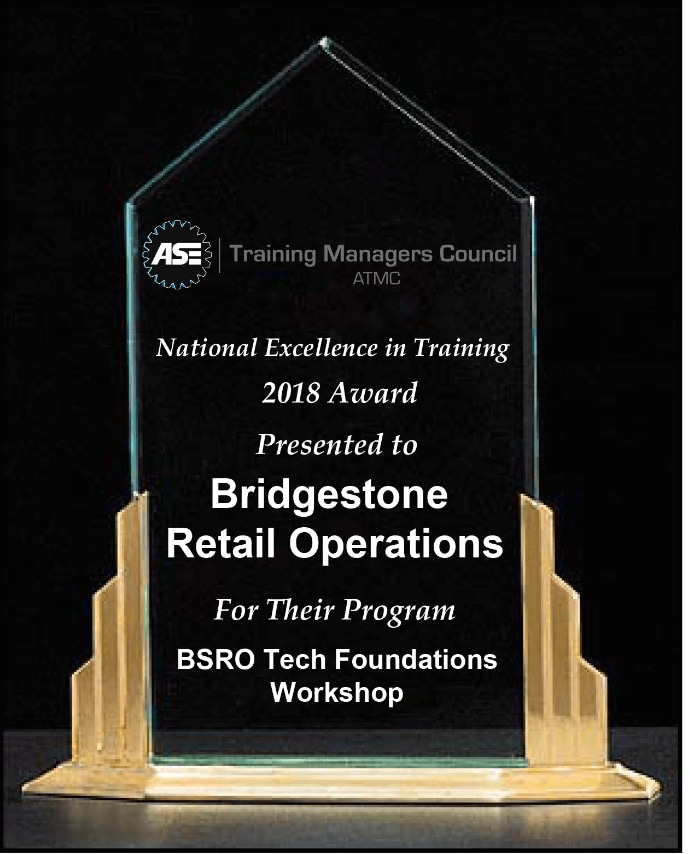 A tool is only as good as the hands behind it. That's why Firestone Complete Auto Care provides newly hired technicians the opportunity to go through an award-winning training program—so they're ready to deliver amazing service to you and your vehicle.
On Oct. 31, 2018, Bridgestone Retail Operations, LLC (BSRO), which operates more than 1,700 Firestone Complete Auto Care stores, received the prestigious National Excellence in Training Award for its "BSRO Tech Foundations Workshop.
BSRO, a subsidiary of Bridgestone Americas, is one of only three organizations in the transportation industry honored in 2018 for educational excellence by the ASE Training Managers Council (ATMC).
"By equipping and empowering our employees to deliver best-in-class service across our network of stores, the BSRO Tech Foundations Workshop supports our vision to be the most trusted provider of tire and automotive service in every neighborhood we serve," said Joe Venezia, president, BSRO. "Investing in our employees is integral to providing quality service to our customers. Since the launch in 2016, we have held more than 750 workshops and educated more than 8,600 employees."
The workshop was developed to onboard and educate newly hired BSRO vehicle service employees. Hands-on activities follow each instructor-led segment in a shop equipped with state-of-the-art technology to allow students to apply what they learn immediately.
Training topics include:
Tire knowledge
Fluid services
Vehicle inspections
Proper equipment and systems usage
Standard operating procedures for various automotive services
Practicing BSRO safety mission statement: Safety First, Always
ATMC National Excellence in Training Awards spotlight highly effective and innovative training programs. The awards help emphasize the importance of training to the success of the transportation industry.
At your local Firestone Complete Auto Care, we're proud to keep your car running newer, longer. It's a guarantee backed by our Triple Promise: Fixed right. Priced right. Right on time. This promise wouldn't be possible without our technician training.