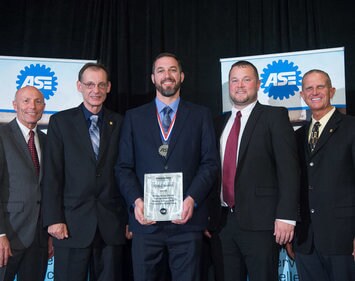 Our technicians know the value of trust, and go above and beyond to prove it to you.
One of these technicians is Erik Craddock, the 2018 BSRO ASE Master L1 Technician of the Year! Bridgestone Retail Operations, LLC (BSRO) honored Craddock on November 15 at the National Institute for Automotive Service Excellence (ASE) annual awards banquet in Fort Lauderdale, Florida, alongside more than 50 outstanding technicians from across the industry.
"It is an honor to recognize Erik as the ASE Master Tech of the Year for BSRO," said Joe Venezia, president, BSRO. "His work ethic and commitment to providing trusted tire and automotive service to every customer he serves are outstanding. We are extremely proud of what Erik has achieved and the positive influence he has on his fellow teammates."
Craddock, who works at the Firestone Complete Auto Care location in Appleton, Wisconsin, was nominated by his leaders and selected for the top honor among 5,000 ASE-certified technicians in the BSRO organization. He joined BSRO in 1999 as a general service technician with no automotive service experience. Over the past 19 years, he has worked to achieve all A1–A8 automotive certifications and, most challenging of all, the L1 Advanced Level Specialist certification. Craddock has become the go-to mentor for his colleagues and other BSRO technicians across northern Wisconsin.
In addition to his professional accomplishments, Craddock is a dedicated husband and father who coaches Tae Kwan Do. He also is very involved in the local community and recently helped create an anti-bullying and self-defense program to serve his neighbors.
ASE Technician of the Year honorees are nominated by their employers based on criteria including ASE test scores, on-the-job performance, and community activities. ASE-certified technicians are skilled at handling challenging mechanical service and maintenance. Achieving ASE Technician of the Year recognition is one of the highest honors a technician in the vehicle service industry can receive.
At Firestone Complete Auto Care, we have a lot to be proud of. Erik's award is one of many earned by our team over the years, including the National Excellence in Training Award for outstanding technician training.
Experience the Firestone difference for yourself. Stop by and visit Erik at in Appleton, Wisconsin or visit a Firestone Complete Auto Care near you!