You've probably heard of Pennzoil. But you might not have heard about all the benefits of Pennzoil products. There are many types and brands of motor oils to choose from. But when it comes to doing what's best for your engine, there is only one Pennzoil. Read on for answers to the most common Pennzoil questions, and learn what makes Pennzoil America's most trusted motor oil brand.*
Is Pennzoil good oil?
Yes. At Firestone Complete Auto Care, we believe a good oil goes beyond lubricating your engine. That's why we trust Pennzoil motor oils for all of our synthetic oil changes. After 40 years and 3,500 patents, Pennzoil Platinum became the first motor oil made entirely from natural gas.
Pennzoil Synthetic motor oils are technologically advanced products formulated to withstand severe conditions and keep engines running clean. Because Pennzoil Synthetic motor oil is made from natural gas, it contains fewer of the impurities found in base oil made from crude.
All the research and development poured into Pennzoil Synthetics is meant to help keep your engine running cleaner and longer, and provide complete protection from wear and friction than any other leading synthetic oil.**
By exceeding current industry and manufacturer requirements, Pennzoil is more than good oil; it's America's number one selling motor oil brand!*
How is Pennzoil made?
While other motor oils are made from crude oil, Pennzoil synthetics is the first motor oil made from natural gas. Through a patented gas-to-liquid process, Pennzoil's synthetic motor oils are crystal clear and free from 99.5% of impurities found in crude oil.**
Where is Pennzoil made?
Every drop of Pennzoil synthetic motor oil distributed in North America is crafted from a base oil made from natural gas through a proprietary gas-to-liquid process, and manufactured at multiple blending plants across the US. Pennzoil inspects every product before it is distributed to ensure your engine receives high quality protection and performance.
Who owns Pennzoil?
The Pennzoil-Quaker State Company is a subsidiary of Shell Oil Company. Though Shell Oil Company is part of Royal Dutch Shell PLC., all Pennzoil motor oil distributed throughout North America is manufactured in the U.S.
How long does Pennzoil synthetic oil last?
Thanks to the patented natural gas-to-liquid process, Pennzoil Platinum Full Synthetic motor oil can help your car run cleaner for longer compared to motor oils made from crude oil. With advanced PurePlus® oil technologies, Pennzoil Platinum is formulated to keep your engine clean, so you can drive an extra 550 miles per year vs. a dirty engine!** Even so, keep in mind that it's best to get an oil change at the intervals suggested in your manufacturer's recommended maintenance schedule.
How long does Pennzoil High Mileage oil last?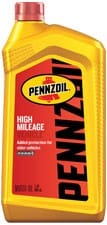 Both Pennzoil High Mileage and Pennzoil Platinum High Mileage are designed to reduce leaks and oil consumption for vehicles with over 75,000 miles. Pennzoil Platinum High mileage also carries the additional Complete Protection benefits of the Platinum line.
While Pennzoil High Mileage Oil can help your high-mileage vehicle perform better and run longer, it is best to follow your vehicle manufacturer's recommended service schedule for changing your oil.
Where can I get a Pennzoil oil change?
Are you ready for better engine performance from America's most trusted motor oil brand? Schedule an appointment at a Firestone Complete Auto Care near you! We proudly use Pennzoil Full Synthetic motor oils at all of our 1,700+ locations nationwide. Schedule an appointment at a location near you for your Pennzoil synthetic oil change, the motor oil that doesn't just meet industry standards; it exceeds them!
*Based on a leading independent research study between April 2013 and December 2017
**Wear and friction based on Sequence IVA wear test using SAE 5W-30. Fuel economy measurements made using CAFE cycle under FTP75. Avg of 550 extra miles based on mixed city/highway miles and US avg of 13,476 miles driven per year with 4.1% better MPG vs. a dirty engine. Source:fhwa.dot.gov, 2017. Follow OEM recommended oil drain intervals.