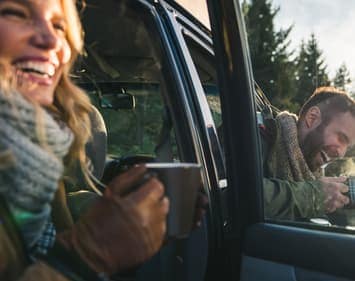 "Walkin' in a winter wonderland" doesn't sound too appealing when it's 30° F outside, but you'd be more than happy to take in some winter scenery from the warmth of your car! Are you thinking of enjoying a scenic winter drive? Prep the car, pack up the family, and get ready to hit the road with these winter road trip ideas in your region of the USA!
Scenic Winter Drives Near You!
New England/Northeast: Vermont's Highway 100
Affectionately known as "Vermont's Main Street," Highway 100 is an internationally known thoroughfare — and a great place to turn to for a winter road trip in the northeast. Enjoy snowshoeing and skiing along your route, or stop off in the small town of Plymouth Notch to see the President Calvin Coolidge State Historic Site.
If you're into history, drive through Weston, Vermont (the whole town is on the National Historic Register!), or channel your inner cheese fanatic at one of Vermont's countless dairy farms.
Southeast: Great Smoky Mountain National Park
Okay, okay — the Great Smoky Mountains National Park may not always give you scenic winter drives with snow, per se. Still, this drive boasts plenty of mountainous views, waterfalls, and even outdoor recreation time!
With relatively mild temperatures and no shortage of evergreen trees, Great Smoky Mountain National Park should be at the top of your list of holiday road trip ideas if you live in the southeast. Taking a winter road trip with the kids? Pack up your winter road trip essentials and enjoy family camping year-round (just check the forecast first, you never know when a Southern cold snap might hit!). The southeast's mild winters can give you the dose of wintertime sunshine and mountain roads you've been craving.
Midwest: Parke County, Indiana to Door County, Wisconsin
The midwest is known for frequent snowstorms in winter. Thankfully, if the forecast allows, you can still drive most scenic roads in the midwest with appropriate winter tires (and possibly snow chains, depending on where you are).
Drive through Parke County, Indiana, for covered bridges that create postcard-worthy views. Then, head north to Chicago and take in the heart of the city while it's wrapped in a blanket of snow. Last but not least, make your way further north to quaint Door County, Wisconsin, sampling badger state's famous cheeses along the way!
West: Yellowstone National Park and Surrounding Scenic Byways
There's just something special about the Rocky Mountains, right? Take in all their wintry glory with a trip that passes through Yellowstone National Park. Wyoming has several scenic byways that let you go through the park, including the Wyoming Centennial Scenic Byway, Beartooth Scenic Byway, Chief Joseph Scenic Byway, and Buffalo Bill Cody Scenic Byway.
Each one has trailheads to hiking paths, historical places, and of course, plenty of mountain views. If you need holiday road trip ideas for an active family, pack up your hiking and camping gear, and choose any one of these byways for a trip you won't soon forget.
West Coast/Pacific Northwest: Pacific Coast Highway to Northern Oregon
If you've never driven the Pacific Coast Highway, now is your time! Start anywhere along the Pacific Coast Highway, and head north toward Portland, Oregon. Take the Historic Columbia River Highway Scenic Byway from Portland to Mt. Hood (an active volcano!) just outside Portland, and take in the gorgeous evergreen trees that surround you on every mile. A real-life winter wonderland, indeed!
Southwest: Big Sur, California to Lake Tahoe
Need holiday road trip ideas that won't be ALL snow? The southwest has you covered. Start your journey on the sunny west coast in Big Sur, California, then head inland toward Lake Tahoe.
If you have time on your side, consider driving to and through Yosemite National Park. You'll start your journey with beautiful waterfalls and mountainous Californian landscapes, and enjoy scenic winter drives and dropping temperatures as you make your way north. Pack your winter gear and enjoy hiking trails and skiing in both Yosemite and Lake Tahoe.
Make the Most of Scenic Winter Drives with Firestone Complete Auto Care
Winter road trips can be beautiful, but weather can make driving in wintry conditions challenging. Ensure your car is ready for the challenge with a quick and painless pre-trip inspection at your local Firestone Complete Auto Care.
Need help while you're on the road? We've got your back with roadside assistance. Wherever you travel this winter, turn to a nearby Firestone Complete Auto Care for tire recommendations, service, and repairs you can trust.