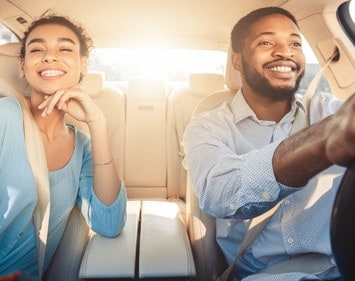 You're ready for a change of scenery, but there's one burning question in your mind: is it cheaper to fly or to drive? When your next destination is within driving or flying distance, creating an estimated budget for each option can help you make a financially sound decision. Learn how to create a plane or road trip budget and compare the costs.
How to Calculate Expenses for a Road Trip
If you're thinking of driving to your destination, your first step in creating a road trip budget is to calculate fuel expenses. Here's how:
First, decide on your route and take note of the mileage. Double this number to get the total number of miles you'll have to drive round trip.
Determine your car's fuel economy (miles per gallon). If you don't track your MPG on your own, a quick internet search for your specific vehicle will often give you a good idea of your vehicle's fuel economy.
Divide your trip's total miles by your vehicle's miles-per-gallon number to get the estimated gallons of gas you'll need to purchase.
Multiply your gallons needed by the average price of a gallon of gas. Since gas prices can vary from one region to another, check out AAA's gas price map for an estimated price in your travel region(s). This number (gallons needed x price of gas) will give you the approximate fuel cost for your road trip.
You can also use a road trip cost estimator, like GasBuddy's online calculation tool. This calculator can account for varying gas prices across regions (for the U.S. and Canada), so you'll get an estimate based on real-time gas prices along your route.
Once you've calculated your fuel costs, consider other costs of a road trip, such as:
Extra fuel costs for navigating around your destination city
Meals along the way
Fares for toll roads
Hotels or other accommodations (even if you stay with friends or family in your destination city, you may need to stay overnight somewhere along your route)
Fees for activities you'd like to do along the way
If you'd rather not rack up excess mileage on your vehicle, renting a car is an option — but keep in mind that it will add significant costs to your trip.
If you're looking to save even more money on your road trip, consider equipping your vehicle with fuel-efficient tires, like Bridgestone Ecopia tires, to help save fuel costs for not only your road trip but your everyday driving needs. Bridgestone Ecopia tires are specifically engineered to reduce tire rolling resistance, as well as withstand high speeds and resist punctures — making them perfect for a cross-country road trip. Investing in fuel-saving auto care is another way to help limit fill-ups!
Once you've added up all your road trip costs, it's a good idea to add 10% to your total budget to help cover any unexpected expenses or account for a low fuel estimation.
Now, Let's Compare Air Travel Costs
You've come up with a road trip budget, and now you're ready to compare air travel costs. Take an hour or two for online research, and look up or estimate as much of the following information as you can for your potential plane trip:
Airfare. Use an aggregated flight search tool (like Google Flights or Expedia) to quickly and easily compare air travel costs across airlines in real-time. If your trip isn't highly time-sensitive, you can often save money by finding flights on slower days of the week.
Baggage costs. Some airlines let you check a bag for free, but most charge a fee for checked bags. If you need to take checked luggage for your trip, include baggage fees in your travel budget.
Lodging and meals. Unless you're staying with family or friends who've agreed to cover these costs, you'll incur meal and lodging expenses with both air and road trips.
Ground transportation. Whether you prefer to travel by cab or rent a car for more freedom in your destination city, you'll likely have additional transportation costs once you've landed. Rental vehicles will need fuel, and often require special insurance, so be sure to account for these extra costs.
If you're traveling solo, air travel can be just as economical as driving. But as soon as you add more people to your airfare bills, the costs can spike significantly. Just like with a road trip budget, add 10% to your air travel budget for incidentals.
So, Is It Cheaper to Fly or to Drive?
Now that you've got the numbers in front of you, maybe there's a clear winner in the fly vs. drive debate. But what if you still can't decide?
Consider this: the costs and benefits of air and road travel go beyond money. Air travel may cost more money, but it can save you hours — sometimes days — of travel time. Plus, you'll be able to relax and enjoy your travel time rather than spending all your energy focusing on the road for hours on end.
On the flip side, road trips may take more time, but the memories you'll create with your family and loved ones along the way are priceless! (Road trip game, anyone?!) You'll get to explore parts of the world that you'd zoom right over if you opted for air travel, and those en-route experiences could be just the fun getaway you need.
Add Preventative Maintenance to Your Road Trip Budget and Checklist
Planning to hit the road? Whether you're taking a cross-country road trip or simply commuting across town, preventative vehicle maintenance can help make your journey a smooth one. Visit your local Firestone Complete Auto Care to stay on top of your manufacturer-recommended service schedule.