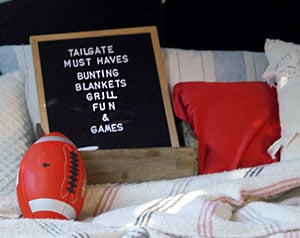 I can't believe fall is finally here, it's my favorite time of year. The changing colors, pumpkin patches galore and of course football! We look forward to football season every year and love cheering on our favorite teams. It's a great way to bond as a family and share our passions with each other while rooting for the same team.
As soon as school starts for the boys, we start planning for tailgating season. We're really into tailgating so it takes a while to get everything set and I like to make every year better than the last.
Over the years we've learned that the number one thing to do before tailgate season begins is to take our car in to get a complete inspection. That always sets us up for a successful tailgating season. We start by making an appointment online at our local Firestone Complete Auto Care. When we're there they give us the full service and we get our tires rotated and replaced if needed. We like to have our car looking its best because we use it so frequently this time of year and, let's be honest, a big part of tailgating is the car you're tailgating in!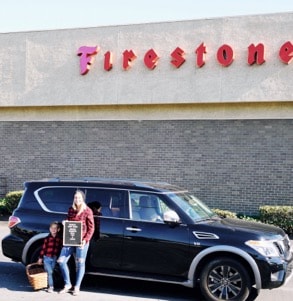 We love Firestone Complete Auto Care because we can always count on them to get our car ready for wherever we need to go. We go to most home games and travel for some games, so a reliable car is a must. We went in to get our annual service last week before football season begins. Our local Firestone Complete Auto Care shop is a staple for us and they know we love football season and welcome us every year for what we like to call it our "wellness visit" before the season starts. This year a Firestone Complete Auto Care team member remembered us and was excited to see our tailgate kit. The boys were so excited that they remembered us! After we get our car looked over, we are ready to tailgate.
We've been tailgating for a while and have come up with a few hacks that have really helped us, and I wanted to share them with you. We take our twin boys just about everywhere and tailgating is no exception. When you're tailgating with kids, there are a few things that are paramount. The first is location. Wherever you tailgate you have to keep location in mind, so when you pull into the parking lot think of where you want to be. We have a tendency to park near the bathrooms or the exit – this way the boys are able to go easily. And when the tailgate is over, and hopefully our team has won the game, we are able to leave easily.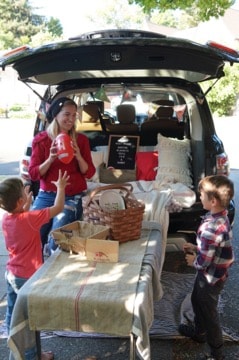 Another hack that has saved us time and frustration is to make our car visible and stand out in a sea of similar cars. We will sometimes decorate our car with window paint which is fun to do but isn't always the easiest to see from far away. The best way we've been able to be spotted by our friends and family is to tie a balloon on the top of the car. Bonus points if you choose one in your team's colors! We always have extra balloons from kids parties and events and keep a helium tank at home so it's easy to do before we head out for the tailgate. Once we arrive and park we tie the balloon to the top of the car and let it float just above. Our friends know we do this and we can easily send them a photo or text of the balloon so they can find us.
Another hack of mine is letting the boys make the list with me of what we need and adding key items on our letterboard. This really gets them in the spirit and lets them feel involved in the day. For this particular tailgate, we included bunting, blankets, grill, chairs, and fun and games! We love to bring our cornhole game, a football to toss and our travel game crate for the boys so that they always have something fun to do.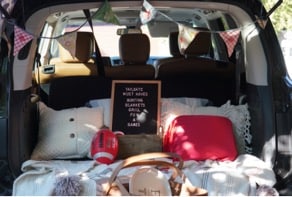 The boys have loved tailgating with us and we're excited to take them out for the second year. Having a great location and a balloon floating above with all your tailgate must-haves in tow is important but having a tailgate ready car is a must. Firestone Complete Auto Care has an easy to use appointment system so set yourself up and get your vehicle ready to tailgate today!