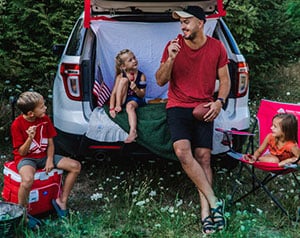 When I moved to the U.S. over ten years ago, there were a few things I had no clue about, one of them being American football. Back in Russia, soccer, hockey, and volleyball dominate most of the other team sports so my first few years I totally ignored American Football. I would find any excuse not to learn the rules or anything about it until one day I ended up at a Super Bowl party. Things still didn't make sense, but I slowly started warming up to it.
Fast forward several years and I am finally ready to embrace football and everything that comes with it – from the rules to some basic team structure. Living in Washington state, the Seahawks were the obvious choice, so I dove right in.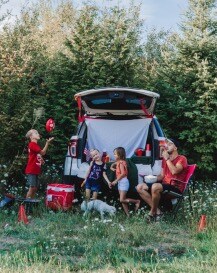 One thing that not many nations can do better than the U.S. is put on a show! According to Quartz, "an average professional football game lasts 3 hours and 12 minutes, but if you tally up the time when the ball is actually in play, the action amounts to a mere 11 minutes." But as I have learned recently, it is not just all show – it's a unifying experience! Football games are more than sporting events, their effect touches almost anything and anybody around. This is the first year we are seriously getting ready to participate in this celebration, so I wanted to make sure I don't miss any of the action, especially tailgating. It's a truly American part of football and seemed too important to ignore.
Here are a few main things I have learned:
1. Brighten it up
Tailgating party is a social event held on and around the open tailgate of a vehicle. Tailgating, which primarily takes place in the United States, often involves grilling food and socializing. Community and unity were what got me interested in football in the first place, and what's a celebration without decorations! The sky is the limit here, but I, not being a most excellent designer or decorator, decided to stick with a general football theme: green blanket as a field, footballs, and blue-red-white.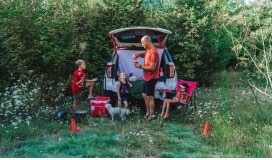 2. Get creative
Like any activity or sport, it was necessary to introduce kids into something new in a playful way, so I decided to turn the back of our car not just into fun & food center, but also an entertainment center. Stretching a bedsheet and using a mobile projector allowed me to stream the game and prepare fun songs or cartoons for before and after the game. And let me tell you, it was a hit!
3. No food – no party
Another good idea for tailgating (and for almost any event, actually) is food! According to the List, "93% of fans prepare their food at the event." I'm not the most excellent chef, so my choices were simple – burgers, corn dogs, popcorn, fruits, bubbly drinks, and popsicles. Kids were very excited and that's all that matters.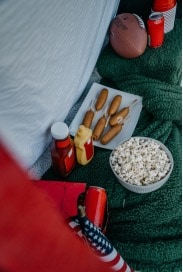 4. Think ahead
This might not seem like a sport-related item, but it is a significant one – get your car ready. Whether you are planning to host a tailgate party yourself or planning a road trip attending an away game, scheduling an appointment to help get your car ready is a must! Schedule an appointment to get help from my friends from Firestone Complete Auto Care.
While I'm just learning the rules and traditions of this game, it becomes more and more clear to me that at its core, things like football were created to unite people and gather communities. It's something that I am a firm believer of, but probably not the best example myself. So starting this year, I am making it a priority to focus on opening our house (and trunk of the car, like in this case) more often and invite more people, and hoping you will join me on that and will do the same!