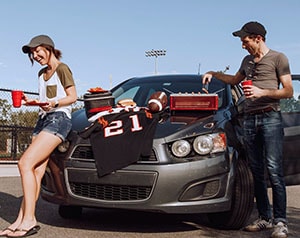 A pregame tailgate demonstrates team pride, hypes your guests up for the game, and brings everyone together for a memorable day. The question is, where do you start? How do you create a tailgate that encompasses all of the above? For my family, it all begins with making sure your car is game day ready. I always begin by taking my car to get checked at our local Firestone Complete Auto Care. This includes anything from getting new tires, having current tires aligned/repaired, having the oil checked, or just an overall tune-up. I specifically choose Firestone Complete Auto Care for their quality service and above-average customer support. Knowing that my car has been thoroughly checked and prepared for the day allows me to focus on the task at hand: creating the perfect tailgate. You can easily make a repair or maintenance service appointment online for your closest Firestone Complete Auto Care. This saves time and is incredibly convenient. It's a great way to ensure your appointment time while on the go.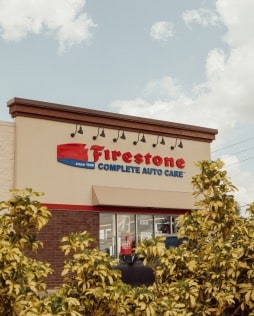 Once my car is ready to go, we then focus our attention on another very important aspect of tailgating: FOOD. In my family, there are a few items that are a must. These include Cincinnati-style chili, burgers and brats, and pizza from our favorite local pizzeria. We prefer food items that are easy to make ahead of time or that aren't too difficult to make once we're at the tailgate site.
To keep our food hot for hours, we rely on our insulated food carrier. For cold beverages, there's our giant cooler packed with everyone's favorite game day drinks. In Cincinnati, the beginning of the football season is usually very hot, so staying hydrated is key. Make sure to pack plenty of plates, napkins, utensils, and garbage bags for cleaning up afterward. We usually bring plastic food containers for leftovers to be enjoyed later (if there are any leftovers!). Easy cleanup is important because we don't want to take too much time away from the fun to pick up trash, leftover food, drink cans, water bottles, used utensils, etc.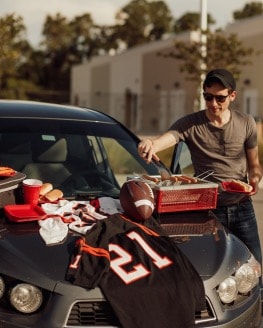 For entertainment, we always bring our portable, water-resistant, life-proof speaker so we can listen to the pregame show. This always gets the conversation going and builds anticipation for the game to start. While the pregame show is running (usually 30 minutes to 1 hour), we also like to toss a football or get a game of corn hole started. In my opinion, half the fun of game day is found in these moments. You may also decide to bring cards, a frisbee, or other outdoor recreational games that your group enjoys.
Regardless of your tailgate tradition, make sure to set an appointment to get your car checked at Firestone Complete Auto Care. But most importantly, remember to enjoy the time spent with good company and have fun at the big game.