Ready for road trip season? Roll down the windows and turn up the tunes. Thanks to its expansive roadways and varied terrain, the U.S. provides many excellent road trip routes, including ones that run from north to south along either coast and others that cut from east to west across multiple scenic states. For a trip packed with fun, adventure, and beauty, check out our list of top road trip routes and recommended stops.
The Pacific Coast Route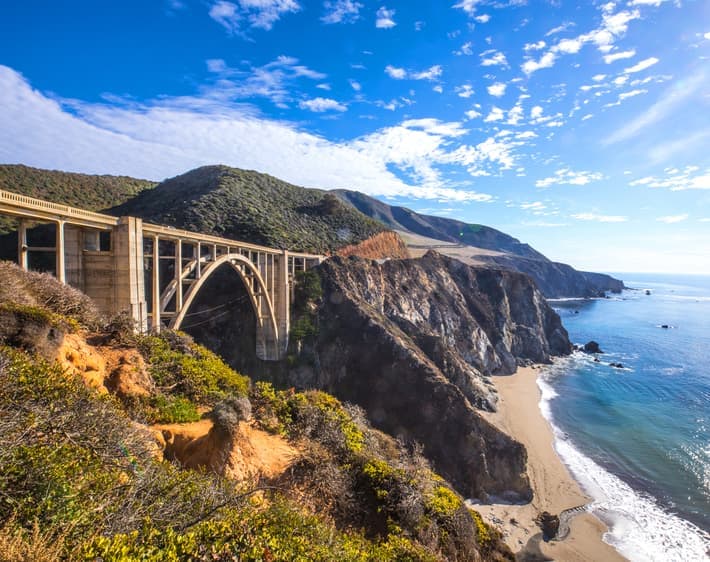 The Pacific Coast Route is perfect for dreamers and romantics! Breathe in the salty air as you cruise along 1,650 miles of stunning coastline from Seattle, WA to San Diego, CA. Plan on a leisurely drive, because you're definitely going to want to stop to eat fresh oysters, sip a California Cab at a local winery, and take in the picturesque views. Enjoy these jaw-dropping sights along California 1:
Redwood National and State Parks (CA): You can drive along the park, or you can hike the trails. For a truly awe-inspiring moment, take a minute to stand among the oldest trees on earth and look up!
The Presidio (CA): You'll find several scenic overlooks, green spaces, and beaches with impressive views of the Golden Gate Bridge, Baker Beach, and Crissy Field. Drive over the Golden Gate Bridge for a classic photo op at Battery Spencer, and leave some time for San Francisco's cool views and tasty restaurants.
Big Sur and McWay Falls (CA): The rugged cliffs, sandy beaches, and turquoise waters make this spot genuinely breathtaking. For a picture-perfect moment, hike the overlook trail to see McWay Falls pouring down.
The Atlantic Coast Route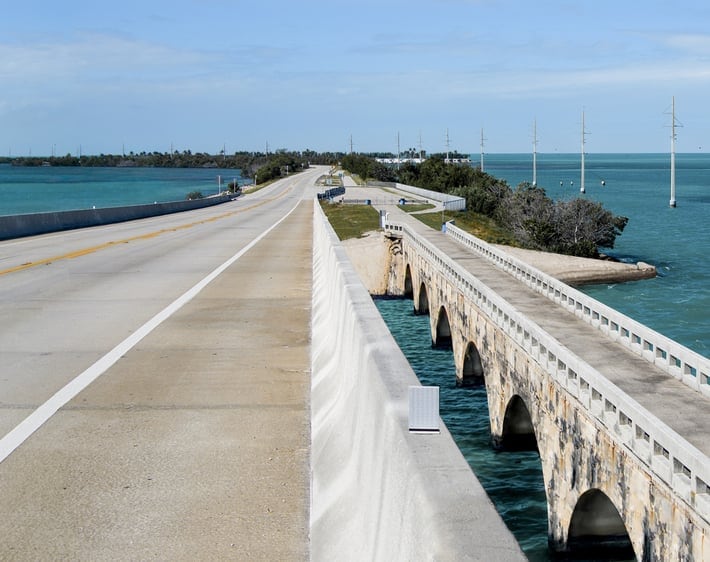 This 2,000-mile coastal route takes you from New York to Florida on I-95 and US-1. You can savor different states' cuisines by making pit stops for Carolina barbecue, Maryland crab, and fresh-caught Florida seafood! Leave time for detours to laid-back beach towns like Wilmington, NC where you can (and should) check out the River District for eclectic vibes and amazing eats, and charming Southern cities like Savannah, GA and Charleston, SC. No scenic drive is complete without beautiful views, and these are three sights you can't miss on your journey along the Atlantic Coast Route:
Statue of Liberty (NY): There's no other way to see New York, New York! Take the elevator or the stairs to Lady Liberty's crown. At 305-ft above the ground (and traffic), the view is incredible!
Assateague Island National Seashore (MD): Like most other beaches, you can get some sun and take a dip in the ocean. Unlike most other beaches, you can camp out with wild ponies!
Overseas Highway (FL): If you've got some extra time, use it to cruise along 113 miles of bridges from the Everglades to Key West. You'll feel like you're walking (well, driving) on water! Keep in mind that this route is not a good place to have car problems. There's little space to pull off the road and service stations are few and far between. Luckily, there's Firestone Complete Auto Care in Homestead, FL, where you can get a fast and free Courtesy Check before making this drive.
The Oregon Trail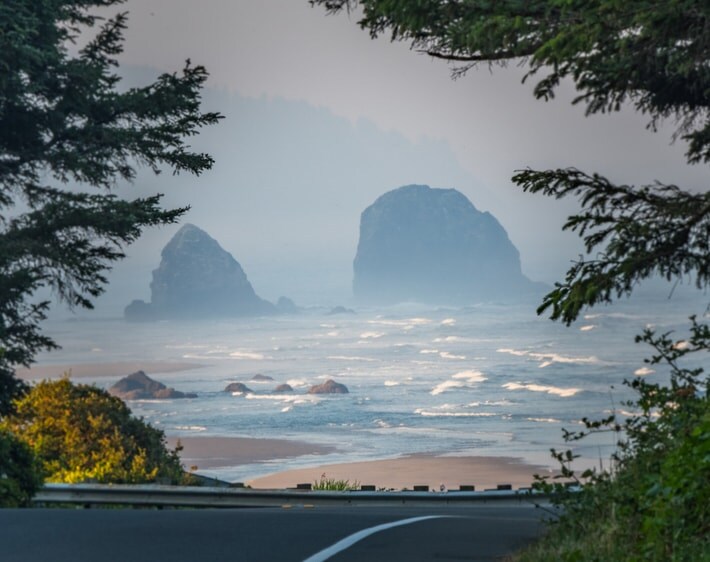 Blaze a trail like the American pioneers of the 1800s! The Oregon Trail runs 3,300 miles along US-20. Start at Cannon Beach in Oregon to see Haystack Rock and journey east to Cape Cod National Seashore. For guaranteed adventure, make room in your itinerary for these stops:
Mt. Hood (OR): Oregon's tallest peak is a wonderland of hiking, camping, fishing, and even skiing. Before you head up the mountain, spend some time in Portland and check out the city's bridges, parks, breweries, and restaurants. Don't miss your chance to stop by the infamous ice cream shop, Salt & Straw. (Two scoops of lavender honey in a waffle cone? Yes, please!)
Yellowstone National Park (WY): Hike Mt. Washburn, watch Old Faithful erupt, and keep an eye out for bison in Hayden Valley. Want even more of the great outdoors? Drive an hour south to Grand Teton National Park to explore 200+ miles of trails in "the mountains of imagination."
Niagara Falls (NY): This breathtaking natural wonder is made up of Horseshoe Falls, American Falls, and Bridal Veil Falls. The Observation Tower at Prospect Point offers a spectacular view, and you can hike several trails from the Niagara Gorge Discovery Center.
Route 66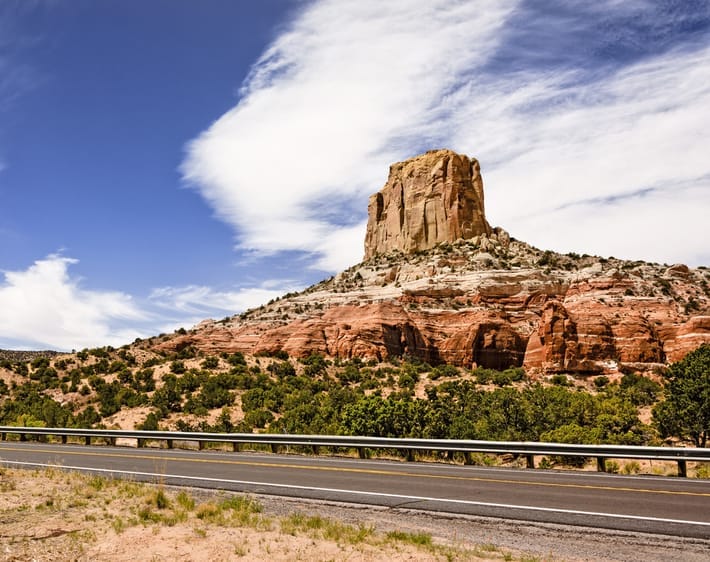 Get your kicks here! This 2,448-mile Dust Bowl migration route is known for its neon signs, old diners, and quirky destinations—like the 66-ft tall pop bottle at Pops 66 Soda Ranch and the Blue Whale of Catoosa. For the full experience, start your drive in Chicago and end at the Santa Monica Beach and Pier in California. While you're there, check out three infamous road trip pit stops:
Cadillac Ranch (Amarillo, TX): This art project is a classic Route 66 experience! It features half-buried, graffitied Cadillacs rising out of the ground at the same angle as the Great Pyramids of Giza. You can even spray paint the cars while you're there—just remember to bring your own cans of paint!
Grand Canyon National Park (AZ): Take a hike, take a helicopter tour, or just take a selfie at the Grand Canyon. Don't forget to watch out for the squirrels. According to the U.S. Department of the Interior, they're the most "dangerous" wildlife in the area.
Lowell Observatory (Flagstaff, AZ): Take a break from the road and gaze up at the stars at one of the oldest astronomical observatories in America. And when you're ready to come back down to earth, check out one of the many fun things to do in the area, like staying in a teepee at the Wigwam Motel in Holbrook.
These cross-country road trip routes are sure to please! Just make sure that when you hit the road, it doesn't hit you back. Make Firestone Complete Auto Care your first stop for a Courtesy Check or Complete Vehicle Inspection. A technician will thoroughly examine your vehicle from bumper to bumper to help make sure your car is in good shape for a long road trip. We'll let you know if anything needs to be fixed for your safety. Once your vehicle is checked out and ready to go, turn up the music and point your dash in the direction of adventure.
If you need us along the way, we'll be there, too. We have 3,500 technicians working at thousands of Firestone Complete Auto Care locations from coast to coast.